Latest Projects
SENIORS
ASAP: Automated Sigma Analysis Platform
Our team has been working with Baxter to improve optical and software techniques to quantify flow rate of their Sigma Spectrum drug infusion pump. Current methods for flow rate calibration of hospital infusion pumps are subjective and prone to errors such as evaporation. Developing an accurate and thorough calibration set-up can be tedious, costly, and space-inefficient. We have developed a novel, inexpensive calibration device to validate infusion pump flow rate intended for use in research and development, and quality assurance of Baxter's pumps.
Team members: Morgan McDonald, Winslow Powers, Claire Kaiser, Ge Song
Supervisor: Richard Waugh, PhD, Biomedical Engineering, UR
Customer: Baxter International, supervised by Matt Bivans
Cable Medical ECG Cable Adapter
In a hospital environment, time is a commodity. Currently, hospital workflow is impeded by clinicians' need to change ECG systems as a patient moves through the hospital throughout their stay. We aim to modify Curbell Medical's existing ECG cable system in order to limit disruptions to clinical workflow and minimize the hospital's waste caused by discarding incompatible lead sets. The solution consists of a permanently attached, optimized cable-adapter module which enables smooth navigation through hospital-identified critical pathways.
Team members: Connor O'Brien, Raiem Smith, Madison Schumacher, Vladimir Tokarchuk
Supervisor: Regine Choe, PhD, Biomedical Engineering, UR
Customer: Mike Regan and Don Gibson, Curbell Medical
Sepsis Detectis Team 

Our team is working to combat the drastic hospital mortality rates of sepsis by developing a faster detection technology. We aim to implement hyperspectral imaging as a non-invasive diagnostic tool for use within an intensive care unit. Instead of conducting cell cultures and blood tests, which are both invasive and time consuming, the goal of this device is to help detect and quantify the presence sepsis in minutes.
Team members: Kathleen Larson, Dylan Latham, Justin Schumacher, Brittany Schutrum, Joshua Schum
Supervisor: Dr. Catherine Kuo
Customer: W. Spencer Klubbens
CTEV Brace Team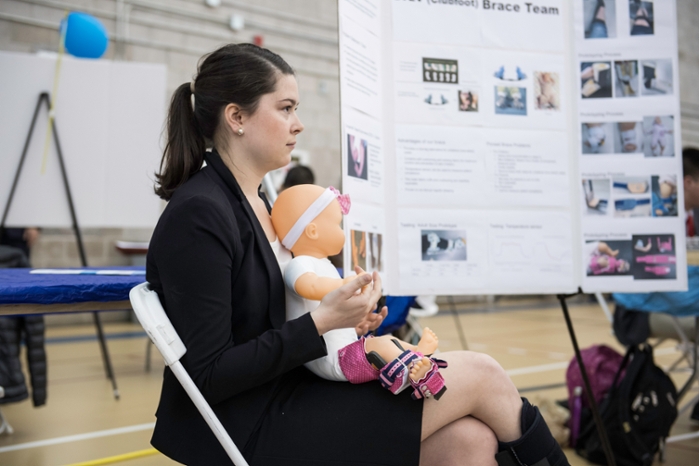 Our team has been tasked with creating a better brace to treat CTEV (clubfoot), a congenital deformity where a child is born with their feet turned inward and upward. The current method, the Ponseti Brace, is a boots and bar system with many drawbacks. Aside from restricting movement, it's uncomfortable and difficult for parents to use. As a team we have created a barless alternative brace that is lighter and more comfortable, while also tracking patient compliance. We hope that our brace can be used to improve the lives of children with CTEV and their parents everywhere.
Team members: Genevieve Caldwell, Ka-Kyung Kim, Matt Stein, Mingyang Mao
Supervisor: Catherine Kuo, PhD, Biomedical Engineering, UR
Customer: Dr. Kuo, Department of Biomedical Engineering, UR and Dr. O'Malley, Department of Orthopedics, UR
Diabetes in Micronesia
Micronesia is a region in the Western Pacific made up of island nations, including the Republic of the Marshall Islands and Federated States of Micronesia. Approximately one-third of individuals in these countries have type 2 diabetes. Our team has developed a tablet-integrated toolkit that facilitates the collection and analysis of biometric data for local community health workers. We consider unique social circumstances in the region to guide community health workers in creating effective individual health plans for their patients
Team members: Tristan Ford, Raaga Kanakam, Omar Soufan, Tyler Vasquez-Dorn
Supervisor: Edmund Lalor, PhD, Biomedical Engineering, UR & Trinity
Customer: Timothy Dye, PhD, CTSI; Ivelisse Rivera, MD, CTSI; Jose Perez-Ramos, MPH, CTSI
Dialysis Patient Simulator Team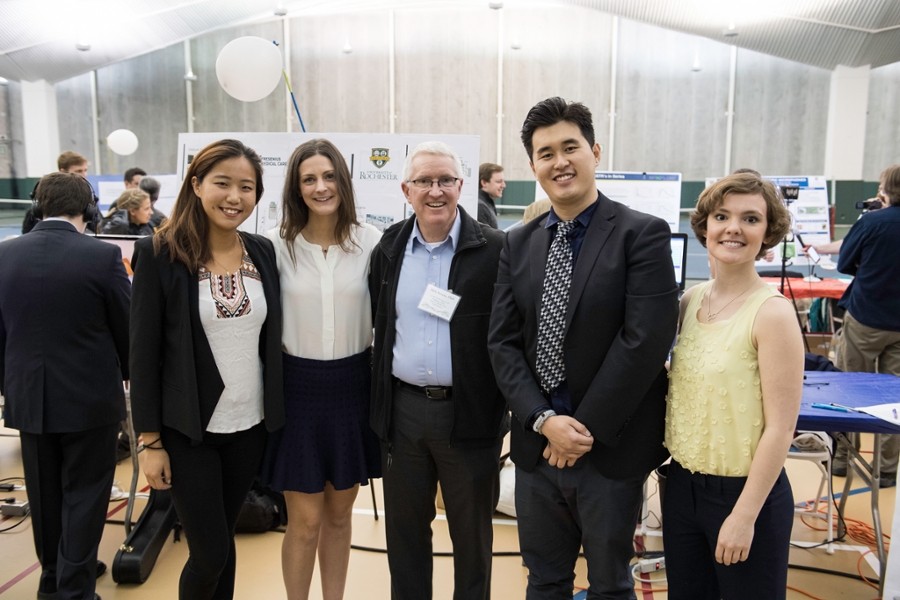 Fresenius Medical Care is a leading provider of hemodialysis products and services, treating more than 300,000 patients worldwide. Currently, there is no product that can perform patient simulations for new dialysis machine prototypes. Our device interfaces with a hemodialysis machine just as a patient would in order to simulate changes in fistula blood pressures, hematocrit, and oxygen saturation. It also monitors these pressures, bloodline flow rate, and dialysate temperature to ensure that the sensors and responses within the prototype are correct.
Team members: Runxuan (Sophia) Zhao, Rebecca Lewis, Marina May, Fengyi (Arthur) Jiang
Supervisor: Dean Johnson, PhD, Biomedical Engineering, UR
Customer: Mike Owen, Fresenius Medical Care
Dynamic Wheelchair
In order to help patients with spinal cord injury avoid pressure sores, we have endeavored to revolutionize wheelchair seating. By sensing and recording a user's current position and pressure distribution our device will assess and adjust the pressure in a seat to prevent the high pressure regions that cause pressure sores. As a mechanically operated adjunct to the ROHO cushion, this customizable sleeve will fit neatly over a variety of ROHO cushion sizes and types.
Team members: Albert Chen, Maddy Cappelloni, Greg Dadourian, Shannon Fitch
Supervisor: Hani Awad, PhD
Customer: Dave Whalen
Glucometry for the Visually Impaired Team
Currently, 28.5% of Americans over the age of forty have some degree of visual impairment due to diabetes. The Glucometry for Visual Impairment team hopes to create a more effective way for patients with diabetes and visual impairment to get a blood sugar reading. In collaboration with Joel Benzel of Touchstream Solutions, we have created a plastic ring with guides for lancets and glucose meter test strips to simplify the process of checking blood sugar for patients with visual impairment.
Team members: David Tannenbaum, James Melton, Brenna Schnell, Janice Youwen Xia
Supervisor: Anne Luebke, PhD, Biomedical Engineering, UR
Customer: Joel Benzel, CEO & Founder, Touchstream Solutions
ICU Ambulation Team
Ambulating with patients recovering in the intensive care unit is perceived as a difficult task with all the medical devices necessary to monitor vital signs. Our goal is to deliver a physical therapy aid for patient ambulation in the intensive care unit at URMC. The physical therapy aid will focus on providing the patient with lateral support and stability while also carrying the medical devices necessary to monitor the patient vital signs during ambulation. The design of the physical therapy aid will ensure that patients can safely walk with a normal stride length
Team members: Katherine Konopka, Jeffrey Greblick, Tyler Cavanaugh, Minsoo Kim Katherine Konopka, Jeffrey Greblick, Tyler Cavanaugh, Minsoo Kim
Supervisor: Jim Mc Grath, PhD, Biomedical Engineering, UR
Customer: Kathy Owens, Department of Physical Therapy, URMC
OPTI (Optimal Photoacoustic Transmission Imaging) Phantom Team
Photoacoustic Imaging (PAI) is an imaging modality that combines both optical near-infrared and ultrasonic imaging. For PAI to be implemented in the clinical environment, there must be a reproducible method for calibrating and verifying the imaging system parameters. Our team is developing a phantom that will model the imaging of blood vessels in human tissues. These phantoms will be used to determine the spatial resolution of Dr. Navalgund Rao's PAI system for imaging vessels of varying depths and diameters
Team members: Zachary Sia, Nick Vohra, Amanda Smith, Vincent Ching-Roa
Supervisor: Steve McAleavey, PhD, Biomedical Engineering, UR
Customer: Dr. Navalgund Rao, Research Professor, Chester F. Carlson Institute for Visual Science; RIT and URMC
Pediatric Assisted Locomotion System (PALS)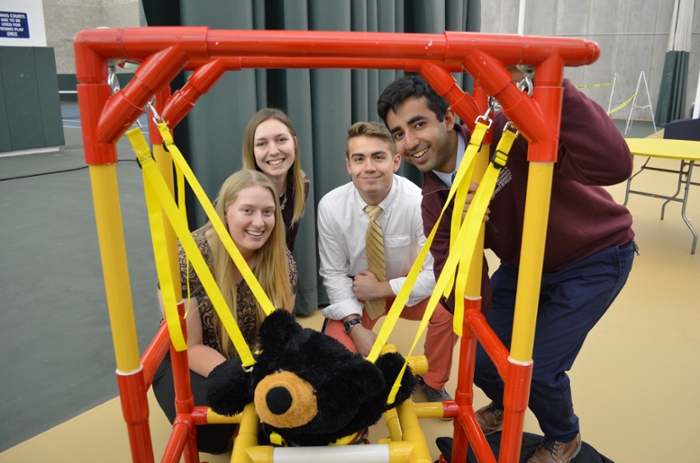 We are working with local pediatric physical therapists Kelly Gilroy and Leah Talbot to design a PT system to teach children with motor delays resulting from Down syndrome and cerebral palsy to walk. Children with motor delays learn to walk a year late on average, and because of this, tend not to hit developmental milestones on time. Our treadmill-based supportive gait trainer aims to teach these children to walk earlier, giving them more independence and the capability to explore and learn about their surroundings.
Team members: Alex Kazmierczak, Courtney Semkewyc, Jolan Burger, and Nitish Sardana
Supervisor: Mark Buckley, PhD, Biomedical Engineering, UR
Customer: Leah Talbot, MSPT, Roosevelt Childrens Center and Kelly Gilroy, PT, DPT
Pediclear
During spinal fusion procedures, surgeons need a better way to detect defects in the pedicle tract in order to determine whether it is safe to implant pedicle screws. We designed a surgical probe, Pediclear, that senses changes in vibration pattern as it moves against the walls of the pedicle tract and alerts the surgeon to the presence of a breach. The solution adds certainty to breach detection, reduces false positive rates, and aids in resident training without adding extra time, equipment, and cost to the procedure.
Team members: Spencer DeCinque, Kerry Donnelly, Saadedine El-Homsi, and Brittany Garrison
Supervisors: Amy Lerner, Ph.D, Greg Gdowski, Ph.D, Martin Gira, M.S., Biomedical Engineering UR
Customers: Addisu Mesfin, Orthopaedic Surgery, Paul Rubery, Chair of Department of Orthopaedics and Rehabilitation, James Sanders, Chief of Pediatric Orthopaedics, and Kenneth Foxx, Spine Fellow, UR Medicine
Proteus Medical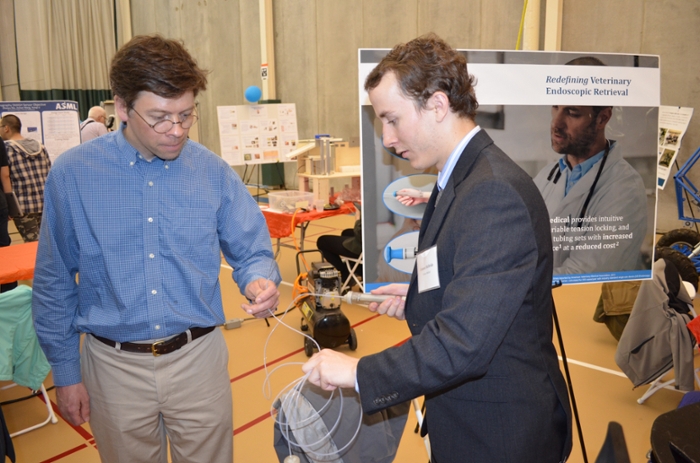 Canines are the most common offenders of consuming foreign bodies, requiring a veterinary visit to remove the object to prevent further harm. Endoscopic retrieval is the preferred method of extracting these foreign bodies. However, endoscopic retrieval devices on the market today are neither robust nor reusable, often deforming after single use. At Proteus Medical, our team has developed a unique design that will reduce both the retrieval time and yearly expenditures. Together, we aim to revolutionize the endoscopic retrieval field through our novel device.
Team members: Edward Ruppel III, Chandler Woo, Connor McBride
Supervisor: Diane Dalecki, PhD and Department Chair, Biomedical Engineering, UR
Customer: Erika de Papp, DVM, DACVIM, MSPCA-Angell, Boston, Massachusetts
Sample Illumination Team
Ortho Clinical Diagnostics currently produces a line of immunodiagnostic systems to analyze the chemistry of patient's blood samples using reflectometry. In order to provide a more confident analysis of these samples, our team is developing an illumination system that delivers a more uniform plane of light to the blood sample while also being more robust, reliable, and less expensive.
Team members: Hamilton White, Joseph Malone, Kasey Kwong, Danny Capucilli
Supervisor: Ed Brown, PhD, Biomedical Engineering, UR
Customer: Bob Jones, Ortho Clinical Diagnostics
Sensor Skin for Robotics
The Sensor Skin for Robotics team aims to design a sensory system for a robotic hand to assist the robot in making successful attempts when grasping objects. The system must be capable of detecting contact forces upon a grasping attempt, determine the success of the attempt, and be capable of relaying this information to the robot's operating system. Thus we intend to design a sensor-skin system with secondary signal processing to meet these criteria.
Team members: Kushael Chakravorty, Ben Abbatematteo, Peter Burlingame, Hyeon Woo Lee, Yesubet Dereje
Supervisor: Ross Maddox, PhD
Customer: Thomas Howard, PhD
Staple Removal Team
Our project aims to redesign the standard staple removal process. Employees at Lifetime Assistance Inc. are required to remove staples from documents for up to six hours a day as part of a larger scanning, archiving and shredding operation. Through the redesign of a staple remover and adding a staple collection and staple detection system, we hope to make this process easier and faster
Team members: Rahul Upadhya, Mara Lanis, Kevin LeBlanc
Supervisor: Scott Seiman, PhD, Biomedical Engineering, UR
Customer: Martin Reeners, Lifetime Assistance Inc.
S.T.A.R.S: Scoliosis Phantom
Adolescent idiopathic scoliosis is defined as a lateral deviation of the spine which is also commonly associated with rotation of the vertebrae. The Scoliosis Phantom is a realistic model of the lumbar region of a scoliotic spine for an adolescent female patient suffering from idiopathic scoliosis. Our phantom will serve as a research tool to increase the repeatability and reliability of the brace-making process by reducing the number of brace fittings and X-Ray scans a patient will have to undergo.
Team members: Andrew Arjana, Rebecca Amorese, Shamroz Farooq, Stephanie Kamau, Tongxi Zhuang
Supervisor: Amy Lerner, PhD, Biomedical Engineering, UR
Customer: James Sanders, M.D. Chief of Pediatric Orthopaedic Surgery, URMC, Sean Zeller, MBA, MSPO, CPO Chief, Orthotics and Prosthetics Program, URMC
Ther DermWell System Team
Transdermal Drug Delivery (TDD) provides a valuable alternative to traditional drug delivery methods, due to its potential to decrease biohazardous waste production and improve overall accessibility. In collaboration with the URMC dermatology department, we have developed a novel system for testing a novel TDD method which involves a reagent that temporarily increases the permeability of the skin, allowing for large molecule drug delivery such as a vaccine.Our device is a low cost, user friendly R&D tool for testing on human skin biopsies
Team members: Breanna O'Reilly, Samantha McGoldrick, Chris Cook, Comfort Adeyemi, Arun Nambiar
Supervisor: Danielle Benoit, PhD, Biomedical Engineering, UR
Customer: Ben Howard, PhD, Department of Dermatology, URMC
Tympanic Membrane Visualization
Due to the prevalence of ear infections - especially in young children - and the potential risks of misdiagnosis, we are developing a device with our customer, URMC Otalaryngologist Dr. John Faria, to allow clinicians to more effectively diagnose this condition through better visualization of the tympanic membrane and the ability to acquire images through a computer interface
Team members: Janet Sorrells, Nathaniel Barber, Kathryn Maisch, Tina (Haitong) Wang
Supervisor: Anne Luebke, PhD, Associate Professor of Biomedical Engineering and Neuroscience, UR
Customer: John Faria, M.D. Department of Otolaryngology, URMC
CENTER FOR MEDICAL TECHNOLOGY & INNOVATION 
CMTI Orthopaedics Team
During spinal fusion procedures, surgeons need a better way to detect defects in the pedicle tract in order to determine whether it is safe to implant pedicle screws. We designed a surgical probe that senses changes in vibration pattern as it moves against the walls of the pedicle tract and alerts the surgeon to the presence of a breach. The solution adds certainty to breach detection, reduces false positive rates, and aids in resident training without adding extra time, equipment, and cost to the procedure,
Team members: Spencer DeCinque, Brittany Garrison, Saadedine El-Homsi, Kerry Donnelly
Supervisor: Greg Gdowski, PhD, Center for Medical Technology & Innovation and Amy Lerner, PhD, Center for Medical Technology & Innovation
Customer: Spinal Surgeons
EyePidural: An Optical & Pressure Feedback Device to Improve Epidural Procedures
Epidural procedures, a method of pain alleviation, involve blindly placing a needle through a patient's back into a small, thin epidural space above the spinal cord. Our device, the EyePidural, is a hybrid optical and pressure feedback system that relies on color variations and pressure differences from the spinal tissue layers. These differences will help guide the needle to the epidural space safely and accurately without causing undue injury, reducing procedural complications and increasing patient and physician peace of mind.
Team members: Bethany Lennox, Caeli Quiter, and Courage Tsiagbe
Supervisor: Greg Gdowski, PhD, Biomedical Engineering, UR; Amy Lerner, PhD, Biomedical Engineering, UR; Martin Gira, Biomedical Engineering, UR
Customer: Daryl Smith, MD, Anesthesiology and Pain Service, UR Medicine
InstaTract: Atrial Retractor for Minimally Invasive Mitral Valve Surgery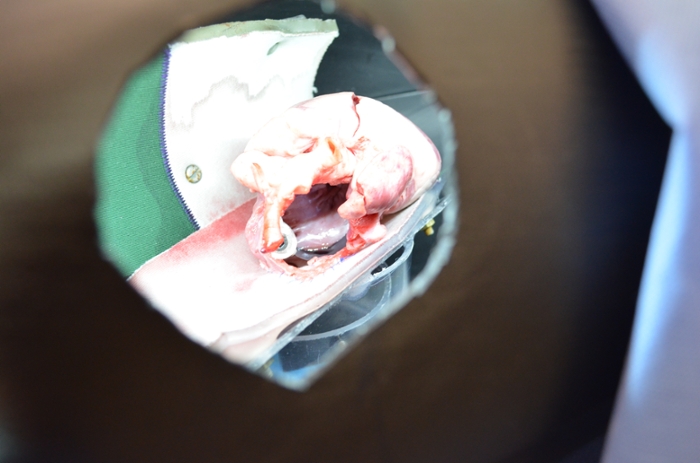 Our team is developing a novel atrial retraction device for use in minimally invasive heart valve surgery. Current atrial retractors have a significant learning curve and either create an extra incision through the chest wall and risk bleeding, or take up valuable space in the surgeon's field of view. The InstaTract is an intuitive and quickly deployable device that provides retraction of varying size atria, exposing the valve being repaired or replaced.
Team members: Ian Baranowski, Margaret Ferrari, Kyle Meyers, Lauren Seitz
Supervisor: Greg Gdowski, PhD, Biomedical Engineering, UR; Martin Gira, Biomedical Engineering, UR; Amy Lerner, PhD, Biomedical Engineering, UR
Customer: Fabio Sagebin, MD, Cardiothoracic Surgery, UR