Latest Projects
Class of 2019
Seniors
Sinus Inspectors
Robert Crews, Amanda Hornick, Penelope Subervi, Alaa Bukhari, Lucy Franzen
A device that accurately indicates the probability that patients of different ages, sexes, and craniofacial anatomies have sinusitis in a way that is easily interpretable by primary care physicians or other medical professionals during an office visit. This device is a safer pre-screening method for sinusitis than CT scans, as it exposes patients to a negligible amount of ionizing radiation.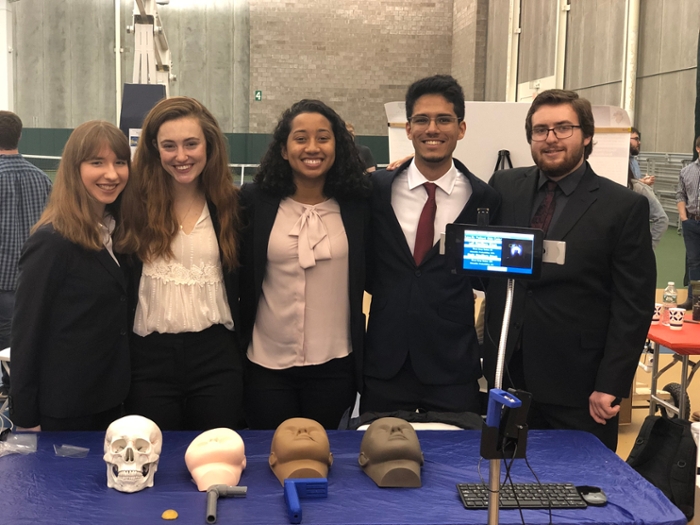 Bladder Monitor
Ahmed Selmi, Camila Garcia Wright, Kharimat Lora Alatise, Alyssa Gardiner
The overall goal for the Bladder Monitor Device team is to design a wearable device that will measure the fullness of the bladder and notify a nurse or caretaker when the bladder is reaching full capacity. This will be done by measuring the bioimpedance of the bladder. The purpose of this device is to decrease the amount of falls that take place due to people attempting to use the bathroom unassisted or bed wetting that also may occur. This device will be designed to be used in long term care facilities, post-surgical care, and by any person whose locomotion is hindered in any way.
Finger Stick: Reliable Finger Stick Blood Samples
Brett Tingley, Xiaoyi (Louisa) Cao, Dilshawn Gamage, John Fernando
Create a device that can collect fingerstick capillary blood samples in a less variable manner so that capillary blood can be used for accurate point-of-care diagnostics.
Field Blood Testing (KERJ Biologics)
Kavi Shankar, Erik Patak, John Lisi, Rebecca Moffat
Field medical providers such as paramedics have to make many care decisions with limited information beyond subjective physical symptoms. The application of field blood diagnostic testing would give providers a greater ability to properly care for patients.The introduction of a portable, point of care blood potassium measurement device would allow diagnosis of hyperkalemia suspicions with more confidence and overall improve the quality and thoroughness of care given to patients. We aim to develop a point of care potassium test that can work with a small blood sample obtained via an IV catheter for use in field triage decisions.
EchoMount Team
William MacCuaig, Shafieul Alam, Dominique James, Tiffany Nicholas
Our device is a mounting system that will hold an ultrasound transducer to monitor for blood clots after reconstructive surgery.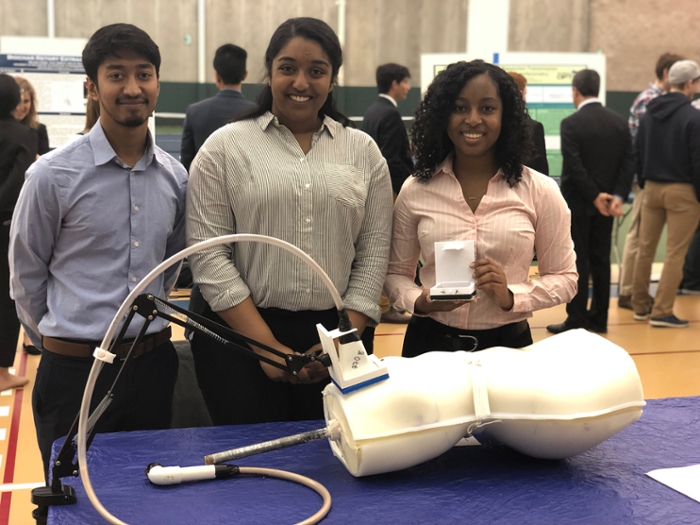 Infant Carrying Device Team
Samantha Myers, Haein Son, Rachael Pletz, Aisha Rivera
An infant carrying system which allows a parent with accessibility concerns to safely transport their child while using a walker.
Kidney Dialysis
Connor Virgile, Seung Hyun Kim, Victor Zhang
The Kidney Dialysis Interface Team is working with Fengyi Jiang (customer) from Fresenius Medical Care under the supervision of Dr. Dean Johnson (supervisor). Our project aims to develop a bench-top interface device that automatically monitors solution flowing in an experiment to test new dialyzers and other dialysis products. The device will be part of a larger project to create a simulated patient testing model for researchers to evaluate new technologies.
Ligament Tensioning
Aaron Lowin, Ryan Aspenleiter, Chang Gui, Sonam Topgyal, William DeMaria
The primary objective of this project is to design a novel tensioning device that measures and holds a desired tension on an ACL graft during reconstructive surgery in order to improve patient outcomes (e.g., reduced pain, reduced recovery period, no need for second intervention) and reduce the complexity and invasiveness of the current method.
Medical Pump Fluid Team
Molly Ferris, Collin Richards, Joe Carrier, Miles Markey
Bacterial buildup within catheters and IV lines are a significant problem due to the easy transport of this bacteria into a patient's bloodstream. 250,000 to 400,000 individuals are diagnosed with bloodstream infections related to catheters each year costing between $300 million and $2.3 billion per year in medical expenses. The purpose of our project is to develop a disposable IV fluid sensor that detects presence of biofilms in IV lines in conjunction with Baxter's Infusion Pump System. Our device implements stainless steel electrodes that emit changing resistance as biofilms collect on their surface. The goal of our final prototype is to demonstrate that it is feasible to measure biofilm presence in an IV line while maintaining fluid flow rate and patient safety.
THOR Designs Workforce Accessibility
Rebekah Abrams, Hannah Goldring, Olivia Uttamsingh, Taryn Milnes
THOR Designs, with aid from our supervisor Dr. Mark Buckley, is working with a local company in Rochester called Unistel to improve one of their assembly lines. Unistel is proud to employ people with a variety of disabilities, and the team that we are working with at Unistel produces dust caps for military and first responder radios made by Harris Corporation. Ryan Ortiz from Unistel has tasked THOR Designs with increasing the accessibility and efficiency of their dust cap assembly line while minimizing costs.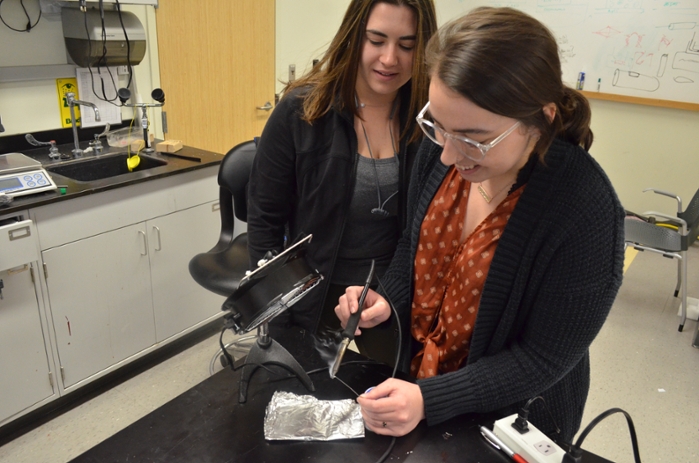 Project C-Collar
Emma Luke, Aleena Jamal, Nancy Bansbach, Anna Olsen
Cervical collars are designed to immobilize and stabilize the axial skeleton during suspected spinal injury; however, the current design lacks these functions. The goal of Project C-Collar is to design a new cervical immobilization device that effectively splints the axial skeleton and is accessible to all medical healthcare providers, both in the field and in a hospital setting. The collar will ideally be quick to apply, easy to store in an ambulance or hospital, imaging compatible, adjustable to a variety of sizes, and low in cost.
Nerve Phantom
Maura McCartney, Jamie King, Frances McAfee, Nick Drogo, Richard Simcic
A nerve block is a procedure using imaging to locate problematic nerves and administer a block to treat the pain. The sympathetic stellate ganglion is difficult to image using ultrasound due to the similar density of the surrounding tissue and depth within the body. The proposed idea is to utilize the natural emitted signal from the stellate ganglion for more accurate needle placement. Current nerve phantoms do not have electrophysiological properties needed for this proposed idea. Therefore, we will develop an electrophysiologically accurate phantom to be used by medical residents in the hospital to learn and practice this new technique.
AV Fistula
Jiajin (Lincoln) Zhao, Manikanta Nori, Conor Shanahan, Kimberly Richards
Patients with end-stage renal disease require a kidney transplant or dialysis treatment. The arteriovenous fistula (AVF) has become the preferred method for vascular access because of its effectiveness in increasing blood flow via a surgical connection between an artery and vein in the forearm. Sonavex has created EchoMark and EchoSure, to aid in detecting early post-operative blood flow complications in patients. Our team has created a benchtop phantom to mimic physiologic flow for an AVF. The model will simulate high-velocity, pulsatile flow patterns at various levels of post-operative conditions for the AVF's maturation process using materials and flow rates physiologically similar to those found in patients.
Pitch Perfect Solutions
Abril Aguirre, Gabriel Guisado, Chantelle Lim, Nathaniel Silvia
Our team was tasked with designing a pre-sized implant that can be easily customized during surgery and a depth gauge that allows depth measurement from varying angles and provides better visualization of medialization depth through the laryngoplasty window in the thyroid cartilage. This new design will improve the precision of this surgery by minimizing surgical time, mitigating suboptimally-shaped implant, which will ultimately improve the patient's voice and surgical outcome.
OCM Colposcopy
Victoria Breza, Abby Williamson, Grace Weyand, Yue Qi
Colposcopy procedures are used during the cervical cancer screening process. Our hope is to improve the sensitivity and specificity of a colposcopy procedure while reducing the potential cervical damage by integrating optical coherence microscopy (OCM) into a contact probe that can perform an optical biopsy of regions of interest on the cervix.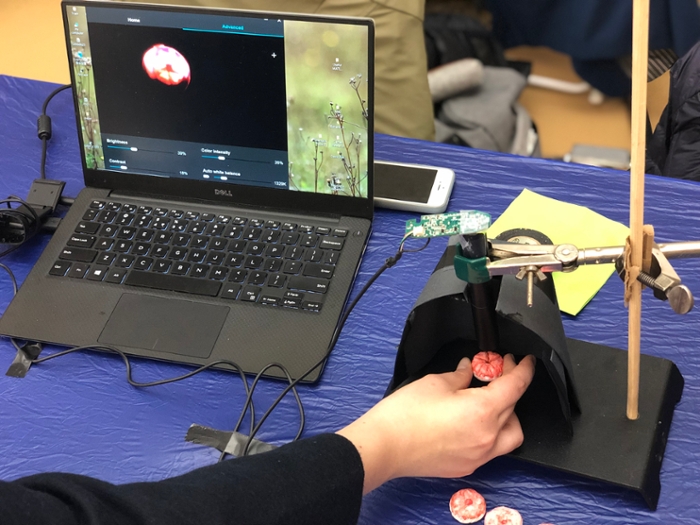 Center for Medical Technology & Innovation (graduate students)
IASO Surgical Solutions
Ariana Cervantes, Devon Foggio, Alyssa Marzella
OMOS is a surgical table accessory utilized in anterior cervical spine surgeries. OMOS provides a surgeon sterile control of patient positioning throughout procedures allowing for increased visualization on x-ray images and decreased risk to the patient.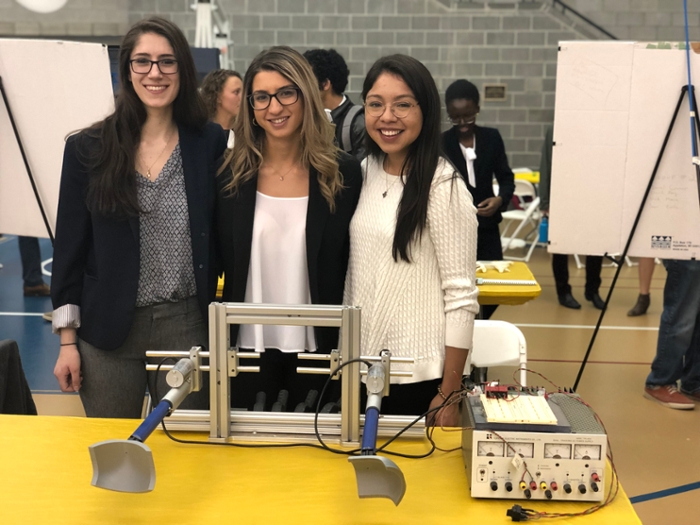 Hemonamic
Huy Nguyen, Emily Grey, Elana Chazen
The hemonamic is a flow control device that provides dynamic regulation of blood flow to various parts of the body to reduce lower limb complications of patients on extracorporeal membrane oxygenation (ECMO).
Envisient
Brenna Schnell, Anli Lin, Halie Hotchkiss
Our device addresses a way to clear obstruction of the surgical field during endoscopic sinus surgery in order to improve visualization and reduce intraoperative time.
BIG Cardiovascular
Gavin Hambrose, Rebecca Macaluso, Ivy Mannoh
A way to stabilize the post-operative bisected sternum in delayed closure cases to allow safe and successful patient movement while supporting cardiac recovery during open chest management.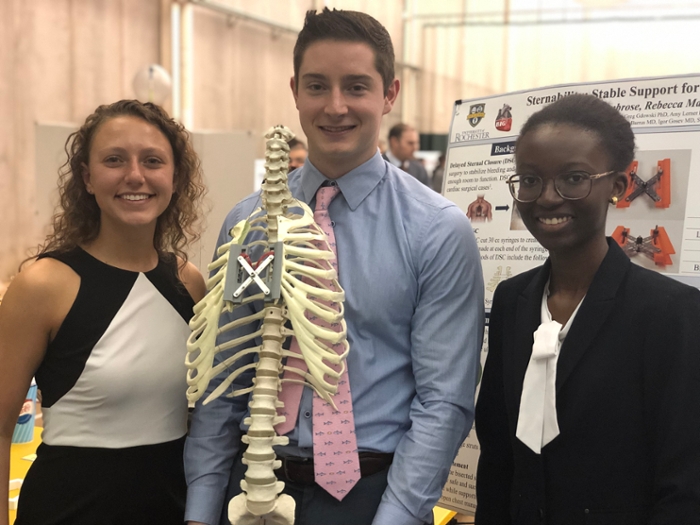 Go-Flex
Jane Fong, Kwasi Nimako, April Tsang
The GoFlex technology will promote dynamic dorsiflexion assistance and support of foot drop patients. In addition, the device will provide data analytic information to the user to show patient progress over a period of time visually.
Anoptix
Veronica Valencerina, Christian Keenan, Jennifer Fukagawa
Anoptix is developing a system to continuously monitor external mechanical compressions to the eyes and orbits during prone-positioned surgeries. This device will notify the anesthesia provider of adverse pressures in order to elicit actions to alleviate these pressures and therefore decrease the likelihood of post-operative vision loss, a temporary or permanent loss of sight after prone-positioned surgeries.