Institute Alum Stephen Fantone to Become OSA President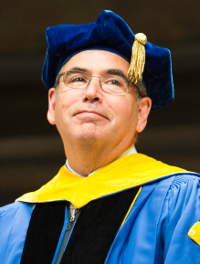 In 2020, Institute alum Stephen Fantone '79 (PhD) will become the 23rd president of the Optical Society (OSA) who has ties to the University of Rochester.
This includes 21 alumni and current or former faculty members of the Institute of Optics, representing about a quarter of OSA's 85 presidents since the organization was formed in 1916.
OSA founders were part of the advisory committee that led to the creation of the Institute of Optics as the nation's first academic program in optics. The Institute has granted nearly half of all optics degrees in the United States, and many of its faculty and alumni have played key leadership roles in OSA.
"The past presidents of the OSA read like a who's who of optics," says Scott Carney, director of the Institute.
Fantone, president and founder of Optikos Corporation, was recently elected by the membership to be OSA vice president for 2018, meaning he will serve as president elect in 2019 and president in 2020. Fantone, a recognized expert in optical engineering and optical product development, has been awarded more than 65 patents. He is a fellow of OSA, which he has served in several leadership roles, and is a senior lecturer in the mechanical engineering department at MIT.
    He is recipient of the Hajim School Distinguished Alumnus Award (2009) and the University of Rochester Distinguished Scholar Award (2015).  Read more here.

Other OSA presidents with ties to the Institute include:

2013: Donna Strickland '89 (PhD), now associate professor at the University of Waterloo.
2011: J. Christopher Dainty, an associate professor from 1978 to 1984 at the Institute, past chair of applied physics at the National University of Ireland, Galway.
2010: James C. Wyant '68 (MS), '69 (PhD), Founding dean of the College of Optical Sciences at University of Arizona, and recipient of the Hajim School Distinguished Alumni Award.
2007: Joseph H. Eberly, Andrew Carnegie Professor of Physics and professor of optics, founding editor-in-chief of Optics Express.
2005: Susan Houde-Walter '83 (MS), '87 (PhD), faculty member from 1987 to 2005, reaching rank of full professor; now co-founder, CEO, and chair of the board, LaserMax Inc.
2003: G. Michael Morris, scientist from 1979 to 1982 and professor 1982-2001, currently CEO and co-founder of RPC Photonics Inc.
1996: Duncan T. Moore '74 (PhD), the Rudolf and Hilda Kingslake Professor of Optical Engineering, vice provost for entrepreneurship, and former director of the Institute.
1978: Emil Wolf, Wilson Professor of Optical Physics.
1973: Robert E. Hopkins '39 (MS) '45 (PhD), "father of optical engineering," former professor and director of the Institute and co-founder of Tropel Inc.
1970: W. Lewis Hyde, faculty member from 1963 to 1968, later provost of New York University.
1962: David L. MacAdam, professor from 1975 to 1995.
1951-52: Brian O'Brien, professor, 1930 to 1955, and director, 1934-1954.
1947-48: Rudolf Kingslake, faculty member 1929-1937.