Student Profiles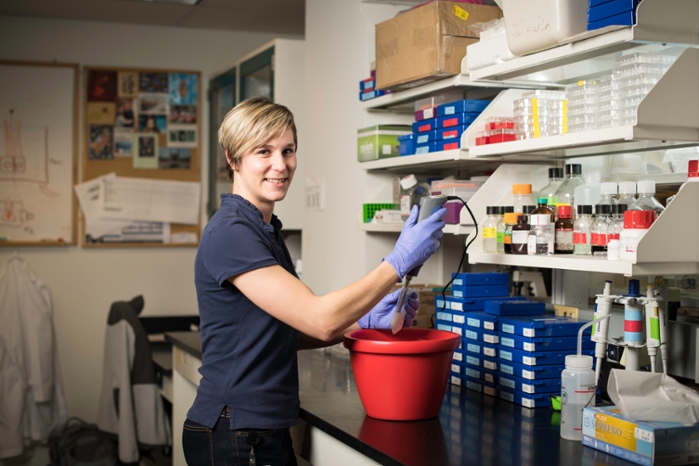 Sara Nowacki
Hometown: Naperville, IL
Anticipated Graduation Year: 2017
Degree: PhD
Research Group: Awad Lab
Why did you pick the University of Rochester?
The rotation program was a significant factor in picking the University of Rochester.  I really enjoyed the opportunity to work with professors in a variety of biomedical engineering fields as well as hone my skill set during my first year.
What lab did you choose and why? 
I chose the Awad Lab because of its research in multiple musculoskeletal tissues – bone, cartilage, and tendon – and its focus on developing a diverse skill set that includes basic biology and mechanical testing.  Its location within the Center for Musculoskeletal Research (CMSR) and the collaborative environment with other members of the CMSR as another deciding factor in selecting the Awad Lab.
What is your research project?
My research project focuses on the regeneration of cartilage after microfracture repair.  Currently, after microfracture, the resulting repair tissue is a scar tissue that doesn't have the same compositional or mechanical properties as healthy cartilage.  I'm using a combination therapy of cartilage-derived matrices and teriparatide to promote formation of a repair tissue that better mimics cartilage in both structure and function.
What have you enjoyed most about your training so far? 
The lab itself!  It's fun to work in a lab where we get along both inside and outside of the lab, and that makes coming to the lab each day more enjoyable.  I've also really enjoyed the ability to discuss progress and failures in experiments and get feedback from peers and faculty.  The CMSR has weekly progress meetings that gives you the opportunity to get feedback on your research from PIs, and this has really helped me broaden the scope of my research.

What are your plans for the future? Where would you like to be in 5-10 years? 
My goal is to have a job where I'm able to talk about science to a variety of audiences.  I like the challenge of explaining a technical concept in a manner that those with and without a scientific background can understand.  Ideally, I want to make science and engineering approachable to people who might be intimidated by it.

When should you start Networking for academic opportunities? How did you start?
It's never too early to start networking!  I started by talking to people at conferences that I was attending, but I've also been able to network through volunteer opportunities and at social events.  Don't be afraid to e-mail or approach someone directly and ask them a few questions about their job, you never know what it might lead to!