Stephen McAleavey begins term as BME's third department chair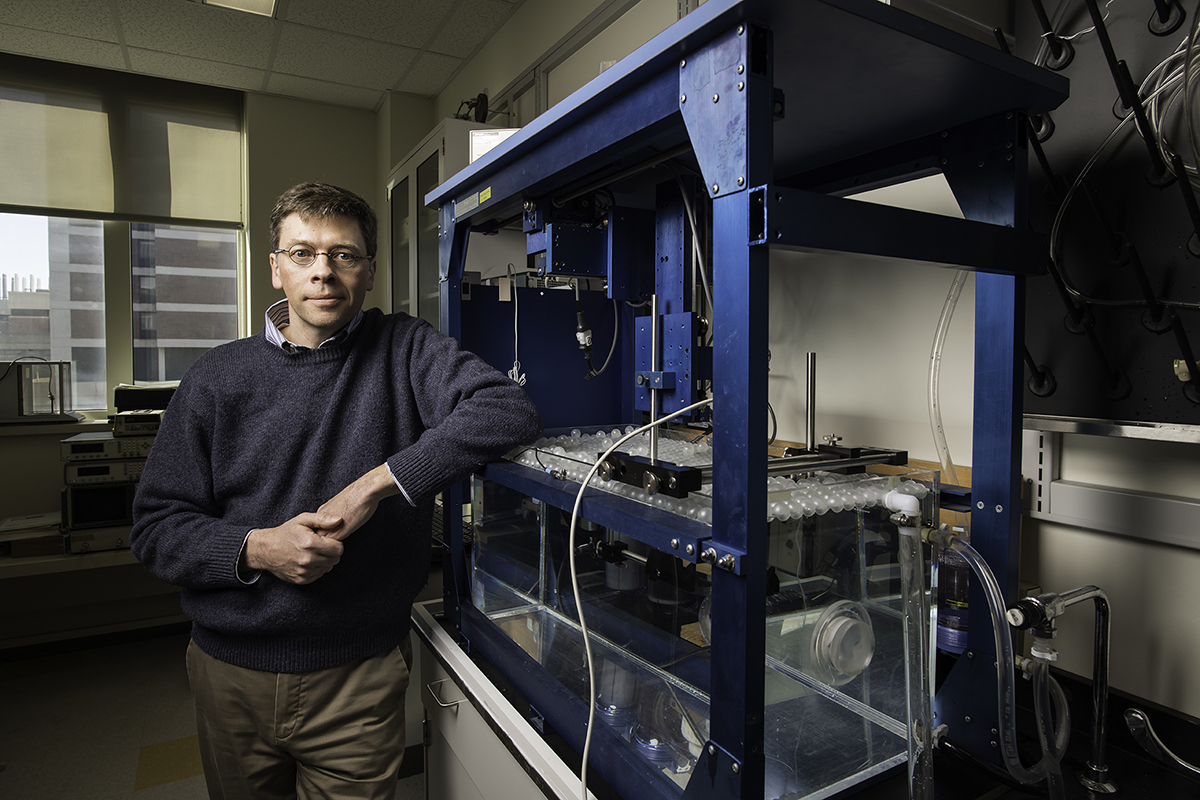 Stephen McAleavey '96 '02 (PhD) has a deep appreciation for the opportunities that come with being a biomedical engineering faculty member at the University of Rochester.
The proximity of the River Campus to the Medical Center, just across Elmwood Avenue, has contributed to some remarkable discoveries over the years from collaborations between the University's engineers and physicians.
Moreover, because the University is relatively small it is not only imperative, but easier for biomedical engineers to reach out and collaborate on projects with colleagues in other departments, spanning not only engineering and science, but the arts and humanities, McAleavey says.
"It's at those interfaces that interesting and exciting things happen," he says.
So, as McAleavey begins his term as chair of the Department of Biomedical Engineering (BME), one of his top priorities will be helping his faculty members take advantage of those opportunities.
"An important hallmark of the department is the ability to go out and do leading edge research. This is a group of people who are really engaged, dedicated and passionate about their work, passionate about their research and their teaching, and to the degree I can give the faculty space and time and resources to do that, that's my goal as chair," says McAleavey.
"I'm working for the faculty."
Diversity and inclusion will continue to be a priority
McAleavey will be the third chair of the department, following founding dean Richard Waugh and his successor, Diane Dalecki. The department was established in 2000, and is internationally recognized for its research in:
advanced therapeutic biomaterials,
state-of-the-art biomedical imaging, particularly in biomedical optics and ultrasound, and new methods for imaging biological systems,
biomechanics and mechanobiology approaches to improve treatments for disease or injuries,
neuroengineering, particularly in collaboration with the Medical Center's DelMonte Institute,
regenerative medicine to engineer tissue replacements and therapeutics,
new advances in nanotechnology and microsystems as biosensors and clinical diagnostics.
The department's robust senior design program matches students with Medical Center labs, outside companies, and nonprofit agencies so the seniors can apply the skills they've learned in the classroom to "real world" challenges. The department's unique medical device design master's program immerses students for three months in Medical Center operating rooms and other settings to gain a first-hand knowledge of not only clinical needs but constraints in designing devices.
BME has made more progress than any other department in the Hajim School of Engineering and Applied Sciences towards addressing the underrepresentation of women in STEM fields. Eight of the department's 19 primary faculty members are women and two are underrepresented minorities; in recent years, the department has achieved gender parity in its undergraduate population, which is currently 276. The BME program also includes 9 postdocs, 84 PhD students, and 30 master's students.
"The department has put a lot of effort into building diversity and inclusion and is going to continue doing so," McAleavey says."
"The importance of that is not just that it's the right thing to do. Absent that diversity and inclusion, you wind up with blind spots. In a monoculture you don't even know that you don't know," McAleavey says.
"Nobody sets out to make a racially biased pulse oximeter (used to measure the oxygen saturation levels of blood), for example, but during the Covid pandemic we found out that existing pulse oximeters work better for people with light skin than with dark skin. It's an example of why it's so important in BME to have diversity – in the research subject population, and in the people working on these problems, so that you don't wind up with 'solutions' that are solutions for only part of a population."
McAleavey also wants to build on the department's ties with the Medical Center and find additional opportunities to involve BME's strong alumni base in the department's activities. For example, the department launched an Alumni Insight Series, featuring BME grads talking about the careers they've pursued.
"That's really helpful, not only for students to get a sense of what our former students have gone on to do, but also for our faculty to figure out what we should be teaching our current students," McAleavey says. "So, this is something we will definitely want to continue."
"What a university ought to look like'
McAleavey first became aware of the University of Rochester when it awarded him a Bausch and Lomb Science scholarship during his junior year of high school in Danbury, Conn. McAleavey visited the campus during a tour of New York colleges with a high school friend.
"I remember arriving on campus, and thinking, this is what a university ought to look like," he says. "I applied and was really excited when I was accepted."
During high school, McAleavey worked at LoRad in nearby Danbury, Conn. Now known as Hologic, the company makes mammography machines to image and screen for breast cancer. 
"I was working as a gofer in the research and development operation, where they were figuring out what the next model of their machines would look like.  I got to see engineering in action, electronics being used for a medical purpose, and that kind of informed my choice of classes when I got here," McAleavey says.
A class on how transistors work, for example, solidified his interest in electrical engineering; a medical imaging class taught by Kevin Parker further inspired McAleavey to stay on at Rochester to pursue a PhD degree in Parker's lab.
"He was wonderful," McAleavey says. "He gave me lots of opportunities and got me involved in a really interesting project in ultrasound. And that in turn introduced me to Diane Dalecki and Ed Carstensen (a pioneer in ultrasound imaging), and really got me into the heart of the ultrasound group here."
For his postdoc, McAleavey spent three years at Duke University, receiving "great training" from Gregg Trahey, the Robert Plonsey Distinguished Professor of Biomedical Engineering, and Kathryn Nightingale, now the Theo Pilkington Distinguished Professor of Biomedical Engineering. "Gregg really encouraged me to seize opportunities, and I'm forever grateful for the support he gave me."
Waugh, as it happened, served on the external advisory board at Duke. He dropped by McAleavey's office during a visit, urging him to apply for a faculty position in Waugh's recently formed Department of Biomedical Engineering back at Rochester.
"And it worked," McAleavey says.
What's the broader impact? How is this going to be used?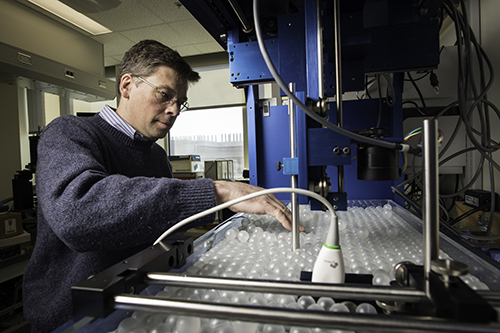 Since joining the faculty here in 2004, McAleavey has collaborated with colleagues on both sides of Elmwood to develop clinically applicable ultrasound imaging techniques, particularly motion-tracking techniques to enhance the contrast of ultrasound images. He holds several patents for innovations in ultrasound imaging.
McAleavey teaches core BME courses in technical computing and ultrasound imaging. He's also explored the "exciting things that happen" at the interfaces between engineering and sciences, and the arts and humanities.
Last spring, he teamed with Allen Topolski, chair of the department of art and art history, to teach a course called Material Matters, exploring how artists and engineers both engage in manipulation of matter for a purpose, often using the same tools.
"We're literally as far apart on the River Campus as you could possibly be, but if you go down to the Sage Arts Center, you'll see art students using CAD or Illustrator for design, and there's a band saw, table saw, drill press and soldering equipment—all the same things we have in the senior design labs in BME," McAleavey says.
When the mixed class of engineering and arts students visited the Corning Museum of Glass, "we saw glass as technical material for making lenses, or a giant telescope mirror, or fiber optics, but also as an art medium," McAleavey says. Similarly, a trip to the Memorial Art Gallery enabled the students to explore the pipe organ there as "an engineered device, with tuned resonant structures and control systems, that also produces music."
One takeaway from the class, McAleavey says, is that artists are often more invested in the meaning of what they're doing. "Sometimes in engineering we don't think carefully enough about that when we create things. What's the broader impact? How is this going to be used in the world?
"That's the importance of being here at the University, the opportunity to have not just a technical education, but exposure to the humanities and social sciences. When you don't have that, there's this real hazard that you create algorithms or devices that, however unintentionally, have negative effects on people."
Grateful for the support of faculty and staff colleagues
In addition to research and teaching, McAleavey serves on the College Curriculum Committee and the department's undergraduate committee. He has participated on several search committees to hire new BME faculty and oversaw the department's recent successful ABET review and re-accreditation.
The lengthy process involves exhaustive documentation that the department is providing its students the educational experiences they need to thrive as engineers.
"My blood pressure is now finally back down!" McAleavey says. "My faculty and staff colleagues in the department really made that possible. It's one of those things where one person can huff and puff all they want, but if they don't have the support of colleagues in the department, it doesn't work.
"I'm really grateful for that."
And all the more reason he's happy to serve the department as its new chair.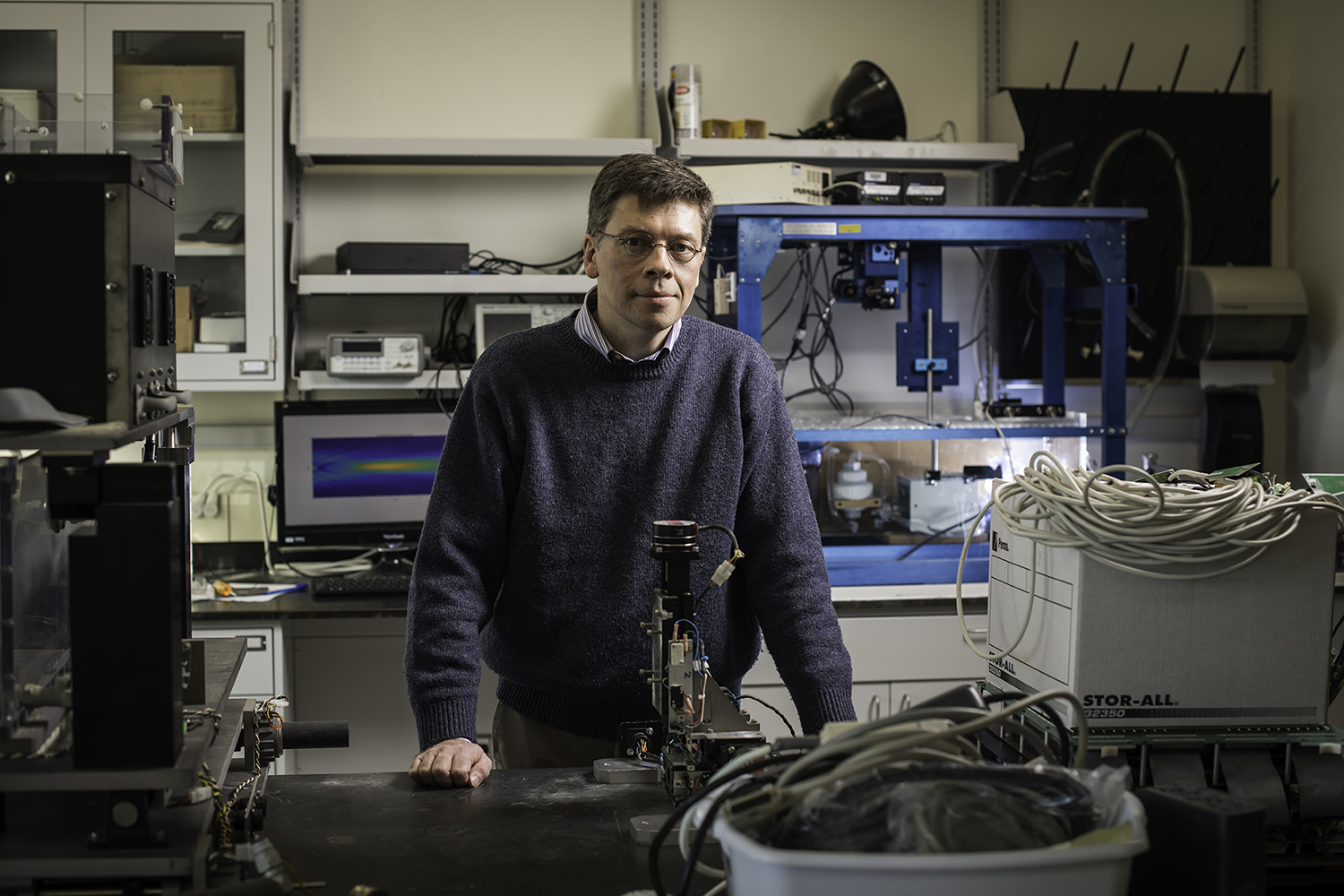 _______________________________________ 
Author: Bob Marcotte, Senior Communications Officer for Science, Engineering and Research

Photos: Adam Fenster, University Photographer


Follow the BME Dept. Social media accounts to share or comment on this news, and more!