BME Alumni Spotlight: Nancy Bansbach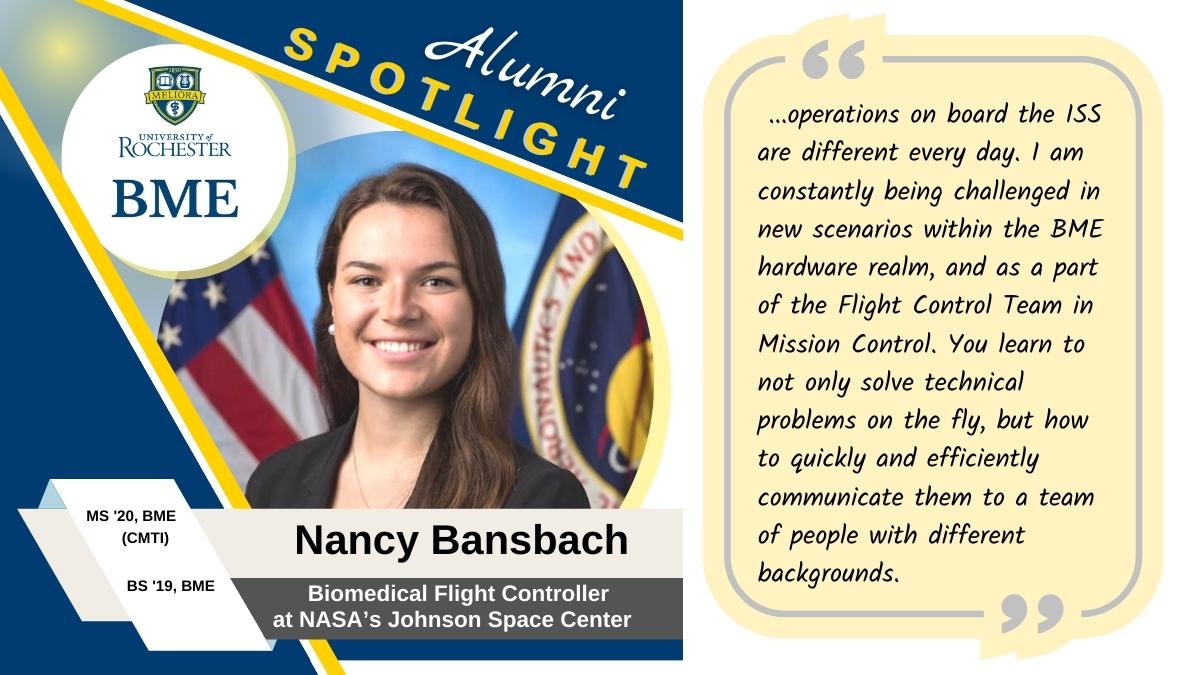 Nancy Bansbach
Biomedical Flight Controller (call-sign BME)
at NASA Johnson Space Center (JSC)
Hometown:  Fayetteville, NY

University of Rochester Background:
Tell us more about what you do now: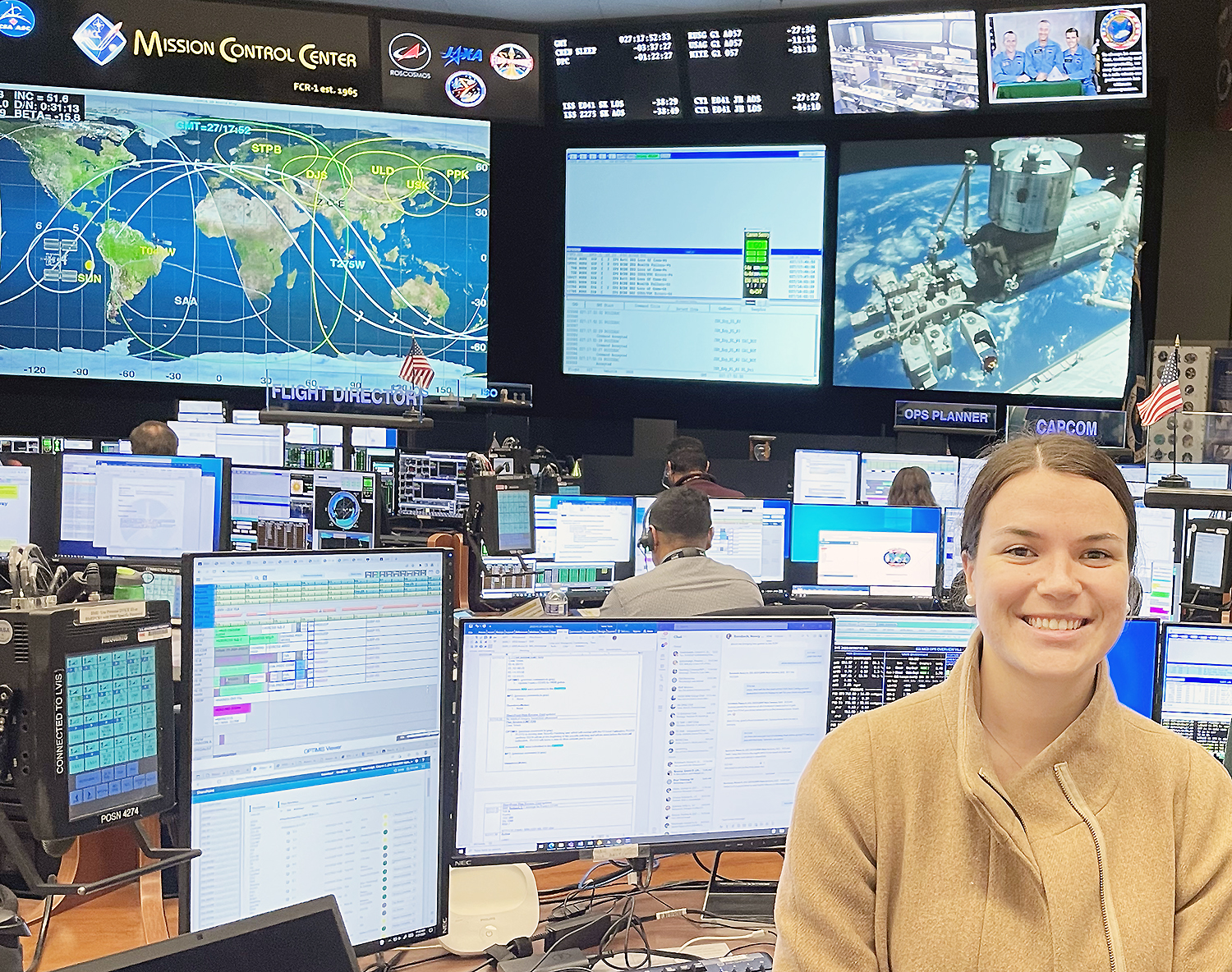 I am a biomedical flight controller (call-sign BME) at NASA Johnson Space Center (JSC). I work in Mission Control ensuring astronaut health and safety aboard the International Space Station (ISS) by planning, facilitating and monitoring real-time ISS operations involving crew health, medical operations and medical hardware.
This job is exciting because operations on board the ISS are different every day. I am constantly being challenged in new scenarios within the BME hardware realm, and as a part of the Flight Control Team in Mission Control. You learn to not only solve technical problems on the fly, but how to quickly and efficiently communicate them to a team of people with different backgrounds. It is the ultimate team effort to support the astronaut's safety and mission success in space. 
Currently another U of R alumni, Josh Cassada ('00 PhD, Physics), is living on board the International Space Station! As pilot of Crew-5, he traveled to the ISS on a SpX Dragon spacecraft in October and will return home in March. It's been super cool supporting him on his mission.
Outside of Mission Control, I serve as a subject matter expert for the Cycle Ergometer Vibration Isolation System (CEVIS), otherwise recognized as the "space bike", along with the Heart Rate Monitor. While in space for long duration space flight, it's important that the astronauts exercise regularly to prevent muscle and bone atrophy. On the ISS, astronauts have access to the CEVIS, the Advanced Resistive Exercise Device (ARED), and Treadmill 2 (T2), all part of the Countermeasures System. You can read more about why exercising on these devices is so important here: Bone and Muscle Loss in Microgravity | NASA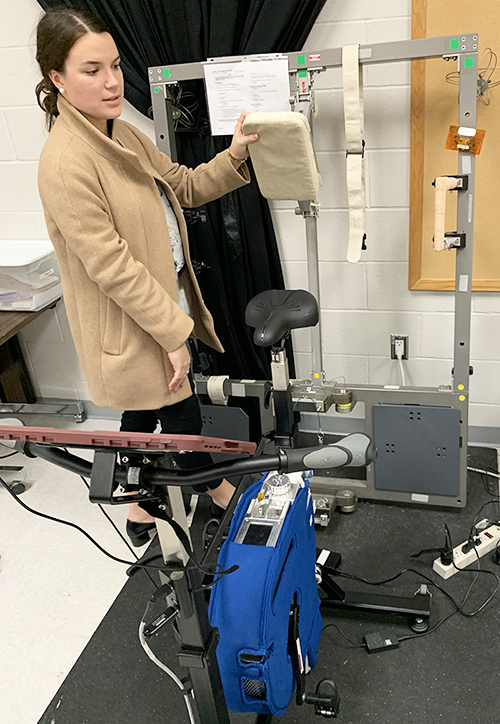 As a former student athlete at UofR, I especially appreciate being able to work on the Countermeasures System for astronauts. Not only do I work on CEVIS, but also uplink exercise prescriptions for crew exercise and conduct VO2 Max tests. The VO2 Max test uses the Portable Pulmonary Function System (PPFS), and CEVIS, to measure oxygen uptake and cardiac output during exercise. VO2 Max testing is done prior to flight, during flight, and post flight to evaluate aerobic fitness.
Additionally, I am a Vision Test Remote Guider. A Remote Guider is a specialist who talks directly to the crew on board the ISS to guide them through a task. In this role, I test the astronaut's visual acuity throughout their mission to ensure they maintain optimal ocular health. We conduct several types of eye exams on board to detect and manage Spaceflight Associated Neuro-Ocular Syndrome (SANS).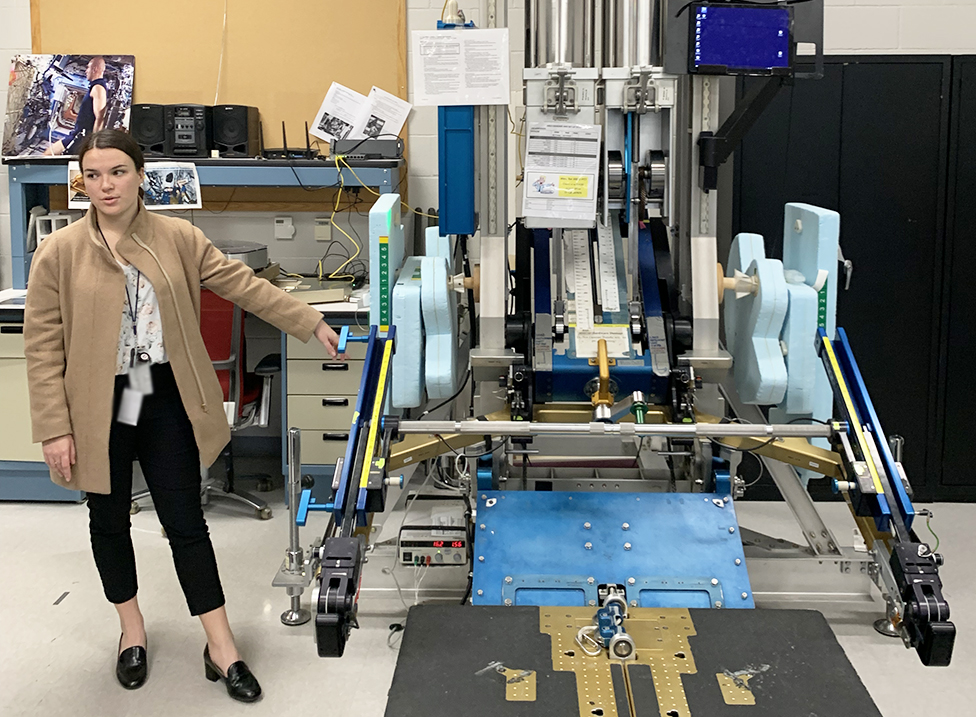 When and why did you decide to major in biomedical engineering?
I decided to major in biomedical engineering in high school because I enjoyed science and math and I was fascinated with the human body, it's limits and how we push them with technology-specifically in space. I had a goal to work in the space industry with a BME degree. 
I knew I had chosen the right major when I met Professor Amy Lerner during a Biomaterials guest speaker presentation where she talked about her previous experience in the space industry working on the space glove. I was able to talk to her about my interests and explore what options were available to me post-grad. 
What were some accomplishments or favorite memories from your time at the University of Rochester?
Playing field hockey and winning the Liberty League Championship for the first time in school history with my best friends.
Traveling to Bermuda with my team to play International field hockey.
Earning first team All American honors my senior season of field hockey.
Playing the Hopeman Memorial Carillon bells inside the tower of Rush Rhees Library
Playing in the Chamber Orchestra on campus as part of my music cluster.
Observing surgeries over the summer and working with surgeons to design surgical instruments.
Doing research on inner ear hair cell regeneration at URMC.
Any suggestions or advice for current BME students?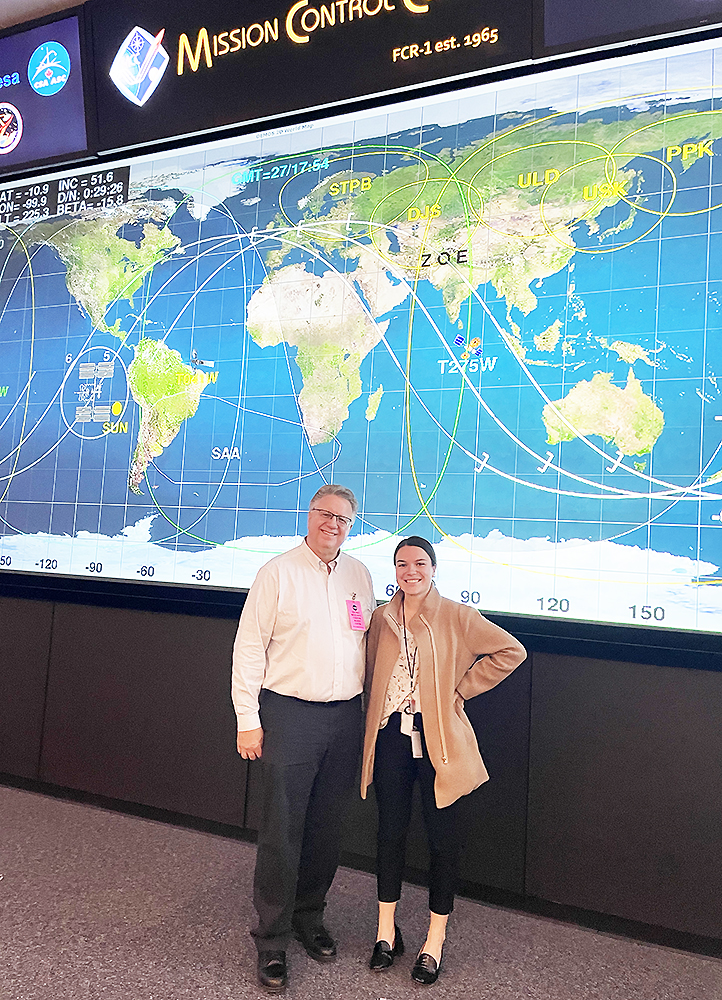 First: Find a mentor.
Professor Amy Lerner was the first person I met at the University of Rochester that had worked in the space industry. She was able to connect me to people around the country to find out what kind of opportunities lined up with my interests. She encouraged me and fueled my interest with stories from her previous experience.
I also was a student athlete and was lucky enough to have a coach that served as a mentor and role model. Wendy Andreatta taught me a lot about field hockey and a lot about life: how to navigate new situations, how to believe in myself and how to believe in others. She cared about her players academic success and her support allowed me to achieve my goals. 
Second: Say yes to experiences - and if they aren't there, go find them.
In my Master's year in the CMTI program I knew I wanted to go into the space industry but there aren't any "biomedical engineering in space" classes. Instead, my professors supported me in choosing space related topics for presentations and projects. In my mechanotransduction course I studied the effect of microgravity on bone and muscle mass. In quality engineering I studied a case from NASA where the astronaut's helmet filled with water during a space walk, forcing them to abort their task and return to the space station. I was able to use this knowledge in my job search and interview process.
Another valuable experience was from applying and being selected to attend a NASA Social event at NASA's AMES Research Center in California. At AMES, I toured the different labs at the facility and met the Deputy Director during lunch hour where I expressed my interest in Medical Operations. From talking to her, and her connections, I discovered that the biomedical flight controller role would be a good fit for me. Those experiences got me to where I am today. 
(* Disclaimer: All views/opinions are my own. Not speaking on behalf of NASA.)
***** If you would like to be featured in one of our Alumni Spotlights, please email deborah.contestabile@rochester.edu. *****
Follow the BME Dept. Social media accounts to share or comment on this, and to keep in touch!