Regulatory Science Contest Sparks Solutions to Food Poisoning, Opioid Abuse, Drug Shortages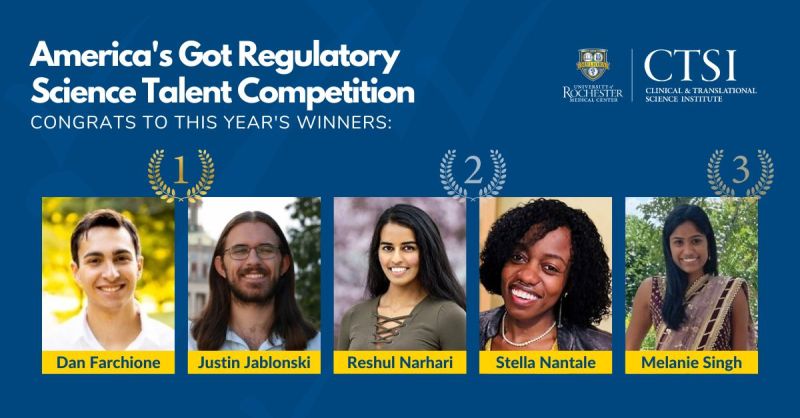 On March 1, 2023, students from across the University of Rochester gathered for the 10th annual America's Got Regulatory Science Talent competition. Nine student teams shared their innovative ideas on how to address regulatory science challenges outlined by the Food and Drug Administration (FDA). Teams vied for the top spot and a chance to present their solution to the FDA in Washington D.C. in April where they will join the winners of the University of Maryland's competition and meet with the FDA's chief scientist Namandjé Bumpus, PhD.
Proposed solutions included a device to secure opioid medications and reduce prescription opioid abuse, tracking COVID symptom trends, managing drug shortages, developing new methods to test the safety of CAR T-cell cancer therapies, and more. Learn more about this year's top three teams

First Place: FoodWarn AI
Dan Farchione and Justin Jablonski
The U.S. food supply chain is huge and complicated. Enormous pressure to produce and an insufficient ability to communicate and trace products puts the system at risk for foodborne illness outbreaks.
While the FDA tracks foodborne illnesses, it is likely not getting the full picture. For instance, about 800 foodborne illness outbreaks are reported to the Centers for Disease Control and Prevention (CDC) each year, but the FDA has only identified 959 outbreaks in over a decade.
Currently, the FDA's method of collecting and tracking foodborne illness outbreaks is laborious and manual. FoodWarn AI, proposed by Daniel Farchione, MS, and Justin Jablonski, MS, who are both graduate students in University of Rochester Center for Medical Technology & Innovation (CMTI), would help the FDA gather and collate data to identify outbreaks.
FoodWarn AI would scan outbreak reports to the FDA and CDC, social media mentions of foodborne illness-related terms, and online news of outbreaks. Capturing time and location stamps, it could localize possible outbreaks and direct FDA efforts. In addition to faster data analysis, FoodWarn AI could also automate communications to food distributors, manufacturers, and customers to hone in on the source of the outbreak and prevent its spread. Using predictive modeling to analyze patterns of past contamination, the system could also predict risk for future outbreaks.
Watch the FoodWarn AI presentation.

Second Place: Opi-Lock
Reshul Narhari and Stella Nantale

In 2020, more than 16,000 people died by prescription opioid overdose in the U.S., which accounted for 24 percent of all opioid overdose deaths that year.
To prevent prescription opioid abuse, CMTI graduate students Reshul Narhari and Stella Nantale, have designed a biometric drug container that could keep opioid drugs under lock and key. Their device, called Opi-Lock, is a bit like a cross between a standard multi-well pill container and an automated dispensing cart, a medical device that requires a healthcare professional to enter specific patient information to access medication.
Opi-Lock would give patients direct, but secure access to their medication. Patients would need to scan their thumbprint in order to open a single well of the device and they would not be able to open another well until the prescribed amount of time had passed. The device would timestamp and record each instance a medication was dispensed. It would also include a sensor that could detect device tampering and send a notification to the patient's electronic health record.
Watch the Opi-Lock presentation.

Third Place: iDARE (Drug Availability Reporting and Expectations)
Drug shortages are a common occurrence in the U.S., but we currently lack the tools to predict and prevent these shortages.  
Melanie Singh, a graduate student in the University of Rochester's Biomedical Engineering PhD Program, proposed the iDARE system, which would use artificial intelligence to predict shortages. Because drug shortages tend to be preceded by drops in drug and stock price, the system would analyze pharmaceutical stocks, quarterly reports, and drug prices to predict volatility in the drug supply.
Taking advantage of open-source databases made available by the CDC and World Health Organization, iDARE would also monitor disease trends to predict prevalence of illnesses in the U.S. and elsewhere. It would also scan records submitted to the FDA by drug manufacturers and wholesalers, including inventory, production, and supply interruption data, as well as sales and market data from pharmacies to predict whether the supply chain will be able to meet demand.
This year's judges included: Steven Bowen, PhD, principal consultant for CMC Biologics at DataRevive; Heather Reyes, MD, MEng, assistant professor of Pediatrics and Critical Care at URMC; and Jenny Zhi Zheng, PhD, assistant professor of Biomedical Engineering at the Rochester Institute of Technology.
The America's Got Regulatory Science Talent student competition is organized by Joan Adamo, Ph.D., director of Regulatory Support Services at UR CTSI, and is supported by the University of Rochester CTSA award number UL1 TR002001 from the National Center for Advancing Translational Sciences of the National Institutes of Health. The content is solely the responsibility of the authors and does not necessarily represent the official views of the National Institutes of Health.