Three UR BME Students Win NSF GRFP Award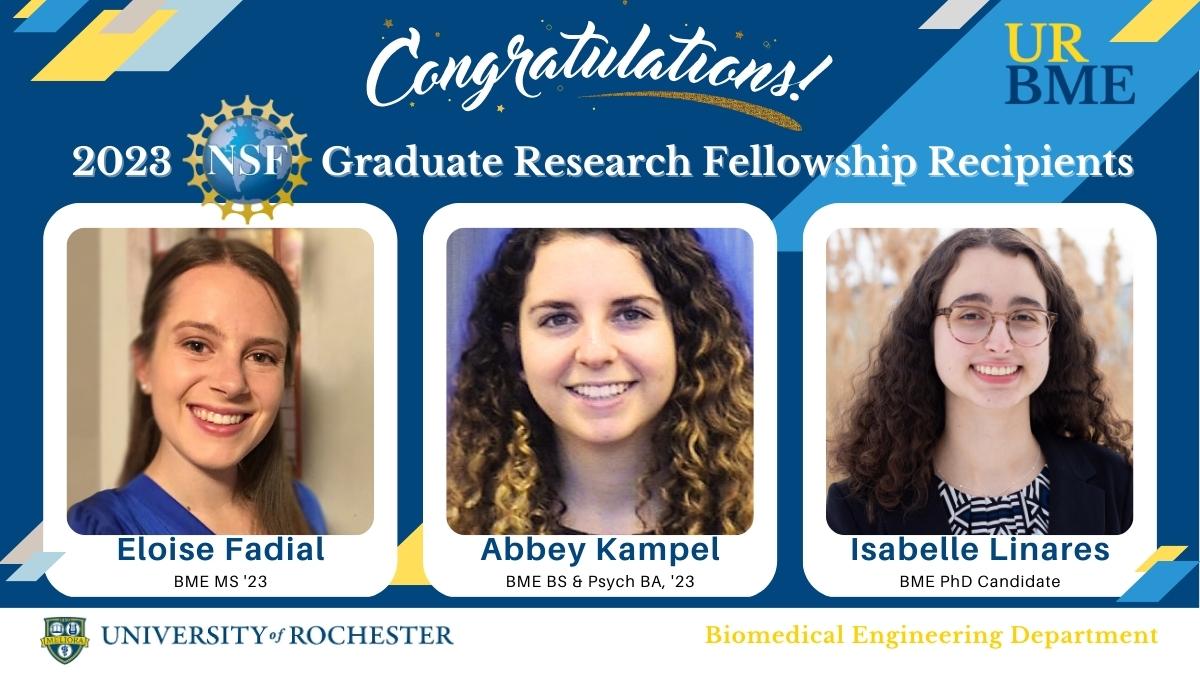 Three Biomedical Engineering students have been awarded the prestigious National Science Foundation Graduate Research Fellowship (NSF GRFP). The GRFP recognizes and supports outstanding students who are pursuing full-time research-based master's and doctoral degrees in science, technology, engineering, and mathematics (STEM) or in STEM education. Recipients have demonstrated their potential for significant research achievements in STEM or STEM education and are provided with three years of support, inclusive of an annual stipend.  
Candidates apply for the award either the year before entering graduate school or during the first or second year of their graduate degree programs.  The purpose of the NSF Graduate Research Fellowship Program (GRFP) is to ensure the quality, vitality, and diversity of the scientific and engineering workforce of the United States. GRFP seeks to broaden participation in science and engineering of underrepresented groups, including women, minorities, persons with disabilities, and veterans.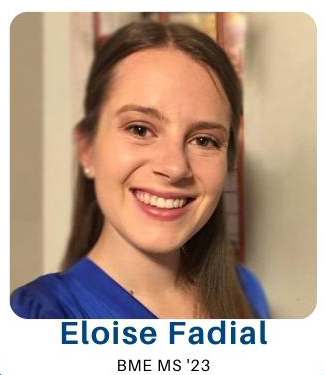 Eloise Fadial recently passed her MS Final exam, and the title of her thesis was "Investigation Into the Functional Role of PRDM16 in Limb Development and Homeostasis". She has been studying chondrocyte development in the Wu lab, and plans to continue her studies at the University of Rochester as a PhD candidate in the fall.  
"I am so excited to share that I have been awarded the NSF GRF. I am so grateful to everyone who has helped me along the way. I couldn't have done it without the awesome mentorship of Prof. Chia Lung Wu and all the wonderful members of the Wu lab. I can't wait to start my PhD at the University of Rochester next fall."
     ~ Eloise Fadial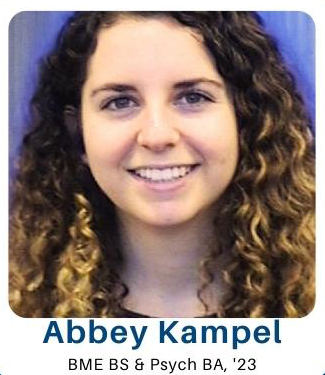 Abbey Kampel is an undergraduate in her senior year, double majoring in Biomedical Engineering and Psychology, with a concentration in cell and tissue engineering.  She worked in the lab of Prof. Andrew P. Wojtovich, where they study ischemia reperfusion injury in neurons using optogenetic tools to control the mitochondrial membrane potential or reactive oxygen species production. 
"At the fusion of psychology and biomedical engineering research lies my passion for health innovation. I am looking to expand current thinking in the field of engineering and perform research to drive innovation."
     ~ Abbey Kampel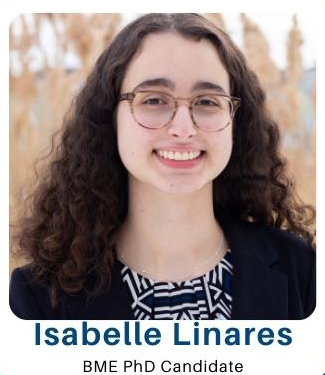 Isabelle Linares is going into her third year as a PhD student, and works in  Prof. Jim McGrath's lab. Her activities and societies include the Society for the Advancement of Chicanos/Hispanics and Native Americans in Science (SACNAS), Alliance for Diversity in Science and Engineering (ADSE), and the Graduate Student Council Educational Outreach Committee.
"My research is focused on incorporating physiological flow conditions into a human tendon-on-a-chip. This platform will enable us to investigate the fibrotic healing response following tendon injury and evaluate potential therapeutics."
     ~ Isabelle Linares


 Congratulations to all!  
---
BME Department's social media accounts: