2023 Undergraduate Awards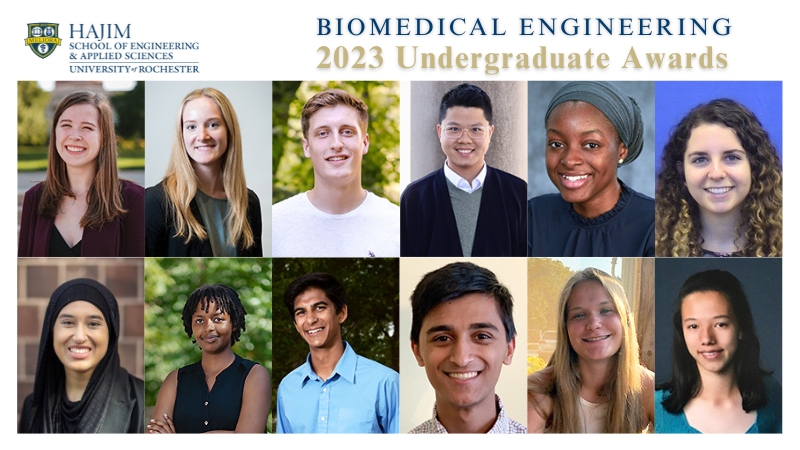 Several of our outstanding biomedical engineering majors won awards from the BME Department, and the Hajim School of Engineering.  They were recognized at the BME Banquet on April 19th, and will be acknowledged again during commencement weekend at the BME graduation ceremony.  
Hajim School of Engineering & Applied Sciences & College Prize Winners, 2022-2023
Richard Eisenberg Engineering Award
Katherine Broun
Awarded to and undergraduate with an interest in materials science, preferably metallurgy. Award winners must be hard-working and have Professor Eisenberg's high ethical standard.
Katherine performed research here at U of R with Whasil Lee, quantifying and characterizing cartilage defects induced by mechanical injuries, earning an authorship on a submitted manuscript. She also worked in an REU with James Cahoon at UNC, studying hybrid perovskite films and earning an authorship on a second submitted manuscript.
Donald M. Barnard Prize
Anna Hazelwood, Mitchell Kershner & Phuong Le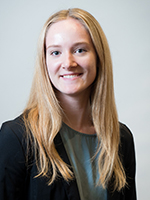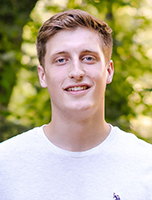 Awarded to a senior who is majoring in engineering, has been accepted into one of the University of Rochester's Masters' programs, and shows personal achievement as well as good personal qualities.
Anna Hazelwood has performed research with Whasil Lee here at U of R, as well as at Worcester Polytechnic Institute and in the corporate world, while TAing BME 201P, leading a workshop in Chemistry, and being active in her sorority and in professional societies.
Mitchell Kershner has performed research in the lab of Amy Lerner, and participated in Varsity Basketball for four years. 
Phuong Le has participated in research here at U of R with Tim Baran and Ed Lalor, as well as at the Mayo Clinic.
Lisa Norwood Student Involvement Prize

Zaynab Dantsoho
Awarded to a student who has shown commitments and service to the Hajim School by building community and belonging. Two awards will be given, one to a junior, and one to a senior.

Zaynab Dantsoho is currently the President of the UR NSBE Chapter and has previously held many other key roles in the organization. Through grant applications and fundraising events, she acquired sufficient funds to send a staggering 22 members to the 2022 Fall NSBE Regional Convention. She has also been an active member of the Muslim Students' Association, where she served as Charity Chair 2021 – 2022.

NSF Graduate Research Fellowship

Abbey Kampel
The National Science Foundation Graduate Research Fellowship (NSF GRFP) recognizes and supports outstanding students who are pursuing full-time research-based master's and doctoral degrees in science, technology, engineering, and mathematics (STEM) or in STEM education.
Abbey Kampel is an undergraduate in her senior year, double majoring in Biomedical Engineering and Psychology, with a concentration in cell and tissue engineering.  She worked in the lab of Prof. Andrew P. Wojtovich, where they study ischemia reperfusion injury in neurons using optogenetic tools to control the mitochondrial membrane potential or reactive oxygen species production. 
National Academy of Engineering Grand Challenges Scholarship (GCSP)

Abbey Kampel & Maysoon Harunani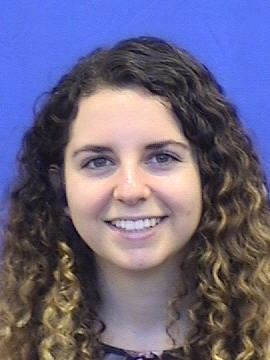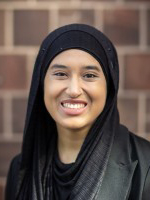 The National Academy of Engineering (NAE) Grand Challenges are inspired by 14 broad problems facing society in sustainability, health, security, and knowledge. Solutions to these problems will require interdisciplinary teams and years of sustained effort. The Hajim School of Engineering's Grand Challenges Scholars design a personalized program that explores a selected Grand Challenge through five program areas, including hands-on projects, interdisciplinary experiences, entrepreneurial or innovation endeavors, global dimensions, and service learning. Scholars also receive formal designation as an NAE Grand Challenges Scholar at graduation.
Maysoon Harunani - Engineer Better Medicines
Abbey Kampel – Reverse Engineering of the Brain
Ayman Amin-Salem Memorial Award
Abbey Kampel & Mitchell Kershner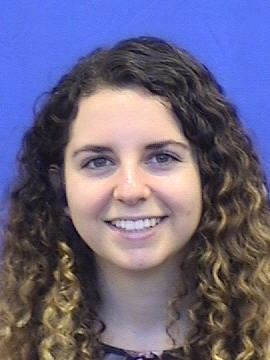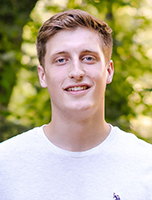 The Ayman Amin-Salem Memorial Award is presented each year by The College to that member or those members of the senior class who best evidences the quality of good character and good citizenship, such as decency, reliability, responsibility, and congeniality. Preference may be given to students who have an interest in biology or the biological sciences, music, art, writing or athletics.

Honor Societies

Several of our undergrads became members of prestigious honor societies: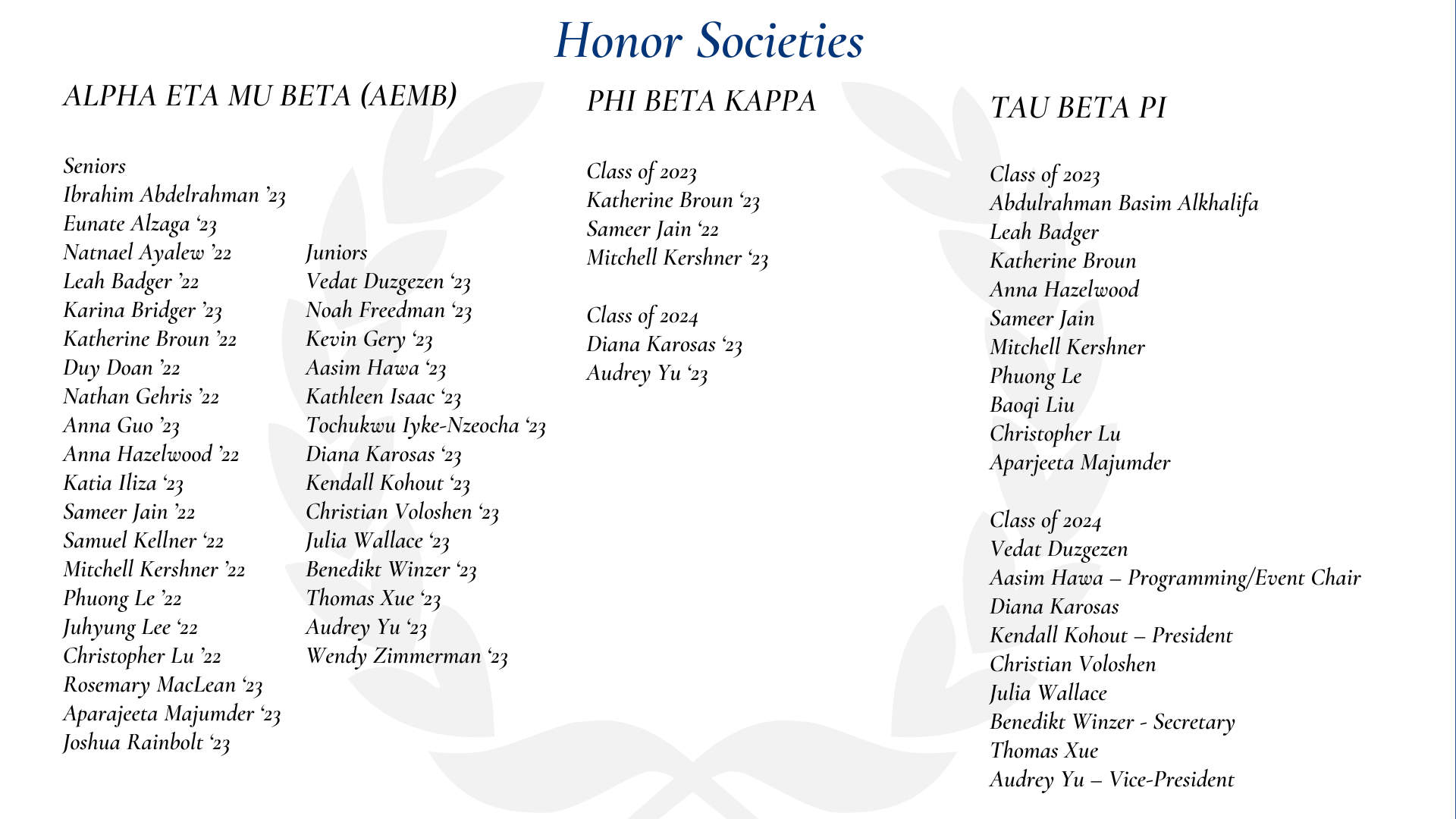 Alpha Eta Mu Beta (AEMB)  Established in 1979, Alpha Eta Mu Beta was formed to recognize and encourage excellence in the field of Biomedical Engineering and Bioengineering. Membership into Alpha Eta Mu Beta consists of those individuals in the field of Biomedical Engineering or Bioengineering who through their attainments in college or in practice have manifested a deep interest and marked ability in their chosen life work.

Phi Beta Kappa Iota of New York is the University of Rochester's chapter of the nation's oldest and most prestigious undergraduate honors organization, the Phi Beta Kappa Society. Founded in 1776, Phi Beta Kappa invites for induction the most outstanding students at America's leading colleges and universities. The society champions the liberal arts—the humanities, the social sciences, and the natural sciences—in higher education and in society at large.
Tau Beta Pi National Engineering Honor Society  Founded in 1885 at Lehigh University by Edward Higginson Williams Jr. and is the second oldest honor society in the United States. The primary goal of Tau Beta Pi is to acknowledge the work done by students and members of the engineering community and their contributions to the growth of the engineering fields.
BME Departmental Awards, 2022 - 2023

BME Faculty Award for Undergraduate Service
Katia Iliza
Recognizes an outstanding student for service to the Department of Biomedical Engineering.  These efforts may include leadership in undergraduate organizations, engineering activities, or teaching activities.
Katia Iliza helped arrange BMES graduate and LinkedIn sessions in the fall, and also was instrumental in coordinating the Solidworks workshops introduced this spring.  She offered helpful Info Sessions for undergraduates on the BMES Annual conference, worked with BME admins to organize the BMES trip, and attended the BMES UG Chapter meeting as U of R's BMES president.
BME Faculty Award for Excellence in Undergraduate Research
Anna Hazelwood
Recognizes an outstanding student in the Department of Biomedical Engineering for research excellence. The criterion for eligibility is authorship on a published manuscript or abstract; or presenting author of a public presentation or poster (internal or external).
Anna Hazelwood worked in the lab of Whasil Lee here at U of R investigating cartilage injury, and presented her data at the BMES meeting in 2022.
BME Faculty Award for Teaching Assistant
Recognizes an outstanding student in the Department of Biomedical Engineering for teaching assistant excellence.
Katie served as an excellent long-time undergraduate TA for BME 101 with highly sought after office hours. This year she rescued 101 in an extreme emergency and performed the duties of a lead graduate TA.
BME Outstanding Senior
Sameer Jain
In recognition of the student's academic excellence and achievement in Biomedical Engineering.
BME Outstanding Junior
Aasim Hawa, Diana Karosas & Audrey Yu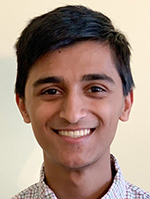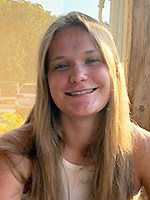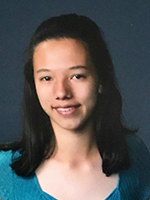 In recognition of the student's academic excellence and achievement in Biomedical Engineering.
All three awardees for this year tied with high GPAs and we look forward to what they will do next in BME! 
   Congratulations to all! 
---
Award Recipient LinkedIn Pages:
BME Department's social media accounts: