MS Alternative Energy

As of fall 2019, this program is no longer accepting new students.
The alternative energy master's program is intended for students having a broad range of undergraduate majors, from engineering to natural and life sciences. The program provides excellent preparation for future professional careers and/or graduate studies in renewable energy.
Past graduates of the program have quickly found employment in a wide variety of industries, government positions, and universities. Examples include Exxon-Mobil, Con Edison, Franklin Energy, Mondre Energy, Qualitrol, Homesite Insurance Boston, Global Foundries, Larsen Engineers, Ben-Gurion Solar Energy Center, Carnegie Mellon University, andColorado State University.
Applicants can be eligible for up to a 40 percent tuition waiver through the Dean's Office.
Students interested in environmental geochemistry, environmental health and environmental law and policy should also consider the MS in Sustainability.
Degree Requirements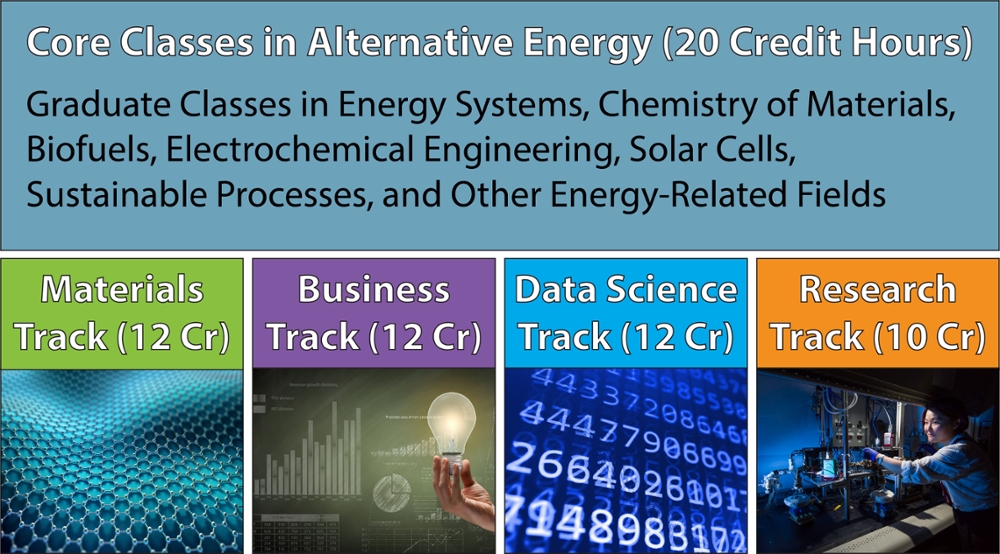 The coursework-based degree requires completion of 32 credit hours. Typical duration for completion is one to two years, with the following suggested elective tracks available:
While the degree can be completed by coursework only, two research options are also available:
Required Courses
Both of the following courses:
ERG 472: Energy System Economics and Modeling (spring)
ERG 488: Introduction to Energy Systems (fall)
Plus at least three of the following core courses:
ERG 436: Physics of Climate (fall)
ERG 456: Chemical Bonds: From Molecules to Materials (spring)
ERG 458: Electrochemical Engineering (spring)
ERG 460: Solar Cells (fall)
ERG 461: Advanced Kinetics and Reactor Design (spring)
ERG 464: Biofuels (fall)
ERG 465: Sustainable Chemical Processes (spring)
ERG 472: Energy System Economics and Modeling (spring)
ERG 485: Thermodynamics and Statistical Mechanics (spring)
Electives
Remaining credit hours to meet the minimum can be taken from the courses listed in the suggested tracks (materials, business, data science), or the research options research track or accompanying research.