An opportune moment to take a fresh look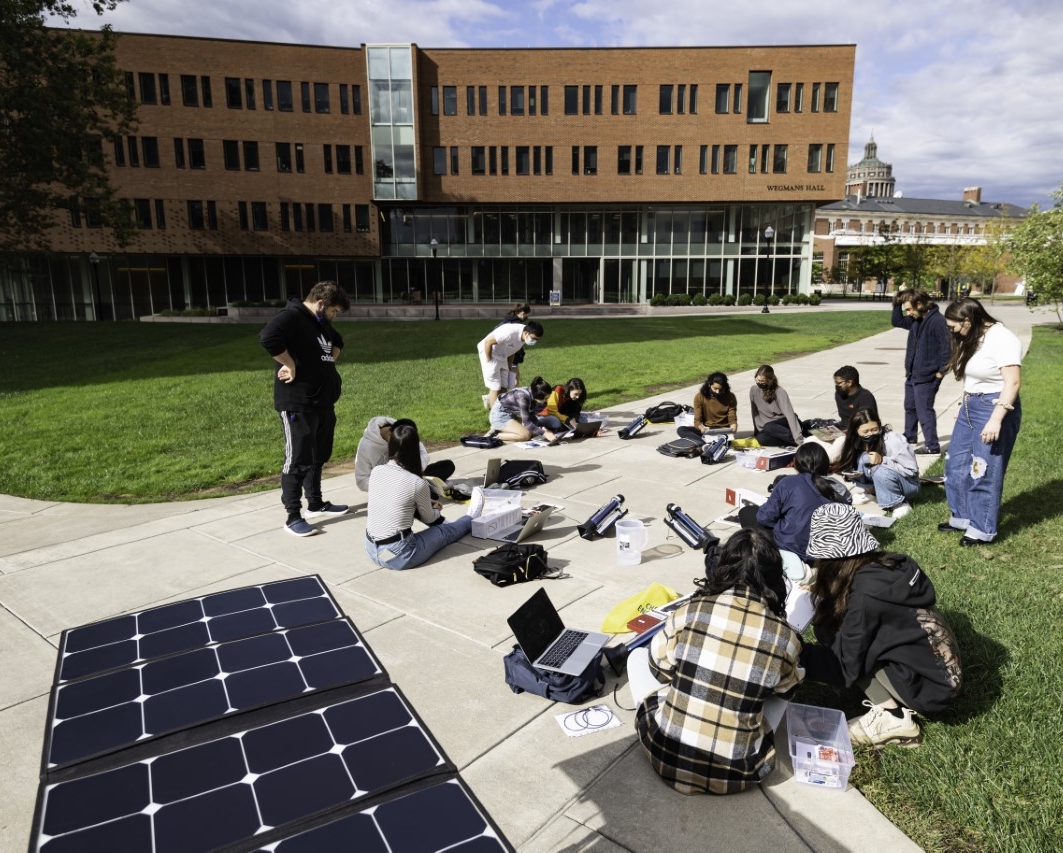 A message from the Dean
I am so happy we can all be back together again this semester—in person!
Our campus is alive with activity; our student associations are once again hosting events, and we were even able to enjoy a fantastic, in-person Commencement ceremony for the Class of 2020 on a beautiful fall weekend in Rochester.
This photo of Marc Porosoff's students working on their solar water heater projects on the Hajim Quad earlier this semester—wearing masks as a precaution—says it all.
It illustrates how we are taking what we've learned from COVID and seeing how best to adapt those lessons to what we do.
For example, our advisors are offering in-person sessions with some students, but still holding virtual sessions with others, depending on individual preferences.
Some of our distinguished guest speakers at department colloquiums are visiting in person. However, we also realize that many luminaries, especially from other countries, would not be able to join us at all, if not for Zoom.
Now that COVID has finally awakened all of us to the versatility of online interactions, we are looking at ways to continue using Zoom and other digital platforms to improve the way we teach our students. Flipped classes, for example, might make it easier for students to digest a lecture ahead of time, at their own pace on Zoom, freeing up in-person sessions for more meaningful exchanges of follow-up questions and answers, and opportunities to apply what they've learned.
We are, and always will be, primarily a residential campus, where student experience is enriched by in-person interactions, activities, and events that cannot be duplicated in any other way. But we now realize there can be real advantages to using the power of Zoom and the web to engage broader, global audiences in the exciting things we are doing at the Hajim School.
We are experimenting and learning as we go.
A time for taking stock
This is just one example of why this is such an opportune moment for us to take a fresh look at how we do business.
This month ABET—the Accreditation Board for Engineering and Technology—is visiting our campus to help ensure that our programs provide our graduates with the technical and professional skills that will support them throughout their careers. This is an 18-month process, which occurs every six years.
I thank Paul Funkenbusch, our associate dean, for his consummate diligence and attention to detail in helping our departments prepare for reaccreditation. The process places immense demands on many of our faculty and staff, but this is a necessary and tremendously valuable opportunity to document—against the highest standards—the areas in which we excel, and those in which there is room for improvement.  
In addition, our University is in the initial stages of preparing a strategic plan for the next five years. These key pathways are being explored to focus the process of building a comprehensive strategy for the institution.
Leading through research and scholarship
Reimaging education
Building healthier lives
Connecting with the community
Cultivating an inclusive climate
Focus groups have been busy this fall engaging the community and gathering feedback from students, faculty, and staff.
The Hajim School has much to contribute in each of these areas. For example, last year we identified diversity, equity, and inclusion as a top priority for our school, and I am proud of the progress we have already made in setting some initial benchmarks at both the departmental and school level.
In cooperation with AS&E and the School of Arts and Sciences, we have already begun to identify mutual, collaborative strengths that will help inform all five of the pathways listed above.  
You are part of the pillar that supports us all
What the Hajim School offers, above all, is exceptional faculty, staff, students, and alumni. What really inspires me is how the members of our Hajim community really care about each other, about our University, about our school, and about making the world a better place.
We have all come together to make it through the toughest challenges that COVID could throw at us, and we are still supporting each other through sometimes daily struggles.
This is something for which I am both supremely proud and immensely grateful.
Thank you, all of you, for the support, care and help you have provided through a trying time, and now, hopefully, as we move toward a brighter future. We would not be where we are without each and every one of you.
Meliora!
Your dean,
Wendi Heinzelman