Commencement 2023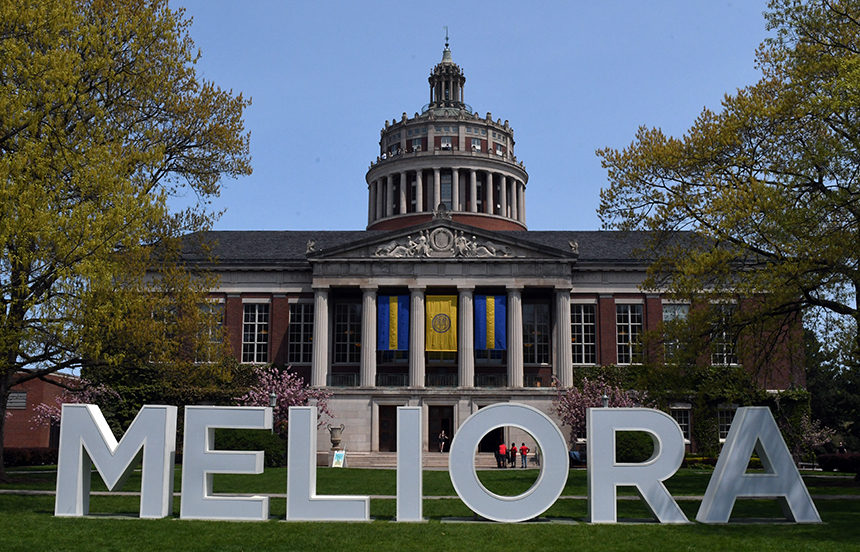 Commencement for the Class of 2023 will take place May 12-14, 2023. We are delighted to welcome families, friends, and guests to campus to celebrate the achievements of our Hajim students.
See a recording of last year's University-wide Commencement ceremony here. Learn more about the awards announced at the Hajim School's departmental ceremonies here.
Order of the Engineer Induction Ceremony
Thursday, May 11
1:30 p.m., Strong Auditorium
Some professions have rites of passage marking one's entrance. The Order of the Engineer ceremony is often considered the rite for engineers.
Formed to provide a sense of closure at the end of your engineering studies, the ceremony gives a visible means for students graduating from programs accredited by the Engineering Accreditation Commission of ABET (AME, BME, CHE, ECE, ME, and OPE) to identify with other engineers. We invite students and their parents to participate.
Students can sign up to participate by speaking with their undergraduate program coordinator or the Dean's Office in Lattimore 301. There is a deadline of April 28.
A reception will be held directly following the at 2:30 p.m. on Wilson Quad.
University-Wide Commencement,
Friday, May 12
9 a.m.
Fauver Stadium at the Brian F. Prince Athletic Complex on the River Campus.

Hajim students will participate in a University-wide commencement ceremony for degree conferrals for all undergraduate and graduate students.
A livestream of the commencement ceremony also will be available. Graduates will be allowed to invite a limited number of guests to the ceremony.
A ceremony for doctoral student will be at 2 p.m. at Kodak Hall.
---
Departmental Events and Ceremonies, 
Saturday, May 13.
Bachelor's and master's candidates will be recognized at the following departmental events and ceremonies:
Audio and music engineering: Feldman Ballroom (C, D), Douglass Commons 12 p.m.
Biomedical engineering: Hubbell Auditorium, Hutchison Hall 9 a.m.
Chemical engineering: Feldman Ballroom (C, D) Douglass Commons, 2 p.m.
Computer science: Larry and Cindy Bloch Alumni and Advancement Center, 3 p.m.
Electrical and computer engineering: Feldman Ballroom (C, D), Douglass Commons, 12 p.m.
Engineering science: Hawkins-Carslon Room, Rush-Rhees Library, 1 p.m.
Geomechanics program: Hubbell Auditorium, Hutchison Hall, 11 a.m.
Materials science: Contact Elizabeth Strong (estrong3@ur.rochester.edu) for details. 
Mechanical engineering: Hubbell Auditorium, Hutchison Hall, 11 a.m.
Optics: Richard Feldman Ballroom (C, D), Douglass Commons. 10 a.m.
TEAM (Technical Entrepreneurship and Management): Wegmans Hall 1400, 3 p.m.
Receptions will take place for each department immediately following each ceremony.
Please visit the central Commencement page for the full commencement schedule. See also commencement FAQS.
---
Hajim School Awards
Dean Heinzelman will announce these faculty and staff awards:
Hajim School Lifetime Achievement Award
This award recognizes faculty for outstanding achievements in research, teaching, and leadership over the course of their career.
Edmund A. Hajim Outstanding Faculty Award
This award recognizes excellence in teaching, research, and service.
Edmund A. Hajim Outstanding Staff Award
This award recognizes excellence and dedication well above and beyond the call of duty.
---
Parking, Accommodations,
and Transportation
Details and guidance are still being developed. Check the commencement FAQS for updates closer to commencement weekend.