The Industrial Associates (IA) Program
IA Home > Bi-Annual IA Meetings > Fall 2019
Bi-Annual IA Meetings
Fall 2019: Thursday, October 31 - Sunday, November 3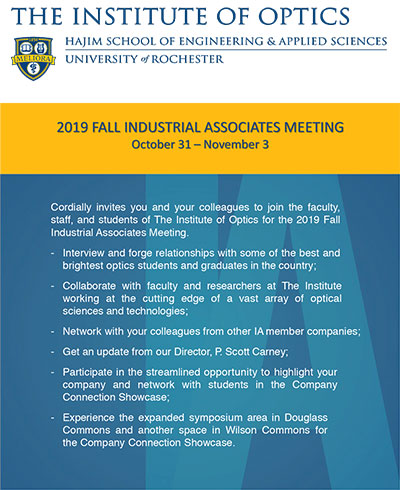 The Institute of Optics cordially invites its Industrial Associates member companies to join the faculty and students of the Institute of Optics for its 2019 Fall Industrial Associates Meeting. There you will be able to:
Interview and forge relationships with some of the best and brightest optics students and graduates in the country.
Collaborate with faculty and researchers at the Institute working at the cutting edge of a vast array of optical sciences and technologies.
Network with your colleagues from other IA member companies.
Participate in the streamlined opportunity to highlight your company and network with students in the Company Connection Showcase.
Resources
Program and Resource Guide (pdf)
Map of May Room—Company Connections (pdf)
Map and Contact Information (pdf)
Accommodations
Hotels within walking distance:
Other nearby hotels: