The Industrial Associates (IA) Program
IA Home > Membership > Member Testimonials
Member Testimonials
The Benefit of Student Access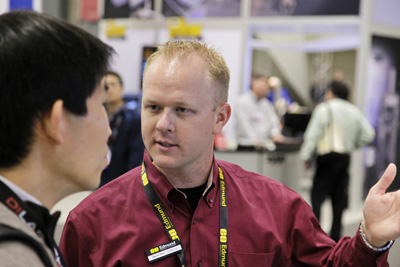 When David Henz (photo at left) looks for "rock stars" to hire at Edmund Optics Inc., he knows he's likely to find them among the graduates of the University of Rochester's Institute of Optics.
Such as Andrew Fisher '11 (MS '12), now working in Edmund's Engineering Leadership Program at the company's headquarters in Barrington, N.J. Fisher was introduced to Edmund Optics while still an optics student at UR as a result of the Institute's Industrial Associates Program. The program connects students and faculty with IA member companies, including Edmund Optics, a leading supplier of optical components.
Henz, a manager at Edmund Optics' Tucson, Ariz., research and design center, says the biannual meetings and networking sessions organized by Industrial Associates help the company stay in touch with the Institute, its programs, and its faculty. The meetings are also a "great opportunity to network and associate with the students. It gives us a chance to talk with students in a more natural, conversational setting than we would have in a traditional interview. It lets us see first-hand the work they've been doing, often in their work areas."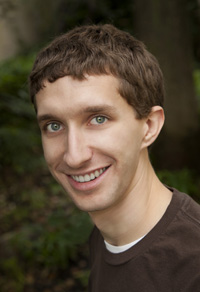 Students benefit as well. Fisher (shown at left) says he interviewed with Edmund Optics starting as an undergraduate and become acquainted with the company's recruiters before interviewing for the full-time position he now holds.  "I was very pleased with the Industrial Associates Program while I attended UR. My only regret may have been not taking advantage of it sooner."
Sometimes Henz will arrive before a meeting or remain a couple of days after to host informal information sessions with students, bringing in pizza and soda, talking about the company, then setting up interviews.
"We have a number of Institute alumni working for Edmund Optics – and maintaining that connection to UR, to the talented students, and their research is extremely important for us."


A Glimpse of Now and New
Paul Dumas is one of the cofounders of QED Technologies, another IA member company. He doesn't have to come as far as Henz to meet with Institute faculty and students. QED, located in Rochester, was founded using a new optical finishing technology developed by UR's former Center of Optics Manufacturing. The company provides MRF Finishing and SSI Metrology technology for optics manufacturers.
Dumas, who received his bachelors and master's degrees from the Institute, is the Application Engineering manager for QED. He says the biannual meetings "are great for us to get up to date on what the students and faculty are doing. The education that the Institute provides its students is an excellent foundation for the type of work we do."
Given QED's close proximity to the campus, it is then easy to invite students to visit the company for tours or further interviews.
"We have a large number of UR optics graduates working for us right now. It's a benefit for the Rochester area because we're keeping a lot of brainpower right here, and that means more jobs for the Rochester area."
There's another benefit to membership in the Industrial Associates Program, Dumas adds. "Students and faculty at the Institute become aware of us-- what we do and what we sell. So once students move into the workforce, even if they're not working for us, they may propose using our technology to the companies they work for."
Versatility Today for Tomorrow's Focus
Fisher says the Engineering Leadership Program at Edmund Optics allows him to rotate through several positions and departments within the company. "I find this incredibly advantageous as it allows me to test out and discover the role that best suits myself as well as the company." His first six-month rotation was with the Product Support Group, assisting customers with technical problems or questions. "This required me to quickly become familiar with the vast array of products offered by Edmund Optics and become skillful at interpreting and responding to a customer's needs."
He has now begun his next rotation in the Manufacturing and Fabrication Cell at the company's Barrington, N.J., facility. "I will be exploring what it takes to create an optic from start to finish while gaining valuable knowledge about production structure and efficiency. I am excited to enter this next phase as it will to allow me to work with my hands and experience first-hand how optical theory is applied to the manufacture of lenses."