News & Events
Govind Agrawal installed as Dr. James C. Wyant Professor in Optics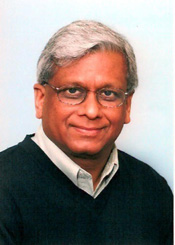 Dr. Govind Agrawal was installed as the inaugural Dr. James C. Wyant Professor in Optics on Monday, October 28.
This is a tremendous honor and the Institute is deeply appreciative of Dr. Wyant's gift, establishing this professorship. We are equally delighted to bestow this honor on Dr. Govind Agrawal.
To find out more about the ceremony and the history of the endowed chair, read the official press release here.