David Williams of The Institute Wins Proctor Prize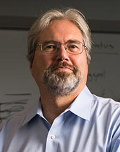 David R. Williams, widely regarded as one of the world's leading experts on human vision, has been named the recipient of Sigma Xi's 2015 William Procter Prize for Scientific Achievement. The prize is given annually since 1950 in recognition of "outstanding achievement in scientific research and demonstrated ability to communicate the significance of this work to scientists in other disciplines." Past Procter Prize recipients have included Jane Goodall, Vannevar Bush, Margaret Mead, Murray Gell-Mann, and Rita Colwell.
Williams pioneered the use of adaptive optics technologies for vision applications. He serves as the William G. Allyn Professor of Medical Optics, director of the Center for Visual Science, and dean for research in Arts, Science & Engineering at the University of Rochester.