Undergrad Advisor Dan Smith Wins Dottie Welch Award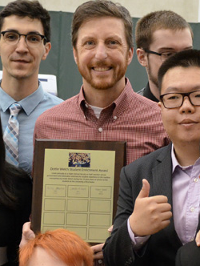 The Institute's undergraduate advisor, Dan Smith, won the 2016 Dottie Welch award during the Hajim School Design Day at Goergen Athletic Center.  
The award, named for the former undergraduate coordinator in biomedical engineering, is presented annually to a Hajim School staff member who exemplifies the passionate interest Welch took in helping her students.  Smith, the undergraduate program manager in The Institute of Optics, is the third recipient of the award.
"He supports us through everything, from being an administrator to life advice," said Michael Dupuis, a senior in optical engineering. "He's always there for us."