Master's Program Propelled Amy Frantz's Career in New Directions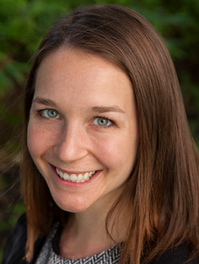 While pursuing a master's degree at The Institute of Optics, Amy Frantz learned real-world skills -- and made connections that landed her a job with a leading producer of optics, imaging and photonics technology.
As a result, her career is advancing in exciting new directions, faster than ever before.
"I would absolutely recommend the Master's Program at the Institute of Optics to anyone interested in pursuing a career in the field," said Frantz, who graduated in 2015 and is now an optical engineer in the Engineering Leadership Program at Edmund Optics.  "The program will equip you with the knowledge and tools you need to be successful in academics or industry, and the program has a reputation worldwide for providing an excellent education."
Frantz previously worked two years at Syzygy Optics, a start-up where she developed processes to manufacture holographic diffraction gratings.  "I wanted to advance in my career quicker than what was possible at a very small company, so my boss recommended I look into the Institute of Optics," Frantz said.  "After visiting the campus and learning more about the program, I was convinced of the quality of education that I would receive."
She has not regretted that decision.
"I had a great experience in the Master's Lab Course.  The curriculum gives hands-on optics laboratory exposure in a variety of topics, and ends with an open-ended project that mimics real world experiment design," Frantz said.  "It was a lot of fun!  Per Adamson, the lab instructor, is enthusiastic in helping students and always available to lend a hand."
She's using the skills she learned in her job everyday.
For example, Prof. Julie Bentley's Lens Design class "introduced me to design software such as Code V and Zemax, so I am better able to communicate with lens designers and analyze performance of optical systems," Frantz explained.
The Industrial Associates program at the Institute was an added perk. The program brings corporate partners in optics and photonics to the Institute twice a year to share ideas and network with students.
"I was hired at Edmund Optics thanks to Industrial Associates," Frantz said. "Besides giving me the platform to interface with companies that were hiring, IA members had confidence that I had the necessary background and education to be successful."
She is excited about her future in optics. "I am relocating to Edmund's office in Singapore to be more involved in our optical manufacturing," Frantz explained.   "I will spend a year there working closely with production, and hope to work in Research and Development upon returning to headquarters.  I would like to pursue an MBA and take on a leadership role in engineering."
Learn more about the master's program at The Institute of Optics – and how it can advance your career.