Professor Nick Vamivakas Awarded Tenure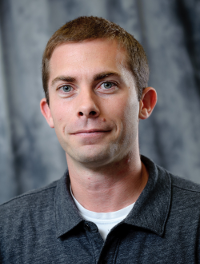 Nick studied electrical engineering at Boston University and received his PhD in 2007.  During this time he developed high resolution microscopy and spectroscopy techniques to study the electro-optic properties of individual nanostructures.  Following his PhD, he was a postdoctoral fellow from 2007-2011 in the Cavendish Laboratory at the University of Cambridge.
Earlier this year, he was awarded an NSF CAREER award and the two-year Leonard Mandel Faculty Fellowship from the Department of Physics and Astronomy, University of Rochester, where he holds a secondary appointment.
His current research efforts center on light-matter interaction at the nanoscale.  He is particularly interested in using optics to interrogate and control both artificial and naturally occurring solid-state quantum emitters.  Potential applications range from optical metrology to quantum information science.  Nick joined The Institute of Optics as an Assistant Professor of Optics July 1, 2011.
Nick is also passionate about his teaching and recently won the G. Graydon '58 and Jane W. Curtis Award for Nontenured Faculty Teaching Excellence.
Photo credit: UR University Communications.