Doctoral Student Wins Kidger Award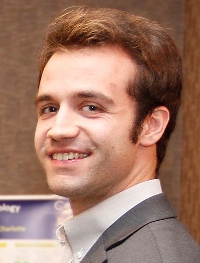 Congratulations to University of Rochester PhD student Jonathan Papa, recipient of the 2017 Michael Kidger Memorial Scholarship Award. This prestigious award recognizes Papa's outstanding achievement in optical design. Papa is currently in his third year as a, now qualified, PhD student at The Institute of Optics, School of Engineering and Applied Sciences under the tutelage of Prof. Jannick Rolland, Brian J. Thompson Professor of Optical Engineering.
This year's award will be presented by Jonathan Andy Wood, Chair of the Kidger Scholarship Award Committee, during the International Optical Design Conference (IODC) in Denver, Colorado, July 9 - 13th, 2017. The Michael J. Kidger Memorial Scholarship was established in 1998 to honor Michael Kidger, a well-respected teacher and member of our technical community. This award is an independent scholarship overseen by a select committee of leading individuals in lens design and the Michael Kidger family. It is intended for students in the field of optical design working towards a master's degree or doctorate.
Papa received a BS in Physics, Magna Cum Laude, with Highest Distinction, and a BS in Optical Engineering, Magna Cum Laude, with Highest Distinction from The University of Rochester in May 2014. He entered the PhD program in fall 2014 and passed his PhD qualifier exam in August 2015.