The Institute Welcomes a New Director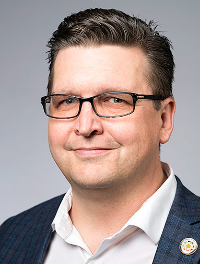 On July 1st, Scott Carney, a professor of electrical and computer engineering at the University of Illinois at Urbana-Champaign, will take over as the 11th director of The Institute of Optics.  (Including interims, a total of 15 have served.)  The outgoing director, Xi-Cheng Zhang, will remain on the faculty as the M. Parker Givens Professor of Optics.  Carney earned his PhD in physics at Rochester studying with Emil Wolf, the Wilson Professor of Optical Physics and Professor of Optics.
"We are facing competition from other schools that have colleges or centers of optics that are much larger in research funding, faculty size, and number of students," Zhang says. "Scott is extremely capable. I have great confidence he can lead the institute to new heights. He's a wonderful hire, who is coming in with the overwhelming support of the faculty here."
Read the full story at the Newscenter...
University photo / J. Adam Fenster