Industrial Associates Opens Doors for Optics Students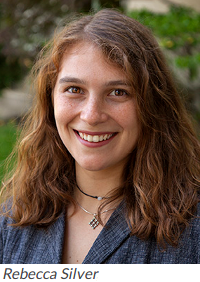 It was a pivotal moment for Michelle Relin. Then a junior at The Institute of Optics, she "snuck out of a lab" to hear a presentation by recruiters from Edmund Optics during a fall meeting of the Industrial Associates (IA) – nearly 40 leading optics companies that partner with the Institute.
"I just ran downstairs to introduce myself," Relin recalls. "We had a really great conversation and that night I got an email from them asking me to come back the next morning for an interview."
That interview resulted in an internship with Edmund the following summer. That internship resulted in a job offer from Edmund "before my senior year of college even started," says Relin, who now works for the company as a sales engineer in its US Defense and Aerospace division.
That's why IA is such an ace in the hole for students who choose to pursue optics at the University of Rochester.
The annual three-day spring and fall meetings of the IA on the Rochester campus provide an excellent opportunity for students to network and interview with representatives from such companies as Microsoft, Raytheon, Lockheed Martin, Optikos, and BAE Systems.
And given that there is a high demand for optics students and graduates –to fill either internships or full-time jobs -- it is not unusual for Institute students to walk away from the meetings with requests from multiple companies for follow-up interviews.
Bottom line: By the time those students have their diplomas in hand, many of them will also have one or more job offers in hand as well, says Daniel Smith, undergraduate program director. Depending on location, the starting salaries for those jobs range from $60,000+ to $80,000+ per year.
So when Smith extols the virtues of the Institute to prospective students and their parents, he makes a point of including IA among those virtues. And he urges incoming freshmen to make a point of attending IA meetings as soon as possible.
That certainly paid off for Trevor Ivanov '15 ('16M), now an optical engineer at BAE Systems. He met Hillary Balonek, then a BAE rep, during a "casual conversation" at an IA reception his sophomore year. Later he worked with Balonek during his junior year when she returned to the Institute for her masters degree. She helped him land an internship with BAE that led to a second internship and, ultimately, to a full-time job after he finished his masters degree.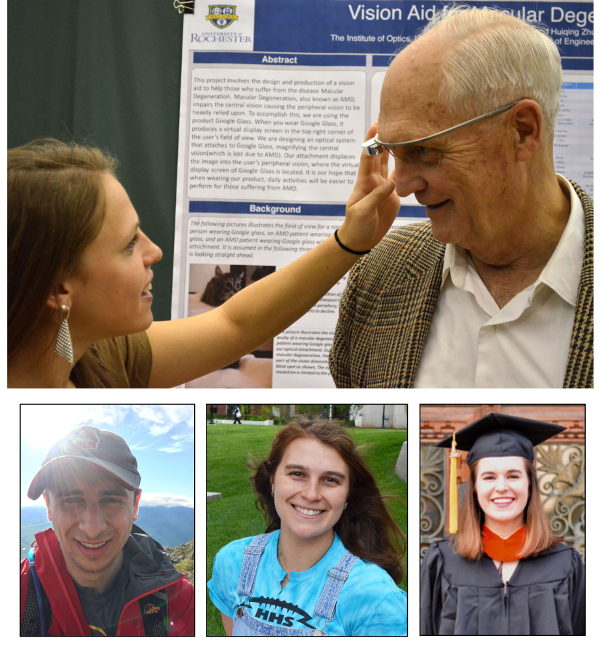 Michelle Relin, at top, and, left to right, Trevor Ivanov, Rebecca Silver, and Sarah Bjornland have landed jobs and internships thanks to connections made through the Industrial Associates program at The Institute for Optics.
"It's never too early" for students to get involved in Industrial Associates, says Ivanov, who returned to Rochester as a BAE rep for the spring 2017 IA meeting. "It's good getting experience with people your freshman year because you begin to network and build interpersonal skills that help when you're looking (for internships) your sophomore and junior years. As company reps, we are always looking down the road; we will remember you the next year and that is a really good way to get your foot in the door."
Above all, he urges students to engage company reps in conversation. "I got so many resumes at the end of the day, it was hard to differentiate," Ivanov says. "The ones I remembered were the ones who had a meaningful conversation with me and genuinely expressed interest. Not the ones who handed me a resume, said a few words, and moved on."
The Institute makes it easy for students to connect with companies during IA meetings.
For example, students can provide Smith with their updated resumes in advance of the meetings so he can post them in a secure "resume binder" that the companies can look at and schedule interviews.
Sarah Bjornland '17 submitted her resume last fall and "was contacted by several reps for interviews during the IA meeting, " she says. The interested reps included Hillary Balonek, by then with Optikos, who Sarah had also worked with as an undergrad. "I spoke with Hillary about her job and what influenced her to work after getting her BS before going back for her masters," Bjornland says. By January Bjornland had accepted a job offer at Optikos, where she now works as an IQ lab engineer.
This past year, for the first time, the IA meetings also featured a formal "job fair" where each company staffs a table in a large hall where students can circulate. Rebecca Silver '18, who was interested in finding a summer internship, took full advantage at the fall meeting. "This time we could walk right up to them," she says. "I talked to reps from eight companies."
She had follow-up interviews with three of them before choosing Edmund, where she is spending this summer as a product support intern.
Silver came to the University of Rochester knowing she wanted to study optics, thanks to a unit she took in high school. Relin, recruited by the University to play field hockey (she set the school scoring record), "didn't even know what optics was."
An Optics 101 class opened her eyes. The Institute "challenged me, pushed me, and questioned me in ways I have never seen before," she says. "This allowed me to enter the work field with so much more confidence."
Like Ivanov, she too returned to Rochester as a company rep for the spring 2017 IA meeting. "It was the moment that everything came full circle," Relin says. "Last spring I was presenting my senior design project and just a year later I was there representing my company. It was a proud moment for myself and I really enjoyed seeing all my professors and the current students."