Professor Julie Bentley Co-Chairs SPIE Optifab 2017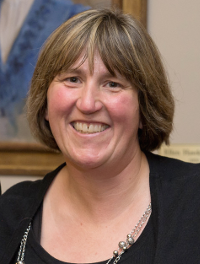 Julie Bentley, associate professor of optics, was co-chair of Optifab 2017, North America's largest optical manufacturing conference and exhibition, with 2,000 attendees and 186 exhibiting companies. The conference was held in Rochester October 16-19.
Bentley also chaired a plenary session.
The conference is organized by SPIE and APOMA (the American Precision Optics Manufacturers Association). Bentley has been active in SPIE for many years, and was named a Fellow in 2012 for developing new courses in lens design with real-world student projects from the undergraduate through the graduate level.
Jennifer D.T. Kruschwitz, assistant professor of optics, chaired the conference's session on coating and cleaning.