Professor Nick Vamivakas Named OSA Fellow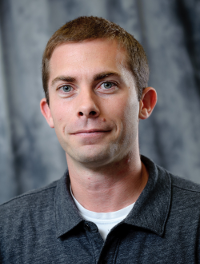 Nick Vamivakas is the latest member of The Institute of Optics to be named a fellow of the Optical Society (OSA).
This brings to 18 – more than half the current active faculty – the number of Institute faculty who are fellows of the society, which is the leading professional organization for scientists, engineers, students, and business leaders who fuel discoveries, shape real-life applications, and accelerate achievements in the science of light.
Fellows are elected to recognize members who have served with distinction in the advancement of optics and photonics. The number of Fellows is limited by the Society's bylaws to be no more than 10% of the total OSA Membership and the number elected each year is limited to approximately 0.5% of the current membership total.
Vamivakas, an associate professor of quantum physics and quantum optics, is engaged in light-matter interaction at the nanoscale. He is particularly interested in using optics to interrogate and control both artificial and naturally occurring solid-state quantum emitters. Potential applications range from optical metrology to quantum information science.
Other Institute faculty members who are OSA Fellows are Govind Agrawal, Miguel Alonso, Nick Bigelow, Robert Boyd, Thomas Brown, Scott Carney, Joseph Eberly, James Fienup, Chunlei Guo, Todd Krauss, Wayne Knox, Jannick Rolland, Carlos Stroud, David Williams, James Zavislan, Xi-Cheng Zhang, and Jonathan Zuegel.