Cutting-Edge Science Leads to Cut-Free Biopsies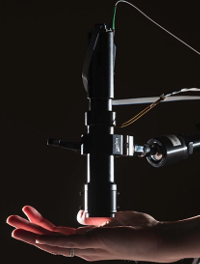 Despite advances in microsurgery, it can still be difficult to tell if a skin cancer has been entirely removed without a follow-up biopsy, which could require a patient to come back for a second operation.

But what if the biopsy could be performed noninvasively as part of the initial procedure, so the surgeon would know immediately whether additional cancerous tissue needed to be removed?

A novel optical device to do just that moved a step closer to commercialization recently. LighTopTech, a University of Rochester spinoff, was one of 10 startups to advance to the next phase of a competition sponsored by the accelerator Luminate, "the world's largest start-up accelerator program for optics, photonics and imaging technologies," according to a press release from the office of New York Governor Andrew Cuomo.
Governor Cuomo's office explains, "Each company will receive an initial investment of $100,000 and will be a part of the initiative's first cohort, which will launch in January 2018 at the newly renovated Sibley Building in downtown Rochester. The 6-month program will assist these teams with their ideas to accelerate their commercialization. At the end of the program, the teams will compete on Demo Day, where they will vie for over $2 million in follow-on funding. Funding for the $10 million program is being provided through the Finger Lakes Forward Upstate Revitalization Initiative award, and is being administered by High Tech Rochester."
In addition to the Luminate award, LighTopTech also won a $75k award from FuzeHub, which "provides NYS manufacturers with guided access to our extensive network of industry experts, programs and assets to solve productivity, commercialization, research and development issues, and other challenges to growth."
(University of Rochester photo by J. Adam Fenster, cropped)