Institute Professor Duncan Moore Wins Bryand Award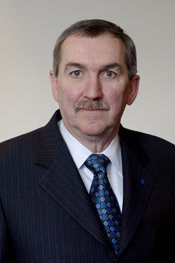 The Edward T. Bryand Distinguished Engineering Award is given each year by the University of Maine's College of Engineering to recognize an individual, outside the University, who has brought distinction to the profession of engineering. 

It is appropriate that Duncan Moore, the Rudolf Kingslake Professor of Optical Engineering at Rochester, is the 2017 recipient of the award.

Moore, after all, is a native of Maine, who received his undergraduate degree in physics and an honorary doctorate from the University of Maine.

And he has certainly "brought distinction to the profession of engineering" – at many levels of service.

As a researcher, Moore is an expert in gradient-index optics, computer-aided design, and the manufacture of optical systems.
As an entrepreneur, he is founder and former president of Gradient Lens Corporation of Rochester, New York, the manufacturer of the high-quality, low-cost Hawkeye boroscope.

Moore has served his nation as associate director of the White House Office of Science and Technology Policy during the Clinton Administration and as chair of the successful Hubble Independent Optical Review Panel organized in 1990 to determine the correct prescription of the Hubble Space Telescope.

He has helped foster cutting edge research, technology, and economic development in Upstate New York as president and chief executive officer of the Infotonics Technology Center Inc., an industry, academia, and government partnership.

His service to his profession includes a term as former president of the Optical Society (OSA).

At the University of Rochester, he has served as director of the Institute of Optics, dean of engineering and sciences, and currently as vice provost for entrepreneurship.

And as Visiting Professor at Stanford University, Moore has worked on its Center for Longevity to create an international, interdisciplinary research and teaching network focused on solving fundamental physical and social problems associated with extended life expectancy.

His other awards include election to the National Academy of Engineering, the Science and Technology Award of the Greater Rochester Metro Chamber of Commerce, the Distinguished Inventor of the Year Award of the Rochester Intellectual Property Law Association, and the Gradient-Index Award of the Japanese Applied Physics Society.

Moore also received the National Engineering Award of the American Association of Engineering Societies and twice was designated Engineer of the Year by the Rochester Engineering Society. He has received the Optical Society of America Leadership Award, the Edward H. Land Medal and SPIE's Gold Medal.