Institute Professor Marciante Joins with FemtoRoc Corp on Massive Laser Project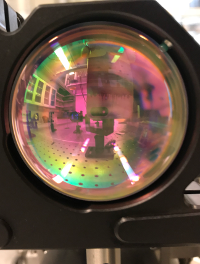 John Marciante, associate professor of optics, has undertaken a joint research project with FemtoRoc Corp. The goal is to develop more powerful lasers that will make it commercially viable to change the surface of metals in incredible ways, so they are super water-repellent, for example. The project, expected to take six years, has a research budget estimated at $10 million. This would enable technology developed by Chunlei Guo, professor of optics, and Anatoliy Vorobyev, a senior scientist, to be used for a host of applications, including de-icing of commercial airplanes and large trucks, rust and corrosion prevention of exposed metal surfaces, and cleaner, anti-microbial surfaces for surgical and medical facilities.
Photo: A 2" high-power, multi-kiloWatt-capable coated lens.