Bentley, Kruschwitz publish books on lens design and colorimetry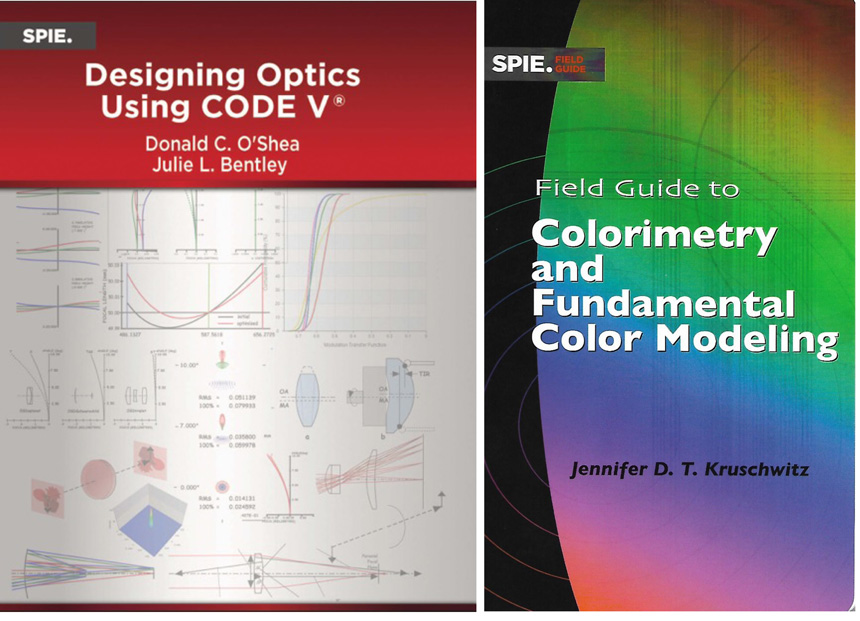 New textbooks by two Institute of Optics faculty members will give students practical insights into the use of Synopsys CODE V to design optical systems, and into the basics of measuring, identifying, communicating, specifying and rendering color.
 Both are being published this month by SPIE, the international society for optics and photonics.
 Designing Optics Using CODE V, co-authored by Julie Bentley, associate professor of optics, and Donald O'Shea, professor emeritus of Georgia Institute of Technology, will be launched at the Optics and Photonics Conference in San Diego on August  22 at a Synopsys Optical Solutions Group luncheon.
The book demonstrates how to use CODE V to design optical systems, from lens definition to the description and evaluation of lens errors, the improvement of lens performance, and tolerancing of a lens.
"This text is not a user's manual for CODE V," the authors note. "Rather, it starts with a single lens to demonstrate the laws of optics and illustrates the basic optical errors (aberrations). Then, through a series of examples, demonstrations, and exercises, readers can follow each step in the design process using the CODE V commands to analyze and optimize the system for the lens to perform according to specifications."
In an interview at LaserFocusWorld, O'Shea said he conceived of writing a new text after teaching a course, and realizing his previous book, Elements of Optical Design, was out of date. After drafting four chapters for the new text, he approached Bentley about collaborating.
 "She has worked in industry as well as taught lens design at the Institute of Optics," O'Shea explained. "She has practical design experience that I, as an academic, could never hope to have."
After graduating with her PhD from the Institute of Optics, Bentley spent two years at Hughes Aircraft Co. designing optical systems for the defense industry and twelve years at Corning Tropel Corporation designing and manufacturing precision optical assemblies such as microlithographic inspection systems. She started teaching at the University of Rochester in 1998.
Jennifer Kruschwitz, assistant professor of optics, says the content for her Field Guide to Colorimetry and Fundamental Color Modeling is drawn from the last class that Professor David MacAdam taught on colorimetry at the Institute of Optics in 1988 -- and also from more recent graduate courses in the Color Science Program at Rochester Institute of Technology, where Kruschwitz earned her PhD in 2015.
The text, which Kruschwitz will use in her own Color Technology class, includes chapters on:
Color matching experiments
1931 CIE color space
Color terminology
Display color gamuts
Color order systems
Uniform color spaces
Color difference equations
Basic chromatic adaptations
Color equivalency mapping
Color measurement
Color modeling
Printing models
Color management
Kruschwitz, who has worked as an optical coating engineer for Itek Optical Systems, the Laboratory for Laser Energetics, and Bausch & Lomb, started her own consulting company in 1998 and has been teaching at the Institute of Optics since 2007.