Omer Ropri remembered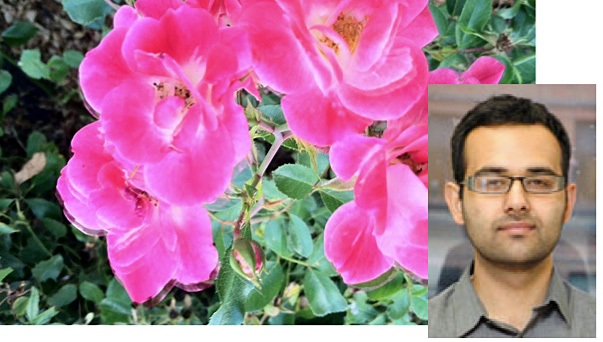 (Omer Ropri and a rose in front of Goergen Hall that he  used in an analysis of rose flower surface structure under a scanning electron microscope, Spring 2012)
The Institute's faculty, staff and students mourn the loss of Omer Ropri, a young alumnus who died last September after battling brain cancer for more than five years.
 He is remembered as quiet and soft-spoken. "He was, and always will be, one of the most patient people I have known," says his sister, Ayesha. Omer's family is forwarding his textbooks to the Institute so they can be used by other students.  "Omer loved and respected his faculty and would have loved to have his books used by students who need them," Ayesha says.
 Omer completed his BS in Optics in 2010, his masters in Technical Entrepreneurship and Management (TEAM) in 2011 and his master's in optics in 2014. His master's essay was on "Lipid Thickness Measurement in Human Eye Using Polarization and Thin Film Interference."
After teaching high school math and science for a year at the North Colonie Central School District in Latham NY, Omer worked as an optical engineer at Navitar Inc. in Rochester, then as an R&D optical engineer at Advanced Vision Science Inc. in Santa Barbara, CA.