Pomerantz receives education award
Michael Pomerantz, a technical associate with the Institute's Hopkins Center for Optical Design and Engineering, is this year's recipient of the Rochester Regional Photonics Cluster (RRPC) Education Award, which recognizes individuals who inspire students to embrace optics, photonics, and imaging sciences and who guide them in career development.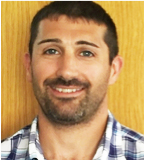 He received the award during the RRPC/New York Photonics annual meeting.
"Pomerantz is seemingly ubiquitous," the RRPC notes. "He is a part time technical associate at University of Rochester, where he works at maintaining and teaching the use of CNC (computer numeric control) and conventional optical fabrication equipment" for both the Department of Mechanical Engineering and the Hopkins Center.
Pomerantz also teaches Optics 145, 146, and 147 (also jointly offered with the Department of Mechanical Engineering), providing students with a basic understanding of CNC machining and deterministic micro grinding processes for spherical and aspheric shapes in optical substrates. They also learn CNC sub-aperture form correction of pre-polished optical substrates using MRF (magnetorheological finishing) technology.
He is also an adjunct faculty member at Monroe Community College where he teaches conventional manufacturing processes.
Pomerantz began his career at Optimax (Ontario, NY) in 1996, where he is a manufacturing engineering technologist in the laser-grade optics team – basically, very high-level optics manufacturing. Pomerantz does lean manufacturing cell setup, spherical lens manufacturing, and is a team leader/team member coach. He authors job traveler documents for use as manufacturing instructions.
Pomerantz joined the University of Rochester in 2016 after two pieces of equipment – an OptiPro Ultraform UFF and an Optipro SX50 used for grinding and polishing high-precision optical surfaces – were donated by the local company of the same name.
John Lambropoulos, professor and chair of mechanical engineering, explained that he first needed to find a technician with just the right qualifications and experience with the costly, sophisticated equipment, in order to make it operational and then maintain it for the use by undergraduate students.
Pomerantz "fit the bill perfectly," Lambropoulos said.