Wyant funds UA professorship in honor of Institute alumnus Bob Shannon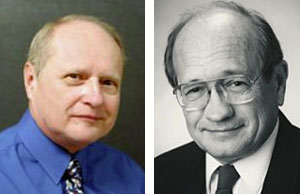 Thanks to the generosity of one Institute of Optics alumnus, another has been honored with an endowed chair at the University of Arizona's College of Optical Sciences.
The Robert R. Shannon Endowed Chair in Optical Sciences is named in honor of the former president of OSA and SPIE who received his BS in optics (1954) and master's in physics (1957) from the University of Rochester. Shannon served as faculty member and director of the Optical Sciences Center (now College of Optical Sciences) at Arizona. He is now professor emeritus there.
During his career, which included a stint as lens designer, manager of optical systems, and advanced technology labs director at Itek Corp., Shannon's research focused on the use of computers for testing and optical design; metrication of large optical systems; design of synthetic-aperture optical systems; analysis and design of unobscured-aperture optical systems; optical fabrication and test methods; and optical data storage technology.
A fellow of OSA, SPIE, and the National Academy of Engineers, Shannon has received numerous awards, including SPIE's Goddard Award and Gold Medal and membership in the National Academy of Engineering.
The endowed chair in Shannon's honor was created with a $2 million gift from Institute alumnus James Wyant ('67 MS, '69 PhD), the founding dean of the College of Optical Sciences at Arizona. Shannon hired Wyant to work at Itek, and later at the OSC. "To me, this endowed chair is a fitting tribute to Bob, who has been a wonderful mentor to me for more than 50 years- first at Itek and then at OSC," says Wyant.
Wyant, a life trustee of the University of Rochester and member of the Hajim School Dean's Advisory Committee, has created two endowed chairs at Rochester's Institute of Optics -- the Parker M. Givens Professorship in Optics (2001), currently held by Xi-Cheng Zhang, and the James Wyant Professorship of Optics (2013), currently held by Govind P. Agrawal.