Students illuminate the science of light at Lilac Festival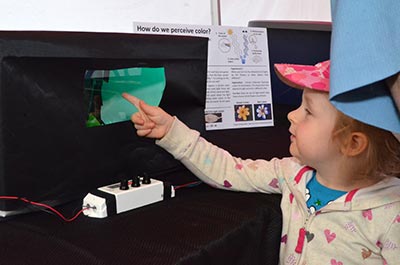 Amelia Nice may not have fully understood the science involved, but the 2-year-old was clearly intrigued by what she saw inside a dark box at Rochester's Lilac Festival last month.
Amelia and her family, visiting from Chattanooga, TN, had strolled into the Light and Lilacs exhibit -- four interactive experiments organized by the SPIE student chapter at the University Rochester's Institute of Optics to help illustrate the science of light to general audiences.
The community outreach activity helped observe UNESCO's annual International Day of Light. However, the exhibit wasn't limited to a single day, but was operated for 9 days at the Rochester Lilac Festival. The free event, a long standing-Rochester tradition, attracts up to 500,000 visitors each May to enjoy the famous lilacs of Highland Park and also partake of live music, rides and games, informational booths and food and drink.
A fish tank inside that dark box Amelia looked into contained M&M candies, flower petals and other objects, which could be exposed to varying degrees of red, green and blue LED lighting by simply twisting knobs. "White light contains all colors," a poster explained. "If a flower looks red under white illumination, that means it reflects red and absorbs other colors. As you change the color of illumination, the appearance of the flower tells you how much of that color is reflected by the flower." An on-off switch also exposed the objects to ultraviolet lighting, causing them to fluoresce in completely different colors.
"This is great," said Amelia's mom, Cassandra, who, with her husband Dan, helped her daughter and four-year-old son Dax explore all four experiments on display. "I love the opportunity to get the kids excited about science. So, I love that they are doing this."
"They" are the 12 Institute of Optics PhD candidates on the SPIE outreach committee, who began brainstorming last fall and spent most of February and March purchasing parts, then assembling the experiments. "We had a great team," says Nicholas Kochan, head of the outreach committee, who spearheaded the project. "We enjoyed it, but there was a lot of work involved."
In addition to the color pigment experiment that Amelia engaged in, there was a color matching experiment, a thermal imaging display, and even an exhibit showing how smartphone cameras could be used as "microscopes" to provide breath-taking closeup views of a honeybee's wing, a duck's feather, and other objects.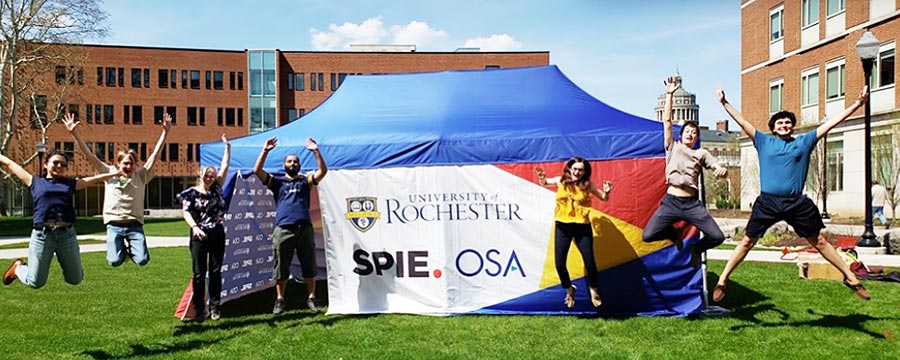 The chapter, which received funding support from SPIE and the Optical Society (OSA), also invested in a colorful tent to house the displays.
A total of 40 volunteers from the Rochester optics community—including faculty members and staff, but primarily students from Monroe Community College, Rochester Institute of Technology, and University of Rochester—spent more than 100 hours staffing the tent, Kochan says.
The Institute of Optics students engaged in the project included Di Xu, Saleem Iqbal, Benjamin Moon, Janet Hrdina, David Lippman, Saniat Ahmed Choudhury, Matthias Banet, Kaitlin Dunn, Ashan Ariyawansa Galabada Dewage, Robert Draham, and Nicholas Takaki. Jennifer Kruschwitz, associate professor of optics and color science expert, was their faculty advisor on the project.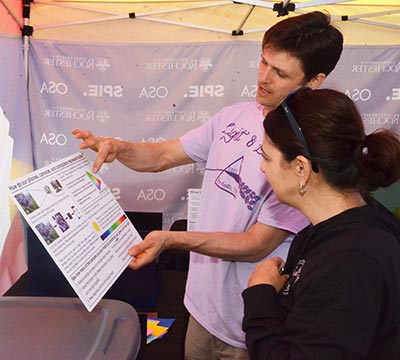 Soon after the Lilac Festival ended, Kochan presented a paper on the logistical challenges of the project at the Education and Training in Optics and Photonics Conference in Quebec.
"It was really cool to be part of that, and give my team the recognition they deserved," says Kochan, who becomes chapter president next year.
"We'd really like to be at the Lilac Festival again next year."