Startup with strong ties to Institute is big winner at Luminate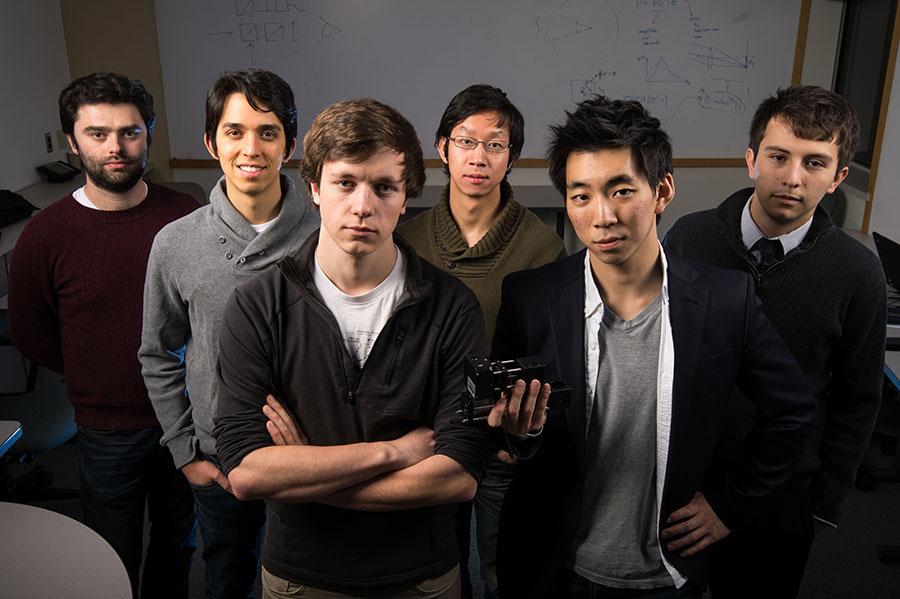 The top finisher in this year's Luminate competition is a startup company with strong ties to The Institute of Optics.
Ovitz, which develops individualized vision care, including a custom contact lens, and uses proprietary software algorithms to diagnose abnormal corneas, took the $1 million top prize in the world's largest startup accelerator program for optics, photonics, and imaging technologies. Ovitz founder and CEO Felix Kim '14 is a graduate of the Institute of Optics, as is engineering director Nick Brown '15. Chief scientist Yoon Geunyoung is a professor of ophthalmology and biomedical engineering at the University.
The company was founded in 2012 by Kim and five other students—Pedro Pablo Vallejo '16, PhD candidate Aizhong Zhang '14MS, Sam Steven '13 '14 TEAM, and PhD candidate Len Zheleznyak, all of optics, and Ana Garcia '14, international relations. Ovitz won the grand prize at the 2014 Rochester Business Plan Competition, and placed first in the  2013 Charles and Janet Forbes Entrepreneurial Award Competition and third in the 2013 Mark Ain Business Model Competition at the University for the EyeProfiler, an eye measurement device that is portable, inexpensive, and multifunctional.  Ovitz exited the University's Student Incubator in 2016 and joined the Affiliate Program at High Tech Rochester (now NextCorps) to continue their business goals.
All winners of the Luminate competition—which is administered by UR affiliate NextCorps, the region's only state- and federally designated business incubator—commit to establishing operations in Rochester for at least the next 18 months.