Rolland is 2019 Alumna of the Year at Arizona's College of Optical Sciences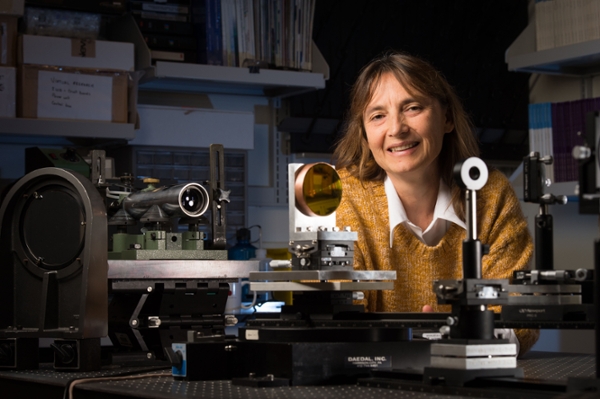 After graduating with a master's in optical engineering from the Ecole Superieure d'Optiquein Orsay, France, Jannick Rolland moved to Tucson, Arizona. She wanted to become fluent in English and resolve, once and for all, whether she should pursue a career in dance or science.
Fortunately, she completed a PhD at the University of Arizona in the Optical Sciences Center, studying medical instrumentation with professor Harry Barrett.
It was "the best-ever decision along my career path, to work with Harry, a mastermind at mathematics and physics combined," says Rolland, now the Brian J. Thompson Professor of Optical Engineering at The Institute of Optics, where she also directs the Center for Freeform Optics and the R.E. Hopkins Center for Optical Design and Engineering. "Tucson was both a spiritual and intellectual awakening for me," she explained in a 2015 interview.
Now, Rolland has been recognized by her alma mater—not only for her accomplishments as a scientist but also for her generosity to the school. She has been named the 2019 Alumna of the Year by the Wyant College of Optical Sciences at the University of Arizona.
"In addition to her wisdom and pioneering creativity, her tireless dedication to advance the understanding and education of the optics is also mirrored by her extraordinary generosity to help fund educational opportunities for students with scholarship support at the Wyant College of Optical Sciences," the citation reads.
Rolland and her husband, the late Kevin Thompson, were significant leaders in the establishment of four FoTO scholarship endowments at the college—one of which Jannick and Kevin funded on their own and named for her mentor, Michel Cagnet.
So what was the key to resolving which career to pursue?
"Dancing felt good but science satisfied my craving for intellectual discovery," Rolland says. "My time in Tucson solved this dilemma."