Katie Schwertz Elected as Director of SPIE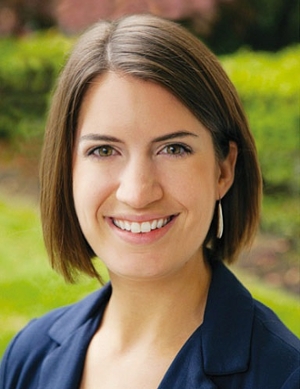 Katie Schwertz '08 says she "didn't really know anything about optics" until she took an introductory course at the Institute of Optics. Now she's been elected a director of SPIE, the International Society for Optics and Photonics.
It is yet another indication of how far the senior design engineer at Edmund Optics has come in making a difference in the world of optics. Earlier this year, Schwertz was one of 20 "inspiring engineers" profiled in a video collection produced by NBC News Learn as educational material for teachers, students, and parents.
In addition to being named by SPIE to a three-year term as director, Schwertz has served on the SPIE Education Committee and a SPIE Gender Equity Task Force that was established in 2015 to identify how the professional environment and culture of the community can better enable equal opportunities, rewards, and recognition for its members, independent of gender.
She was featured in a SPIE Women in Optics monthly planner in 2015, a spiral-bound desk calendar featuring stories and pictures of optics and photonics professionals making a difference in the world through their work.
This will come as no surprise to those who knew and worked with Schwertz when she was an undergraduate at the Institute of Optics.
She held posts in the student chapter of the Optical Society of America (president and social chair), interned at Rochester Precision Optics, and helped to get precollege students interested in the field, according to a Rising Alumni feature in the May-June 2008 issue of Rochester Review.
The Lancaster, NY, native was instrumental in getting undergraduates involved in outreach programs that incorporate the OSA's "optics suitcase"—an interactive package of scientific concepts developed and produced by the late Professor Steve Jacobs at the University's Laboratory for Laser Energetics and distributed to elementary and middle schools throughout the world.  She also helped organize tours of local companies and brought speakers on campus to talk about job applications and various career paths.
"She was a tireless advocate for the organization," says Lisa Norwood, assistant dean in the School of Engineering and Applied Sciences. She adds, "As a result of her superb networking and public speaking skills, combined with her excellent grasp of the field of optics, she is one of the top engineering students I have worked with."
"She was one of the most conscientious, hard-working undergrad students that I have ever encountered," adds James Fienup, the Robert E. Hopkins Professor of Optics.
After graduating from the institute, Schwertz earned a master's degree at the University of Arizona.
But she has remained in touch with Rochester, serving on the Hajim School's Young Leadership Council, and returning to speak when Julie Bentley, associate professor of optics, received the University's Goergen Award for Excellence in Undergraduate Teaching in 2014.