2019 News Archive
November 26, 2019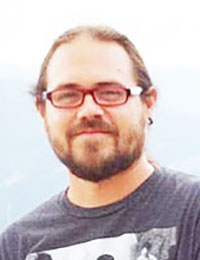 Manuel Guizar-Sicairos '08 (MS), '10 (PhD), an Institute of Optics alumnus and currently a beamline scientist at the Paul Scherrer Institute in Switzerland, is the 2019 recipient of the International Commission for Optics (ICO) Prize for 2019.
---
November 15, 2019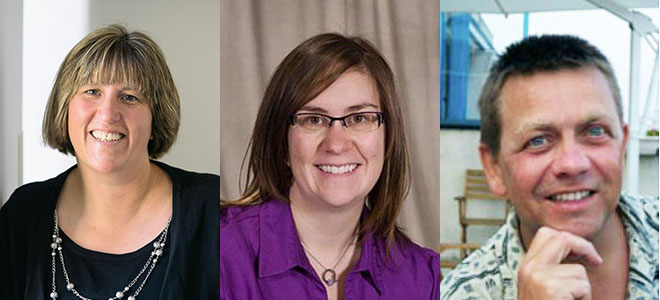 Two faculty members and a visiting professor at the University of Rochester's Institute of Optics have been named fellows of the Optical Society (OSA), the world's leading organization devoted to optics and photonics.
---
November 6, 2019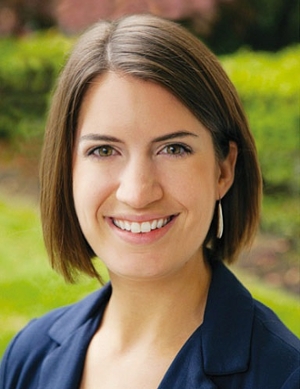 Katie Schwertz '08 says she "didn't really know anything about optics" until she took an introductory course at the Institute of Optics. Now she's been elected a director of SPIE, the International Society for Optics and Photonics.
---
August 27, 2019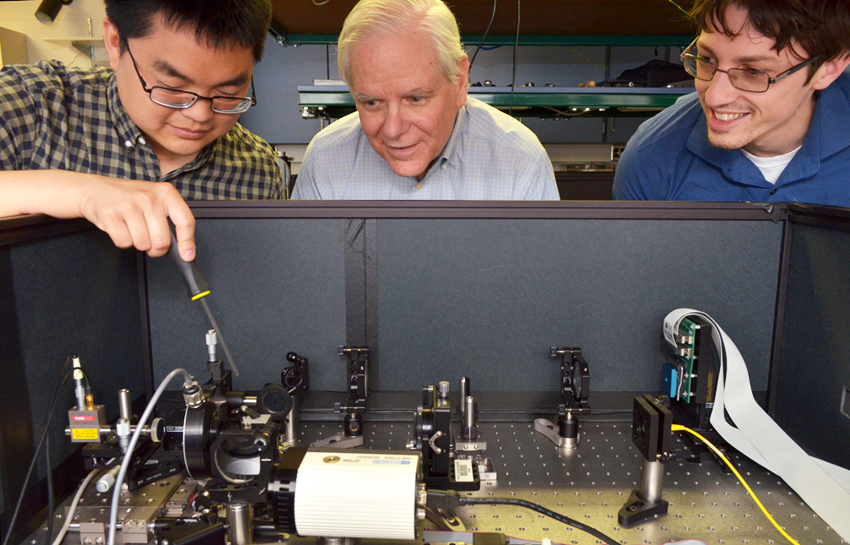 In addition to remarkable research and teaching skills, this year's recipient of the Hajim School Lifetime Achievement Award has a splendid knack for reading the writing on the wall. (Presented September 9, 2019 by Wendi Heinzelman, Dean of the Hajim School of Engineering and Applied Sciences)
---
August 16, 2019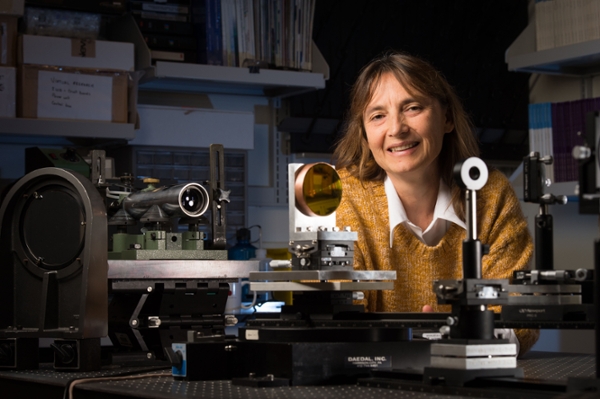 After graduating with a master's in optical engineering from the Ecole Superieure d'Optiquein Orsay, France, Jannick Rolland moved to Tucson, Arizona. She wanted to become fluent in English and resolve, once and for all, whether she should pursue a career in dance or science.
---
August 13, 2019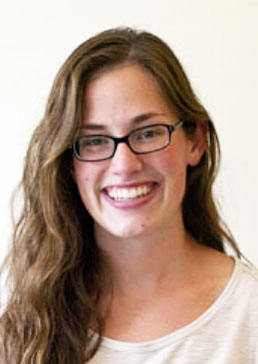 Eryn Fennig, a PhD candidate in the lab of Duncan Moore, Rudolf and Hilda Kingslake Professor in Optical Engineering Science, is a recipient of the 2019 Advanced Photonics Best Student Paper Prize for "Planar Light Guide Concentrators for Building Integrated Photovoltaics." The paper, co-authored by research engineer Greg Schmidt and Moore, was presented at the Optical Devices and Materials for Solar Energy and Solid-state Lighting (PVLED) meeting at the recent OSA Advanced Photonics Congress, held in San Francisco.
---
August 8, 2019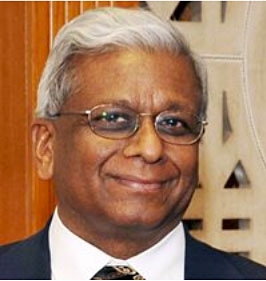 Two recent awards pay tribute to Govind Agrawal, the James C. Wyant Professor of Optics at the Institute of Optics, who has made seminal contributions in many areas of physical optics, including lasers, fiber-optical communications, and nonlinear optics.
---
July 24, 2019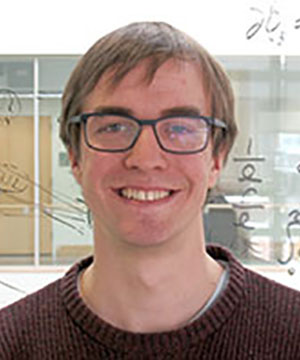 Matthias (Matt) Banet won the Outstanding Student Paper award from the Optical Society (OSA) for his paper, "Multiplexed Digital Holography for Atmospheric Characterization,"  in the topical meeting on Propagation Through and Characterization of Atmospheric and Oceanic Phenomena at the OSA's Imaging and Applied Optics Congress in Munich, Germany, on June 27, 2019.
---
June 28, 2019
The top finisher in this year's Luminate competition is a startup company with strong ties to The Institute of Optics.
---
June 10, 2019
Amelia Nice may not have fully understood the science involved, but the 2-year-old was clearly intrigued by what she saw inside a dark box at Rochester's Lilac Festival last month.
---
June 4, 2019
A memorable scene from the movie Apollo 13 shows three astronauts being relentlessly bounced and jostled during their launch. Imagine what all that bouncing does to a finely tuned space telescope when it is lifted off a launch pad!
---
May 23, 2019
During her week in Stockholm last December, Nobel Laureate Donna Strickland '89 (PhD) had to explain to her hosts why Americans would not be glued to their TV sets watching Nobel Prize coverage, as many Europeans would be.
---
May 9, 2019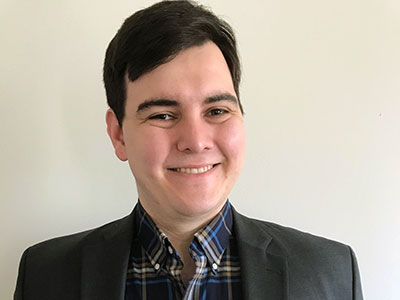 Nick Takaki, a fourth year PhD student at The Institute of Optics, working with Professor Jannick Rolland, Brian J. Thompson Professor of Optical Engineering, is the 2019 winner of the Michael Kidger Memorial Scholarship award.
---
March 25, 2019
This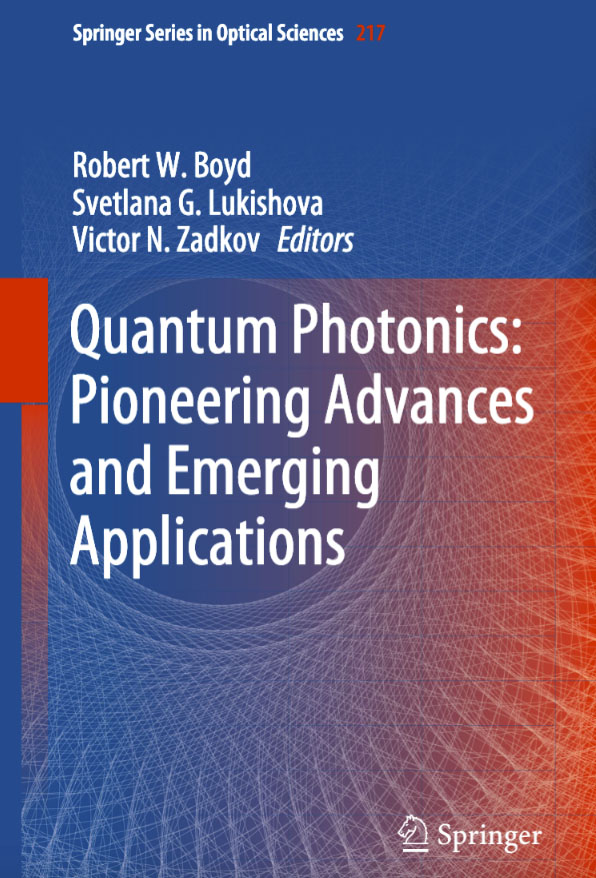 is the stepping off point for Quantum Photonics: Pioneering Advances and Emerging Applications (Springer Nature 2019). Edited by Robert Boyd and Svetlana Lukishova of the Institute of Optics and Victor Zadkov of the Institute of Spectroscopy in Troitsk, Moscow, Russia, the book provides the latest advances in modern quantum, nano-, and nonlinear photonics (Part I) and historical experiments of the period 1900─1956 on light pressure, single photons and nonlinear optics complimented with reprints and translation into English of some pioneering experimental papers (Part II). It is available online through the University of Rochester subscription for the Springer Series in Optical Sciences.
---
March 25, 2019
Kyle Fuerschbach, who received his PhD from the Institute of Optics in 2014, has been selected as the 2019 recipient of The Optical Society (OSA) Kevin P. Thompson Optical Design Innovator Award.
---
February 19, 2019
Thanks to the generosity of one Institute of Optics alumnus, another has been honored with an endowed chair at the University of Arizona's College of Optical Sciences.
---
January 10, 2019

From left to right: Thomas Brown, Gerard Mourou, Linda Smith and Donna Strickland.