Professor Kruschwitz elected to board of Inter-Society Color Council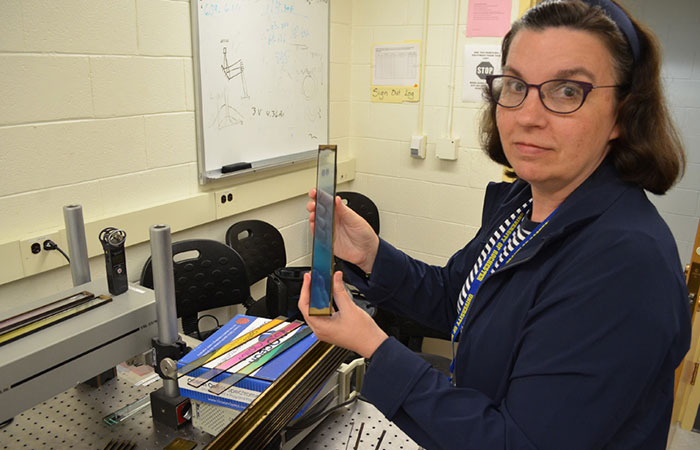 Jennifer Kruschwitz, assistant professor of optics, has been elected a board member of the Inter-Society Color Council, the principal professional society in the field of color in the United States.
The council was founded in 1931 with the goal of advancing the knowledge of color as it relates to art, science, and industry.
Kruschwitz,, who will serve a three-year term, is an expert in colorimetry—the science of measuring color. In 2018, she published A Field Guide to Colorimetry and Fundamental Color Modeling, through SPIE Press.
She also teaches a Color Technology class at The Institute of Optics. "Color Technology is more than just pigments, dyes, paints, and textiles," she explains in the course description. "Everywhere in modern technology—smart phones, tablets, displays, lighting, cinema, printers, etc.—is the need for a basic understanding of how we measure, identify, communicate, specify, and render color from one device to another."
The course, which she is teaching to 19 students this semester, addresses color order systems, color spaces, color measurement, color difference, additive and subtractive color, and rendering of color images. Students learn about color matching, lighting conditions, metamerism, and color constancy. At the semester's end, each student will have compiled a Color Toolbox with useful functions to derive different necessary color values within MatLab.
Kruschwitz received her BS and MS in Optics from the University of Rochester in 1989 and 1995 respectively. As an undergraduate, she took Professor David MacAdam's final class on colorimetry in 1988.
She earned her PhD degree from the Rochester Institute of Technology in Color Science in 2015. Her dissertation was entitled Specialized Color Targets for Spectral Reflection Reconstruction of Magnified Images.
Kruschwitz, who has worked as an optical coating engineer for Itek Optical Systems, the Laboratory for Laser Energetics, and Bausch & Lomb, started her own consulting company in 1998 and has been teaching at the Institute of Optics since 2007.