Engineering Diversity: A Series Celebrating Equity and Inclusion in the Hajim School of Engineering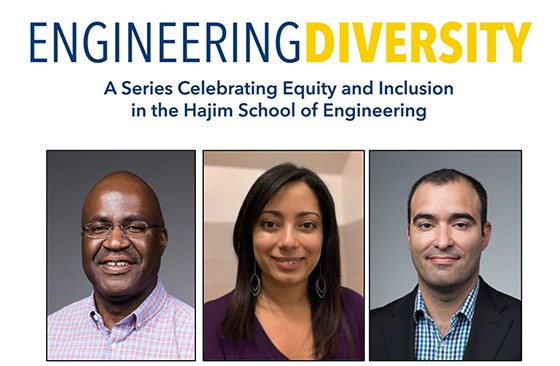 We are proud to recognize the contributions of Marvin Doyley (at left), Melodie Lawton, and Gonzalo Mateos as part of our Diversity, Equity and Inclusion initiative, which includes profiles of Hajim School underrepresented minority faculty members, staff members, and alumni who serve as outstanding role models.
Dear members of the Hajim School community,

Events of the past year–both in Rochester and nationwide–remind us that racial bias and social injustice not only persist in our society but have gained an alarming level of acceptance. As a University, and as a school, we cannot afford to ignore this issue. In collaboration with the Kearns Center for Leadership and Development in AS&E and the Office of Equity and Inclusion, we are taking steps at the school and department levels to address these issues.

These steps will include efforts to increase the diversity of our student body, our staff, and faculty; to enhance our efforts to attract and retain students from diverse backgrounds, and to engage in efforts to address social injustice in our own community. This will not be accomplished overnight, but we need to start doing all we can now.
As part of that effort, we are celebrating the contributions of our underrepresented minority faculty members, staff members, and alumni who serve as outstanding role models. We are pleased to launch this series during Black History Month. This week we recognize three of our faculty members.
Marvin Doyley has done a remarkable job as the new chair of the Department of Electrical and Computer Engineering at a particularly challenging time, providing fresh insights and positive leadership during our pivot to hybrid models of teaching due to the COVID-19 pandemic. His research in cardiovascular and breast cancer imaging, ultrasound beamforming, contrast-enhanced ultrasound imaging, ultrasound elastography, magnetic resonance elastography, and pancreatic cancer imaging earned him induction last year as a fellow of the American Institute for Medical and Biological Engineering. This past year he was one of 20 faculty members nationwide who participated in the first cohort of the IAspire Leadership Academy, a program aimed at helping STEM faculty from underrepresented backgrounds ascend to leadership roles at colleges and universities. Marvin, who is also affiliated with the Materials Science Program, is actively pursuing ways to improve diversity and inclusion within his department. Read more here.
Melodie Lawton, assistant professor of instruction in chemical engineering, joined our faculty last year with not only solid academic credentials, but invaluable industry experience at Bausch & Lomb. Melodie drew on that experience to devise ways to help maintain safe social distancing in her undergraduate lab course last fall. Melodie comes from a non-STEM background, "so I think I always had to be self-motivating," she says. After working at Bausch & Lomb, she earned a PhD in bioengineering at Syracuse University (2018), working on smart shape memory polymer composites. She's excited to be connecting to students in classrooms and labs. "The challenge is taking really complicated physics and chemistry and repackaging it so someone can not only understand it but be excited enough to want to learn on their own in the future, or do something with it," Lawton says. "I find that really satisfying." Read more here.
Gonzalo Mateos, associate professor of electrical and computer engineering, is considered an emerging leader in using computational tools to make sense of the millions, even billions of data points that represent the interactions of networks as diverse as social media, power grids, and the human brain. He is recipient of a prestigious NSF CAREER award and was recently appointed the Asaro Biggar Family Fellow in Data Science. Gonzalo, who is also affiliated with the Materials Science Program, is actively engaged in helping the Goergen Institute for Data Science forge new collaborations across the University and beyond. "We are seeing this huge revolution in artificial intelligence, and data is becoming even more complex, unstructured and multi-modal," Gonzalo says. "So, trying to crack problems in this domain is going to have a huge impact in decades to come in terms of bettering society, the economy, and the way we deliver health care. It touches upon everything." Read more here.
Stay tuned for additional profiles throughout the year.

Here's an opportunity from the Office of Equity and Inclusion for our faculty, postdocs, and graduate students to learn more about cultivating an equitable, respectful, and welcoming culture at our University.
As part of our University's continued mission to learn, discover, heal, create—and make the world Ever Better–the Office of Equity and Inclusion has recently obtained a University-wide institutional membership to the National Center for Faculty Development & Diversity (NCFDD). Through our membership, faculty, postdocs, and graduate students will have access to critical tools for their scholarship and for cultivating an equitable, respectful, and welcoming culture at Rochester. The NCFDD is an independent professional development and mentoring community with members from over 450 colleges and universities. To claim your membership, go to www.FacultyDiversity.org/Join and select the University of Rochester from the list of members. If you have any technical questions, feel free to email NCFDD at Membership@FacultyDiversity.org.
Hajim Memo 0208