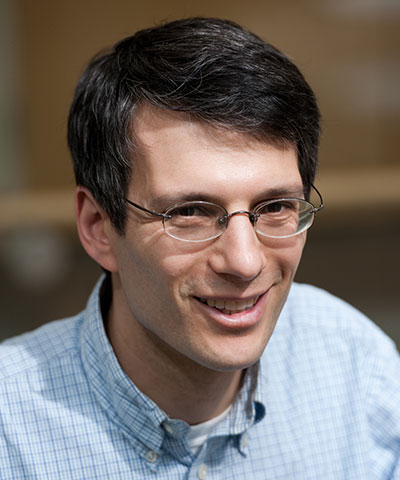 Andrew J. Berger
Professor of Optics
Associate Professor of Biomedical Engineering
PhD, 1998
405 Goergen Hall
(585) 273-4724
Fax: (585) 244-4936
ajberger@optics.rochester.edu
---
Short Biography
Andrew Berger, associate professor of optics, arrived in Rochester in July, 2000. He holds physics degrees from Yale (BS, 1991) and MIT (PhD, 1998). At the latter, Dr. Berger did his doctoral work in the G.R. Harrison Spectroscopy Laboratory under Michael Feld, developing methods of blood analysis using laser spectroscopy. Prior to coming to the Institute of Optics, he spent two years at the Beckman Laser Institute and Medical Center in Irvine, CA, building handheld systems to analyze breast tissue content, thanks to a postdoctoral fellowship from the George E. Hewitt Foundation for Medical Research. Unlike his advisor Bruce Tromberg, however, Andrew escaped Southern California. 
Research Overview
Professor Berger's area of interest is biomedical optics, specifically spectroscopic diagnostic techniques. With recent advances in optical technology, it is now possible to perform sensitive chemical tests on samples (and live subjects) using light rather than reagents or electrodes. The group's present research is centered upon:
Raman spectroscopy of oral bacteria
Single-cell Raman spectroscopy
Multimodal microscopy (Raman plus elastic scatter)
Near-infrared spectroscopy of hemodynamics in the human brain
More generally, Professor Berger seeks to apply lasers and spectroscopic methods (absorption, fluorescence, Raman, and scattering spectroscopies) to problems of medical interest. As offshoots of this basic thrust, other interests include: (1) exploring fundamental aspects of light scattering and diffusion in turbid (e.g. biological) media; and (2) developing novel spectroscopic techniques, through both instrumentation and analytical modeling, that extend the range of biomedical phenomena which can be studied using light.
The proximity of the Institute of Optics to the Medical Center offers opportunities for close interaction with clinical collaborators and patients. Professor Berger also holds a secondary appointment in the Department of Biomedical Engineering.