Design Day 2014
Friday, May 2, 2014
10:30 a.m.–1:30 p.m.
Goergen Athletic Center Field House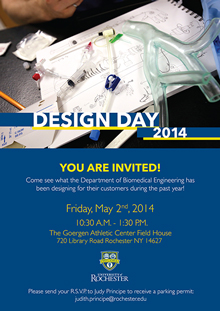 Come see what the Department of Biomedical Engineering has been designing for their customers during the past year!
The Biomedical Engineering Senior Design Program introduces students to a systematic customer-driven design and problem solving approach resulting in development of prototype medical devices and research instruments. Over the last ten years, our students have completed over 120 projects including clinical devices, assistive technology, biomedical research instruments and protocols. This year, we present a record 17 projects, including challenges presented to us from nurses, doctors, and researchers throughout UR Medicine, and several alumni from across the world. This year, our CMTI students present three projects that were selected from problems identified during their clinical observations, developed through prototyping and evaluated for further business potential through advanced training from the Clinical Translational Science Institute, UR Ventures, and the Simon School of Business.