Graduation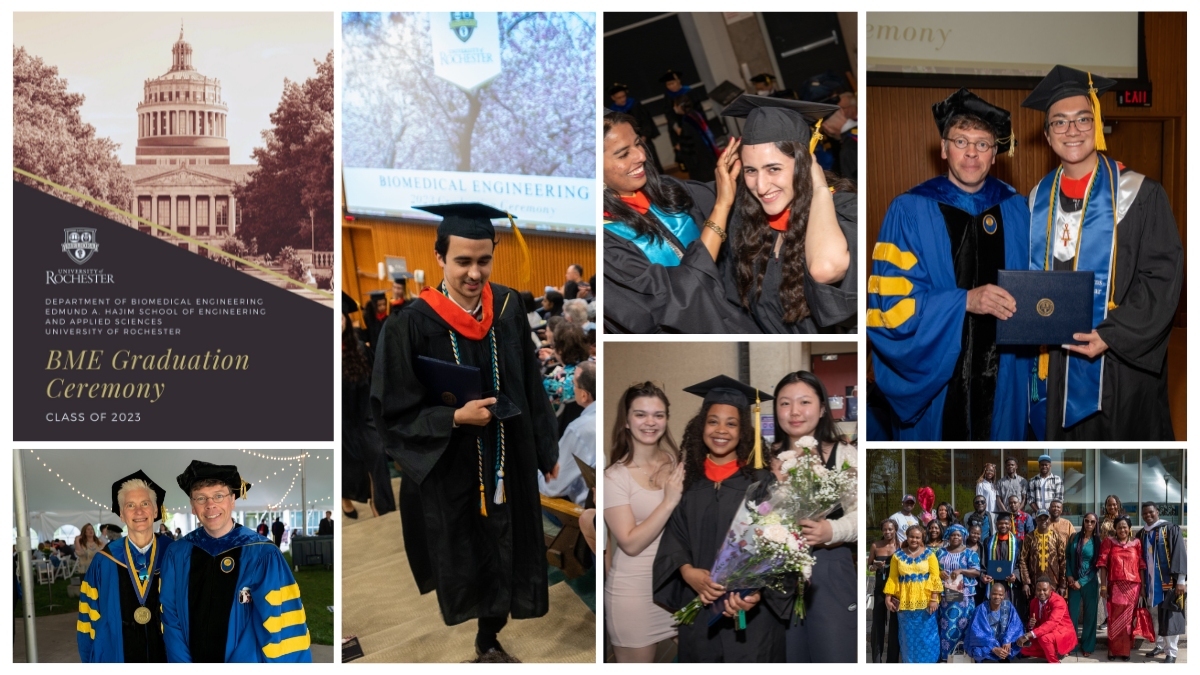 2023 BME Graduation
Following the University Commencement Ceremony on Friday, May 12, 2023, the Arts, Sciences & Engineering graduation ceremonies occurred on Saturday, May 13. Graduates and their guests were invited to attend receptions immediately following each ceremony.
University-Wide Commencement Ceremony
- All graduates, all degrees, all schools
Friday, May 12 at 9 a.m..
Fauver Stadium at the Brian F. Prince Athletic Complex, River Campus
Recorded Ceremonies: www.rochester.edu/commencement/class-of-2023/broadcasts/


Doctoral Graduation Ceremony
Friday, May 12 at 2 p.m.
Kodak Hall, Eastman Campus


Biomedical Engineering Department Graduation Ceremony
- All BME BS and MS graduates
Saturday, May 13 from 9-10 a.m..
Hubbell Auditorium, Hutchison Hall, River Campus.
Recorded BME Ceremony

*BME Reception:  After the ceremony, students and their guests, along with faculty and staff, were invited to the Hajim Tent for refreshments. BME Senior Design and CMTI design project posters were on display throughout the morning on the 2nd and 3rd floor of Goergen Hall.



---
Related Links:
2023 BME Graduation Ceremony Photographs
2023 BME Program
BME Department's social media accounts: