News & Events
BMEidea 2013: Competition Winners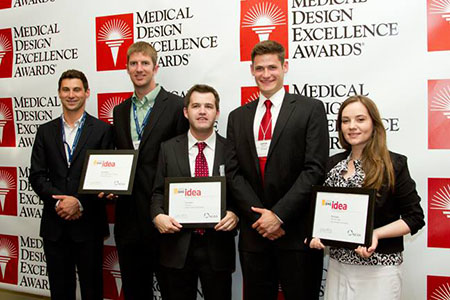 The BMEidea competition recognizes the best of the best in student-driven, innovative biomedical engineering design with high commercial potential and social impact. First held in 2005, winners of this annual competition are selected from some of the nation's top biomedical engineering departments and are judged by a panel of faculty and industry representatives. Winning entries solve a clinical problem; meet technical, economic, legal, and regulatory requirements; feature novel and practical designs; and show potential for commercialization.
This year's first-place winner, awarded $10,000, was EchoSure, developed by five Johns Hopkins graduate students including David Narrow, a University of Rochester alum. The device emerged during a year-long master's degree program that required student teams to identify an urgent healthcare problem and then design and test a solution.
The EchoSure team focused on a setback that can occur during free flap reconstruction. In this treatment, healthy tissue is transplanted from one part of a patient's body to help repair another region that has been damaged by cancer or an injury. Our team has seen firsthand the consequences for patients when vascular complications are not detected early enough to salvage a surgery, Narrow said. "EchoSure has the potential to prevent thousands of surgical failures and otherwise unnecessary repoerations."