Calvin Yoon '13 Awarded POSTECH Presidential Fellowship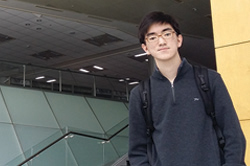 Calvin Yoon graduated with his B.S. in Biomedical Engineering from the University of Rochester with a concentration in Cell and Tissue Engineering in 2013. With a strong passion for wound healing and cancer research, Calvin focused his senior design project on developing an optical probe to guide skin cancer detection through 3D imaging under Jannick Rolland, Ph.D. of the Institute of Optics.
He says the Senior Design experience made him better realize that he enjoys building and developing devices geared towards his field of interest. The experience also allowed him to network with researchers in his field, which led him to the M.S./Ph.D. program in Integrative Biosciences and Biotechnology at Pohang University of Science and Technology (POSTECH) in Pohang, South Korea.
Calvin is working on two projects in the Biomedical Optics and Instrumentation Lab at POSTECH under his supervisor Ki Hean Kim, Ph.D.: The development of an imaging system to detect cancer by using nanoparticles, and another project - the development of a handheld 3D imaging system to guide intraocular surgery, which led him to being chosen as a POSTECH Presidential Fellowship winner.
A total of eight graduate students and two undergraduate students won the POSTECH fellowship this year. Calvin says that the fellowship will help tremendously, as he currently lives with his grandparents, and his grandfather has been undergoing treatment for cancer.
Beyond his dedication to developing medical devices, Calvin is also passionate about his fellow students and community, which led him to co-found the student-run organization Northbound Leadership. Northbound Leadership started as a small group at the University of Rochester, but has since evolved into a larger organization with student involvement from universities around the world. Northbound's mission is to create future leaders through self-discovery, personal growth, and community service. For more information please visit the Northbound Leadership site.
Congratulations, Calvin!