Two BME Student Teams Win 2014 Forbes Entrepreneurial Competition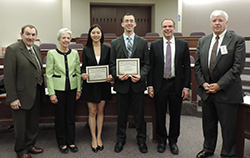 The 2014 Charles and Janet Forbes Entrepreneurial Competition took place on Friday, May 2nd in Schlegel Hall. During the competition, Hajim undergraduate students compete for cash prizes while presenting their technical business plans to a panel of alumni and faculty judges. This year, BME teams took both first and second place.
UR DermMates won First Place and a cash prize of $5,000. Their goal is to develop a cost-effective device for measuring skin barrier permeability and resistance by streamlining device and epidermis sample assembly and preventing inter-compartmental leakage within the device. The UR DermMates team is Amanda Chen '14, Qihui (Fiona) Pu '14, Kyle Fedorchak '14, and Jacob VanderBurgh '14.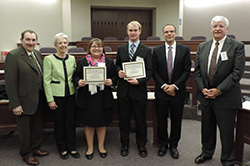 Hemo-Box won Second Place and $3,000. Hemo-Box is a device that can be labeled specifically for patients to effectively store and transport blood in hospitals while maintaining the FDA regulated temperature range for up to 24 hours. Team Hemo-Box is Courtney Astemborski '14, David Abplanalp '14, Casey Dahlbeck '14, Max Winkelman '14, and Chad Pickering '14.
Congratulations!