BME Faculty and Students Attend 7th Annual World Congress of Biomechanics in Boston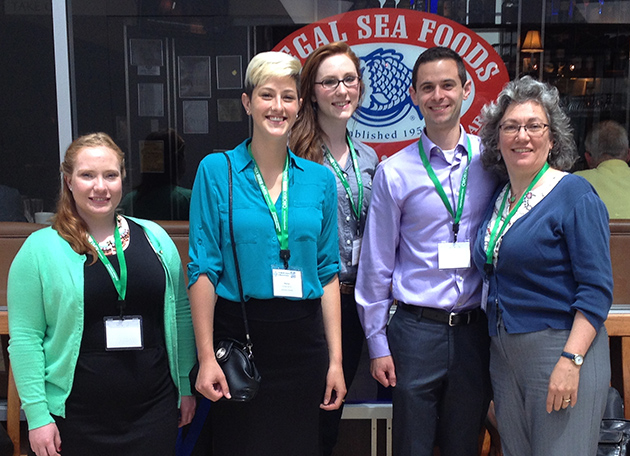 Pictured: Caitlin O'Connell, Andrea Morrell, Megan O'Donovan, Ben Freedman, and Professor Amy Lerner
Last month BME faculty and students attended the 7th Annual World Congress of Biomechanics in Boston, Massachusetts. The World Congress of Biomechanics (WCB) is an international meeting held once every four years, rotating among Europe, Asia, and the Americas. The meeting brings together engineers, scientists, and clinical specialists with applications ranging from basic biology to medical devices to the latest technologies. Researchers, engineers from industry, medical doctors, academics, and students are all welcome to attend.
The University of Rochester was well represented with faculty, current students, and alumni in attendance. Below are the faculty, students, post-docs, and alumni who attended:
Faculty: Amy Lerner, Stephen McAleavey, Richard Waugh, Marvin Doyley, Kevin Parker, Mark Buckley, and Paul Funkenbusch.
Students/Post-docs: Molly Zapkin, Luis Delgadillo, Ruth Chimenti, Jonathan Langdon, Graham Marsh, and Frank DiLiberti.
Alumni: Ben Freedman, Andrea Morrell, Jiang Yao, Nick Vavalle, Nicole Varble, Hanna Isaksson, Sijia Zhang, Sally Crawford, Woojin Han, Meghan O'Donovan, Emily Robbins, Alison Altman, Caitlin O'Connell, Daniel Shedd.
Some of the UofR titles were as follows:
"Impact of Data Collection Method on Uncertainty and Cost of a Biomechanical Model for Joint Contact Force in the Medial Compartment of the Knee"

"Evaluation of the Endothelial Glycocalyx Layer as a Barrier to Leukocyte Adhesion"
"Intravascular Ultrasound Coronary Plaque Elasticity Reconstruction Methods Based on in vivo strain Measurements"

"Developments in Single Tracking Location ARFI for Quantification of Tissue Mechanical Properties"
"Non-Invasive Estimation of the Stress Distribution within the Fibrous Cap"