BME Students Intern with Idea Boxx, Recognized as Co-Inventors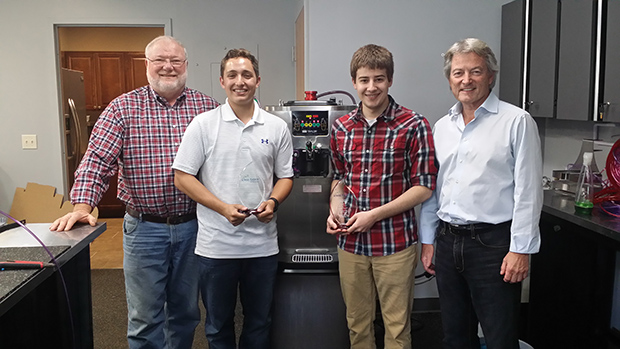 Pictured from left to right: Idea Boxx COO Al Mustardo, Edward Ruppel, Jacob Parisi, and Idea Boxx CEO Richard Aab.
This month marks the one-year anniversary of the collaboration between the Center for Medical Technology & Innovation (CMTI) with local company Idea Boxx. Throughout the past year, UofR BME students have been working with Idea Boxx on assessing and testing a cleaning process known as Hydra Rinse™. Because of the dedication, hard work, and relationships fostered throughout this past year, Idea Boxx opened up two summer internship positions available to UofR students.
Facilitated by CMTI Executive Director Greg Gdowski, Jacob Parisi (BME junior) and Edward Ruppel (BME sophomore) began their three-month summer internship with Idea Boxx this past June.
Jacob and Edward's summer work focused on the commercialization process of the Hydra Rinse™ system: They helped prototype, test the product, and interacted with the customers who were using the first models to come from their bench top.
In addition to working on the Hydra Rinse™ system, Edward also worked on the design of a variety of products for the commercial food service industry to facilitate effective disinfection and sanitation. One of the unique projects was fine-tuning a Taylor 706 ice cream machine to cut the cleaning time from an hour and a half to just under eight minutes.
"The personal accessibility to every aspect and position within the company was like nothing else and it really spoiled Jake and I… Idea Boxx is full of excellent mentors with unconventional backgrounds, leading to an excellent dynamic… It was honestly one of the greatest experiences I have ever had." Edward said.
"The Idea Boxx/CMTI relationship has been very successful and fruitful for both of us and I look forward to continuing with the group over the next year.  Idea Boxx is a breeding ground for new ideas and it is an ideal platform for translating new concepts to commercialization." Gdowski said.
Jacob and Edward are both being acknowledged as co-inventors on the Hydra Rinse™ patent application and both will be working with Idea Boxx on a part-time basis throughout the school year.
Gdowski adds, "What I have enjoyed the most about this process is that it has created very passionate engaged young engineers and Idea Boxx deserves much of the credit for that. That has occurred because they were given the freedom to apply what they have learned here at UofR… Their summer experience will be something they remember — likely for the rest of their lives. "