Catherine K. Kuo Joins Faculty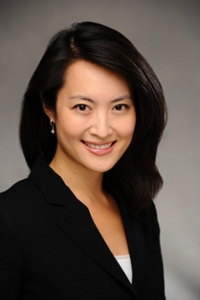 Catherine K. Kuo arrives from Tufts University, where she had been an assistant professor of biomedical engineering since 2008, as well as from MIT, where she had been a visiting scientist in chemical engineering since 2011. 
She said that several factors convinced her to join University of Rochester—the high caliber faculty and students working in diverse areas of research in the Department of Biomedical Engineering and the Hajim School, the Center for Musculoskeletal Research being one of the top-funded orthopaedic research groups in the nation, the strong ties between BME and the Medical School, and the "stimulating scientific discussions and warm personal interactions" she enjoyed with faculty and students when she interviewed here.
    "The University of Rochester is a big name in orthopaedics, one of my primary research areas," Kuo said. "The Center for Musculoskeletal Research is one of the most successful and highly regarded research centers in the country. I find BME at UR to be equally impressive with a department of outstanding faculty that has created a vibrant scientific community with an extraordinarily positive culture. Either of these would have been a draw for me, but the two together (across the street from each other!) is unrivaled. " 
    Her research is both multidisciplinary and interdisciplinary, integrating materials science, engineering, and biology. She is developing novel engineering approaches to investigate how mechanical forces influence tissue development in the embryo. Adult stem cells are then cultured in biomaterials and bioreactor culture systems engineered to mimic the embryonic mechanical microenvironment. The idea is that adult stem cells will respond to these cues similarly as embryonic cells during development, and differentiate and grow new tissues for two main objectives:
1. Regenerating new tissues from stem cells that may be implanted in the body to replace diseased or injured tissues that have limited capacity to heal;
2. Developing living tissue models as independent platforms to study tissue development, homeostasis, disease and healing.
The primary tissues of interest in this research are tendon, ligament and adipose, with focus extended to additional tissues of mesenchymal origin.
Prior to joining Tufts University, Professor Kuo was a postdoctoral fellow at the National Institutes of Health. She received her B.S.E. in Materials Science and Engineering and Ph.D. in Biomaterials and Macromolecular Science and Engineering from the University of Michigan, and pursued postdoctoral training at the NIH in the Cartilage Biology and Orthopaedics Branch of the NIAMS. She received the prestigious NSF CAREER Award in 2013 and the March of Dimes Basil O'Connor Starter Scholar Research Award in 2011. She was invited by the NAE as one of only 15 outstanding U.S. engineers under the age of 45 to participate in the 2013 German-American Frontiers of Engineering Meeting. Kuo has served within many distinguished organizations including Biomedical Engineering Society, Orthopaedic Research Society, and Tissue Engineering and Regenerative Medicine International Society. She serves on the advisory council for the International Society of Ligaments and Tendons and the editorial review board for Journal of Orthopaedic Research.