December 15, 2015
Soufan Helps Injured Syrian Refugees through Physical Therapy Clinic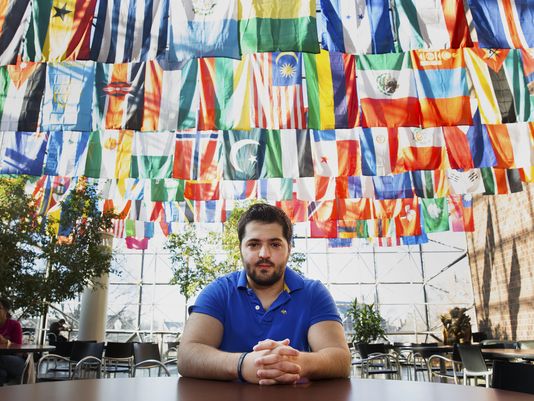 For many of us, the Syrian refugees at the center of a national debate are an abstraction — millions of faraway people whom we've never met and probably never will.
They aren't so distant to Omar Soufan.
The University of Rochester junior traveled to Lebanon last summer to help establish a free rehabilitation and physical therapy clinic for injured refugees living in a camp near the Syrian border.
What he saw there was gut-wrenching — and motivating.
"The camps there, I don't know how people are actually alive," he said. "No bathrooms, no running water."
"You see kids eating dirt because they're hungry."
Soufan and his partner in this effort, fellow student Ibrahim Ahmad Mohammad, are now working on a second phase in their project. They want to use 3D printers to create prosthetic upper limbs for refugees who suffered amputations after being wounded by bombs or missiles.
They are not the only local college students trying to better understand and address the humanitarian crisis in Syria as elected officials debate whether some 10,000 refugees should be welcomed into the United States. Nazareth College and Rochester Institute of Technology have hosted discussions about Syria and refugees.
In late October, several UR student groups also organized a week of public events and conversations to raise awareness of the refugee situation. Some of the same students also are working on a project to support Syrian schoolchildren whose families have fled to Turkey.
"We want people to be aware there is something we can do about this and a way to be involved," said Deema Abdo, a University of Rochester freshman and a member of the Student Association for the Development of Arab Cultural Awareness.
The United Nations said earlier this year that the death toll in Syria had exceeded 220,000, including fighters and civilians — more than the entire population of the city of Rochester.
The conflict has forced nearly half of Syria's population of 22 million people from their homes, and more than 4 million have fled the country and registered as refugees. The majority are staying in neighboring Turkey, Lebanon and Jordan. 
Soufan, 21, was born in Chicago, but raised in Damascus. His parents and siblings still live there.
He was in high school in 2011 during the early days of unrest, when protesters against Syrian President Bashar al-Assad's government often were met with violent suppression.
Soufan can readily rattle off reasons why many factions in the conflict share blame, and he said he's not interested in choosing sides. His main concern is that innocent people are suffering — his countrymen and, on a more personal level, friends and family.
"Some days, there is no electricity ... The last couple of days, there was no water in Damascus," he said. "These are all things that are necessities for life that are not there anymore."
The war's human toll has continued to trouble Soufan since he came to the U.S. for college.
He chose to study biomedical engineering, with an interest in prosthetics, partly because thousands of refugees have lost limbs in the war.
Late last year, Soufan came up with a way to use his studies to help.
He decided to try to set up a physical therapy clinic for injured refugees. While providing a necessary service, he said he also could learn more about the refugees' wounds and eventually make and fit them with prosthetic limbs. He is particularly interested in upper limbs, which are more difficult for refugees to find.
"That's one of the biggest issues ... I knew I could help that way," he said.
But raising money for rehab equipment proved challenging.
Soufan was narrowly passed over for a $10,000 grant, and he and Mohammad, his partner in the project, tried to collect money online with limited success.
They found a different solution: Soliciting private donations and approaching the Syrian American Medical Society, a U.S.-based nonprofit that already was working to improve medical care for refugees. The group helped to secure donated equipment and funds for Soufan's plan.
"I really liked his ideas," said Dr. Jihad Alharash, a board member for the medical society. "We supported his project, and our team in Lebanon, we asked them to work with him."
Donors included the Rev. Brian Cool, director of the Catholic Newman Community at UR and adviser to Soufan's fraternity, Sigma Chi. Cool said he was impressed with the relationships Soufan built with people and organizations already working on the ground with refugees.
"I'm in awe of his passion," Cool said. "That's what got me involved."
In August — less than a year after first developing his idea — Soufan arrived in a refugee camp in Lebanon's Bekaa Valley.
He described scenes of desperation: Thousands of families jammed into small tents, children who begged and played among garbage, people who burned shoes to stay warm at night because there was no firewood.
Many refugees were weary of services provided haphazardly or for a price, and help promised but never delivered, Soufan said. Men often were withdrawn because they were not allowed to work legally in Lebanon.
He found a rudimentary physical therapy clinic already in the camp, but much of the equipment was outdated or broken. Soufan spent several weeks working with the medical society to replace equipment and set up a more modern facility. While there, he also assisted a psychiatrist in the camp.
Through his work, Soufan heard refugees' stories firsthand.
There was a young man who lost both legs, an arm, part of his left hand and his vision in an explosion. Soufan befriended another man who lost one leg and traveled to Sweden for surgery to save the other.
Another refugee was paralyzed after he survived a gunshot wound to the head.
Many amputees needed multiple surgeries to prepare what was left of their limbs for prostheses, Soufan said.
Meanwhile, he also crisscrossed the border to visit his family when possible. All this brought risk, but to Soufan, the trip was worthwhile.
The war brought a realization: He could die at any time. Anyone could.
"Why die without trying?" he said. "I don't want to be walking and be hit by a random bullet. At least I could die for doing something better."
But Soufan also was disappointed with the impact he was able to make, and he was frustrated with restrictions on aid workers.
"The amount of bureaucracy I encountered there, it crippled me," he said.
Alharash, who is involved in the medical society's work in Lebanon, said that when working with refugees, it becomes clear that it takes little to help a lot.
But at the same time, the need is enormous.
"This is the frustrating part," Alharash said. "We try to balance the need with the resources to see what are the priorities. 
Soufan and his partner are now focused on plans to raise money next year to bring 3D printers to the rehab center and use them to make prosthetic limbs. 
Note: This is an excerpt from the Democrat and Chronicle. You can find the original news story here.