Benoit aims to develop a drug delivery system to treat Osteoporosis through NSF CAREER Award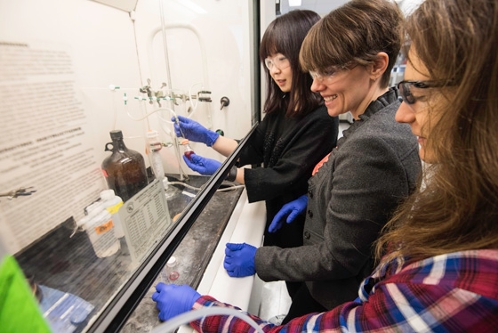 Danielle Benoit, center, in her Goergen Hall lab with PhD students Yuchen Wang
(left) and Maureen Newman (right). (Photo by J. Adam Fenster/University of Rochester 
Last year, BME Professor Danielle Benoit received a Faculty Early Career Development (CAREER) award, the most prestigious grants given by the National Science Foundation to junior faculty members. This article details her research and presents her tips for junior faculty members interested in applying for a CAREER award. 
"The challenge with drug delivery to bone tissue is that there's currently no good way to target the drugs exactly where they are needed," says Danielle Benoit, the James P. Wilmot Distinguished Associate Professor of Biomedical Engineering. Her goal: Develop a drug delivery system that can be targeted to specific parts of the skeleton to treat osteoporosis. 
Key components of her strategy include: 
1. The osteoblasts and osteoclasts that continually remodel our bone tissue to maintain a healthy skeleton. In osteoporosis, there is an excess of bone resorption by osteoclasts, and insufficient formation of replacement bone by osteoblasts. 
2. The Wnt signaling pathway, which helps activate regeneration of bone and other body tissue. Current anabolic drug treatments that stimulate this signaling pathway do so indiscriminately, causing "aberrantly high levels of Wnt activation all over your body, which can lead to oncogenic transformation or progression," Benoit notes. 
3. Molecular signals left behind where osteoclasts excavate bone as part of skeletal remodeling. 
4. Peptides that are known to bind to one of these molecular signals. 
By "decorating" these peptides on polymers that also contain the anabolic drugs, Benoit says, the peptides should be able to direct the drugs to the parts of the bone where actual remodeling is taking place. In other words, "a unique and very specific targeting approach to enhance bone distribution exactly where it is needed." 
Make CAREER a vision of your future as a researcher
To Benoit, an NSF CAREER award is more than just a grant. "It's about your ability to plan a significant trajectory/vision for your research program in the future." 
So when she surveyed her research portfolio in preparation for applying for her CAREER award, she looked for the area that had the most potential in terms of "laying a foundation for literally a career of research." 
The topic she picked is one she's been working on ever since she arrived here in 2010. The genesis, in fact, dates to a conversation she had with Edward Puzas, the Donald and Mary Clark Professor of Orthopaedics, when she first interviewed here. Puzas mentioned a peptide his group had discovered that Benoit thought could have real potential for targeted drug delivery. It's the same peptide that's now a key part of her CAREER project. "So really you can weave this all the way back to that conversation as the start of this idea, which has evolved since then and gained momentum and changed direction." 
That momentum was aided by funding from the University's Technology Development Fund, Pilot Project funding from a P30 University of Rochester Environmental Health Sciences Center Grant, and a Women's Health and the Environment over the Entire Lifespan (WHEEL) K12 Career Development Award. These awards gave Benoit the protected research time for graduate students to start developing the preliminary data that helped bolster her CAREER application. 
Her advice to other junior faculty thinking about applying for a CAREER, especially those applying for the first time: 
1. Don't make it your first grant. Try to get some grant-writing exposure and feedback on other proposals first. "Test the waters," Benoit advises. 
2. Get feedback from your colleagues. Benoit said she received helpful suggestions on writing and polishing her proposal from the junior faculty mentoring group run by Prof. Laurel Carney in the Department of Biomedical Engineering and from the weekly Friday PI meetings held by the Center for Musculoskeletal Research "The people reviewing your grants at NSF might know a little something about your field of expertise, but generally come from a more general background, so it's important to get a more general but scientifically literate audience to look at your proposal ahead of time and see how readable it is. The more dense it is, the harder it will be for even someone who is an expert to continue to look at it in a fair and balanced way." 
3. Talk to your program managers at NSF. 
4. Look at successful CAREER proposals written by other investigators, even if they are in other disciplines. "It can give you a sense for how things should look and how things should be worded." 
5. Plan ahead. "The deadline comes in July, but that comes really fast, so don't think you can wait until the end of the semester and get cranking," Benoit said. "You should have a draft (ready to share for feedback) well before then." 
Watch workshop that offers tips for applying
Click here and scroll down to view the video of an AS&E workshop on applying for NSF CAREER awards, held on April 20, 2015. 
Note: This article was originally published in Research Connections. See it here.