CMTI students win 2nd place in Mark Ain Business Model Competition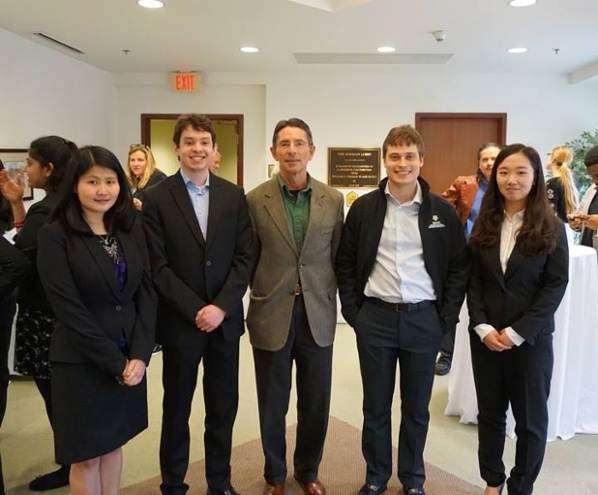 Congratulations to biomedical engineering CMTI graduate students Martin Gitomer, from Princeton, N.J., and Shwe Pyie, from Union City, Calif., who took second place at the 10th Annual Mark Ain Business Model Competition. The team also included BME alum and TEAM graduate student Alin Ponici as well as TEAM graduate student Jia Shi.
The students presented Stimsense, a medical device that objectively quantifies depth of anesthesia throughout surgery to guide proper dosing, reduce post-operative complications and achieve better patient recoveries. They received a $2,500 prize.
The Mark Ain Business Model Workshop Series and Competition provides aspiring student entrepreneurs at the University of Rochester an opportunity to attend a series of workshops before presenting their concept, analysis and recommended business model to a distinguished panel in a competition. The event is supported by Simon alumnus and entrepreneur Mark S. Ain '67, founder of Kronos Incorporated, the Chelmsford, Massachusetts-based market leader in the workforce management industry.
The competition is open to undergraduate, graduate and doctoral students university-wide. This year, 18 interdisciplinary teams of 60 students representing the College of Arts and Sciences, the Hajim School of Engineering and Applied Sciences and the Simon Business School submitted applications to the competition.