PhD students in Awad and McGrath Labs place second and third in Falling Walls Competition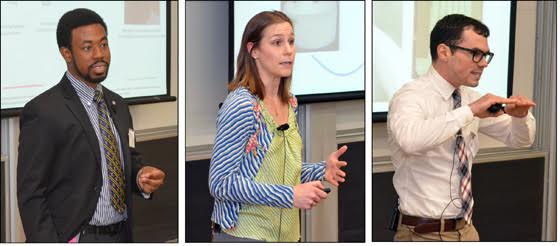 Sara Nowacki, a graduate student in the lab of Hani Awad, professor of biomedical engineering and of orthopaedics, won second place in the University of Rochester's Falling Walls Competition for describing how teriparatide, integrated into matrices, can improve
cartilage regeneration.
Karl Smith, a PhD student in Biophysics and a member of the lab of James McGrath, Professor of Biomedical Engineering, placed third for describing his use of physics to make water behind a filter form a mixer vortex, reducing the difficulty of normal stirring when fluids stick to surfaces. A total of 19 presenters competed.
The competition is associated with the Falling Walls foundation, a non-profit 
organization that fosters discussions on research and innovation and promotes the latest
 scientific findings to society. The Rochester winner's idea will compete with others from 
around the world at the Falling Walls Lab Finale in November in Berlin. This event selects 
the participants for the annual Falling Walls Conference the following day: an 
international forum for science and innovation to commemorate the fall of the Berlin Wall. 
Speakers at the conference have included Angela Merkel, Chancellor of Germany; Nobel Prize
winner Sir Paul Nurse; and young inventors from around the world. BBC London said it was
where the "brightest minds on the planet" meet.



Last year's Falling Walls Lab Rochester winner, Ryan Trombetta, a BME PhD student in
 Dr. Awad's lab, finished 12th (out off a 100 finalists worldwide) in the Berlin competition
for his description of using 3D printed bone grafts to treat osteomyelitis. See his 
presentation here.